Mellanox Doubles Down on Hyperscale Integration

Specialized networking hardware vendor Mellanox (MLNX) has been on fire lately, having taken advantage of the thirst for high-performance gigabit Ethernet connections in global data centers. Today the company announced a new technology framework for private data centers.
Mellanox is doubling (or quadrupling?) down on its approach to provide specialized, high-performance networking cards with high-level integration with virtualization platforms. The company has arranged its portfolio to supply an end-to-end connectivity of 25G, 50G, and 100G products to hyperscale Ethernet networks. Mellanox says this portfolio will be open and compatible with the "disaggregated" approach of using operating systems and hardware from different vendors. It will also support fully converged systems that integrate networking, compute, and storage on a single integrated fabric.
Mellanox is stressing its integration with a wide range of cloud platforms -- including OpenStack, vSphere, and Azure Stack -- and support for advanced software defined storage solutions such as Ceph, Gluster, Storage Spaces Direct, and VSAN. Recently at the OpenStack Summit in Vancouver, Mellanox announced full integration with the Red Hat Open Stack Platform. Mellanox networking cards include special software features for accelerating performance in virtualized networks, including fast lanes that bypass the hypervisor. Some of the acceleration features in the Mellanox platform include RoCE (RDMA over Converged Ethernet ), ASAP2 (Accelerated Switching and Packet Processing), and line rate Data Plane Development Kit (DPDK) performance of 148 million packets per second in a cloud environment.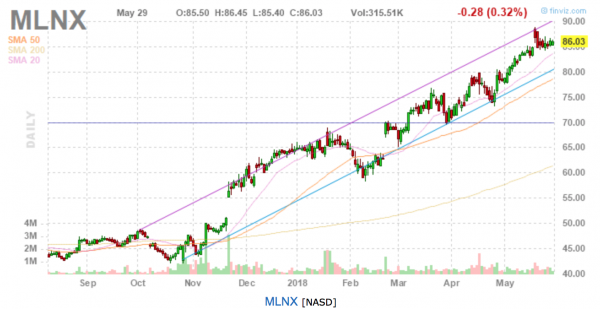 It's clear that Mellanox's hyperscale performance approach to Ethernet cards is paying off -- as witnessed by its rising sales and earnings. The company recently increased its financial guidance, for the second time in just two months. The company now expects quarterly revenues of $260 million to $270 million. Prior guidance provided on April 17, 2018 was quarterly revenues of $255 million to $265 million. For the full year, the company expects revenues of $1.05 billion to $1.07 billion. Prior guidance was revenues of $1.03 billion to $1.05 billion. Non-GAAP operating margin was boosted from 23.0 percent to 24.0 percent. Prior guidance was non-GAAP operating margin of 21.0 percent to 22.0 percent.
In addition, Mellanox has been under pressure from a well-known activist investor, Starboard Value, which has been pressuring for operational changes and new board members. This may also be contributing to the rise in the stock as investors expect changes beneficial to shareholders.
The financial gains and activist pressure have contributed to a nice run on Mellanox stock price. It's also demonstrated that the company's focus on high-performance specialization in cloud space is paying dividends.