Futuriom's Top 10 Cloud Tech Stories of 2020

What a year.
The Great COVID-19 Pandemic will forever define 2020 in personal, professional, and societal history. And the changes it forced through lockdowns, remote work, and social isolation will continue to shape our lives near and long term.
Cloud technology has popped to the forefront, ranging from virtual collaboration to artificial intelligence (AI). Many changes took place in and around the next-generation cloud technologies we focus on at Futuriom. So what better way to mark the end of the year than to list what we view as the Top 10 most significant cloud tech trends and events of 2020.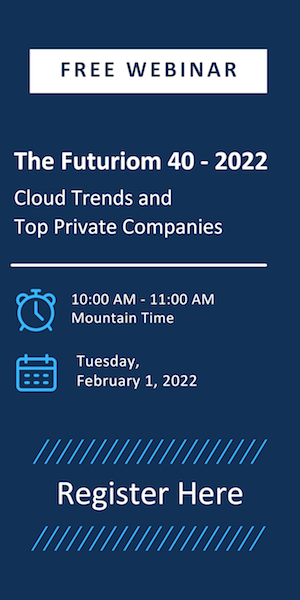 This is not a comprehensive list, but we think it reflects the major forces to emerge this year that will continue to shape trends in 2021.
The list follows, in order of impact (greatest being #1). Let us know what you think. And Happy New Year!

#10. Data analytics solutions surge. This year we saw the rise of technologies that organize and sift information from a gathering tsunami of input data. A dramatic demonstration of the trend came when data warehousing startup Snowflake (SNOW) scored a massive funding round just a few months prior to garnering nearly $3.4 billion in a history-making IPO. In the same timeframe, Sumo Logic (SUMO) impressed investors with its own successful IPO, validating its SaaS-based Continuous Intelligence Platform, which applies machine learning and artificial intelligence (ML/AI) to structured and unstructured data. More news in this space included funding rounds for Data.world, Devo Technology, JupiterOne, and Yugabyte. We see more to come.
#9. IBM splits In two. This past October, IBM (IBM) stunned the world by announcing plans to spin its Global Technology Services (GTS) division into an independent public company, leaving IBM free to focus entirely on hybrid cloud and AI. The move underscores the strategy articulated by new CEO Arvind Krishna, who took the helm from Ginni Rometty in April. He was a prime mover in IBM's $34 billion acquisition of Red Hat in 2018, so it's no surprise to see him remove any distractions from making Red Hat OpenShift a key platform for hybrid cloud workloads. Much remains to unfold, and this move is a gamble. It could also be a winning hand.
#8. Cisco's midlife crisis continues. In 2020, Cisco (CSCO) was supposed to be farther along in its recovery from hardware dependence. Sadly, Cisco's existential crisis continues, as the company keeps flogging the market waters for a bite in new cloud markets. The recent exodus from its smart cities initiative is the latest evidence that while Cisco remains committed to change, it can't seem to figure out what change to commit to. Cisco could turn a corner in 2021, but if history is any predictor, stagnation may continue.
#7. Cloud titans take chips in-house. Apple Inc. (AAPL), AWS (Amazon: AMZN), Google (Alphabet: GOOGL). IBM, Microsoft), Oracle (ORCL), and other cloud providers are turning aside from traditional chip suppliers such as AMD (AMD) and Intel (INTC) and building their own components for devices and data center processing. Some have tapped technology licensed from Arm Holdings, whose chip designs are an attractive option for vendors looking for easier customization and faster time to market. It's not clear how the tide will shift if NVIDIA (NVDA) succeeds in its plan to buy Arm from SoftBank for $40 billion, which should take place in 2021. Stand by for more on this market-moving trend.
#6. NVIDIA goes on M&A spree. 2020 was a big year for NVIDIA, which spent $7 billion in May to buy smart-NIC star Mellanox after a protracted wait for Chinese regulatory approval, then finalized the purchase of Cumulus Networks in June. Both Mellanox and Cumulus are now part of NVIDIA's lucrative networking business unit. As if all that weren't enough, the vendor in September unveiled its $40 billion proposal to buy Arm. That deal will likely languish in regulatory limbo indefinitely, but if successful it could put NVIDIA in the enviable position of owning Arm's cloud tech licensing business. We'll stay tuned.
#5. SD-WAN momentum continues. According to the end-user survey behind Futuriom's 2020 SD-WAN Growth Report, momentum in software-defined wide-area networking (SD-WAN) continues to grow. Futuriom has identified this as a key growth area in cloud technology since 2017, and the trajectory will keep rising through at least the next three years.
#4. Multi-Cloud networking takes off. This year, Futuriom identified a Great Cloud Wave – the shift of IT applications to multiple and hybrid clouds. This is spurring the need for new multi-cloud networking (MCN) solutions, including network-as-a-service (NaaS), software-defined networking (SDN), and application programming interfaces (APIs) that integrate existing networks with cloud platforms for a range of use cases. This is a trend we believe will shape cloud and IT markets significantly for years to come.
#3. Microsoft goes all in on telco cloud, buys Metaswitch and Affirmed. This year saw Microsoft (MSFT) get serious about 5G and the telecommunications cloud. First, in March, Redmond acquired Affirmed Networks for reportedly over $1 billion, gaining that vendor's expertise in mobile infrastructure software, including virtualization of 5G telecom networks. The ink was still wet on that deal when Microsoft announced plans to purchase telecom edge technology company Metaswitch for an undisclosed sum. Taken together, the technologies of both acquired firms could form a sophisticated enterprise stack capable of supporting 5G. Check out our 5G Catalysts Report for more about the importance of edge presence for Microsoft and others.
#2. Cybersecurity vulnerabilities are exposed, big time. December 2020 held a dire moment of reckoning for cybersecurity vendors. A major breach leveraging Texas-based IT monitoring software maker SolarWinds (SWI) engulfed U.S. government agencies and many IT companies, including Cisco, Microsoft, and FireEye (FEYE), in a broad-based malware attack reportedly organized by state-sponsored Russian cyber crime experts. And it's not over: The reach of the threat actor(s) continues to be uncovered in a variety of highly sophisticated attacks that proliferate across supply chains. The situation is a terrible wake-up call, particularly as companies kick their digital transformations into high gear and 5G networking supercharges the speed of online applications.
#1. The massive remote work shift gets underway. The strongest trend to emerge from the COVID-19 pandemic of 2020 has been the move to remote work. Demand here has fed a range of market areas, including the following:
Virtual conferencing and collaboration. Nearly overnight, companies turned to virtual conferencing in the face of office closures and travel bans. Here Zoom Video Communications (ZM) was the winner. Since last December its share price has increased over 400%, and despite challenges, the platform continues to compete well against solutions from Cisco, Google, Microsoft, and others. At the same time, demand has risen for workgroup collaboration, which extends video conferencing to messaging, document and file sharing, and other workgroup activities. This is the impetus behind Salesforce.com's (CRM's) plan, announced December 1, to buy Slack Technologies Inc. (WORK) for approximately $27.7 billion.
Secure edge solutions. The move to remote access also has drawn security and networking together, and vendors in both arenas have stepped up with solutions, particularly for the network edge, where remote workers and offices meet emerging cloud services. Players here include Akamai, Axis Security, Cato Networks, Cisco, Citrix, Cloudflare, Cognitas Technologies, Google, InstaSafe, NetFoundry, Netskope, Okta, OPAQ, Palo Alto Networks, Perimeter 81, Proofpoint, SAIFE, TransientX, Wandera, Versa Networks, VMware, Zero Networks, and Zscaler. See the Futuriom Secure Edge and SASE Report for more detail.
Lightweight VPNs. The move to work-from-home (WFH)/work-from-anywhere offers opportunities for SD-WAN vendors, whose products contain integral virtual private networking (VPN) capabilities, to release lightweight VPN clients or advanced branch solutions. Vendors active here include Aryaka, Cisco, Masergy, Citrix, Nokia (Nuage), Versa Networks, and VMware (VeloCloud). See Futuriom's 2020 SD-WAN Growth Report for more detail.