Introducing the Futuriom Secure Edge and SASE Report

Futuriom is always expanding our horizons. That's why it's time to launch a new report on the exciting topic of Secure Access Service Edge (SASE) and Secure Edge: The 2020 Cloud Secure Edge and SASE Report.
Why now? It's clear that these two technology markets, networking and security, are converging. Not necessarily because they want to but because they must. This is not a new idea or a first attempt, but work habits and technology adoption have made it an imperative and have finally put it within reach.

The need for the convergence of networking and security, especially at the "edge" of the network, is well understood. Numerous technologies have appeared that facilitate the move. Some of the key security functions that are already associated with SASE and Secure Edge deployments include Secure Web Gateways (SWGs), Cloud Access Security Brokers, (CASBs), cloud based firewalls or firewall as-a-service (FWaaS), and Zero Trust Network Access (ZTNA) -- also known as Software Defined Perimeter (SDP) -- services.
Origins of the SASE Trend
The origins of the term SASE have been attributed in to Gartner Inc. Not to be confused with the Society for the Advancement of Socio-Economics (SASE), SASE is now being used in the broader technology marketplace by a number of security and networking technology vendors to describe the integration of software-defined wide-area networking (SD-WAN) and security functionality. For the purposes of this report, we look to define SASE as the trend toward integration of cloud security and networking functions at the network edge – which we are also calling "Secure Edge."
SASE and Secure Edge are an outgrowth of the SD-WAN market, which has now reached billions of dollars, according to our SD-WAN research. This has been driven by the broad adoption of SD-WAN, which offers a software-defined architecture for deploying and managing networking and security resources and functions. Futuriom sees all of these markets growing very fast, while at the same time providing a lot of activity on the M&A front.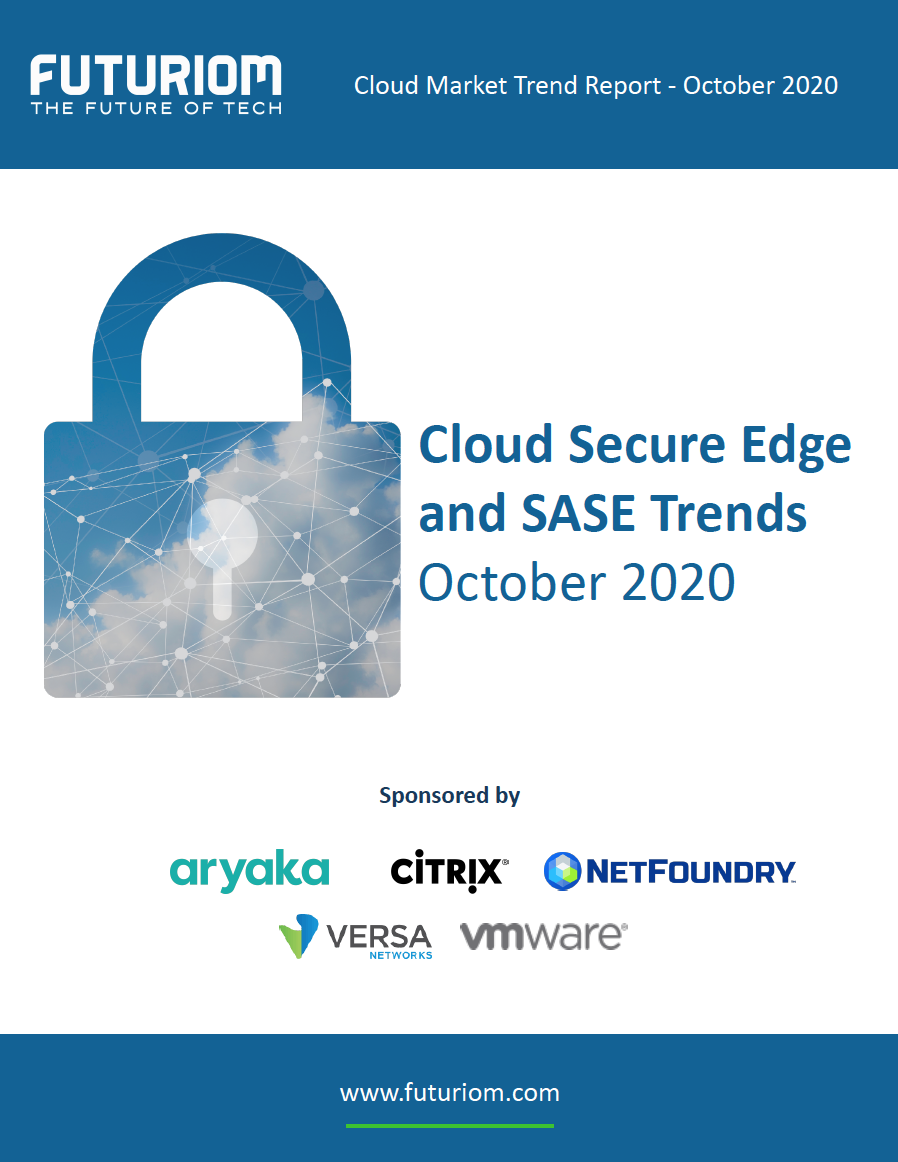 Special thanks to our sponsors: Aryaka Networks, Citrix, NetFoundry, Versa Networks, and VMware.
Topics Covered in this Report
This report presents an overview of the Secure Edge and SASE technology markets, including how solutions are being crafted to meet the changing security needs of networks.

The topics that will be covered incude:

What do we need to solve with the Secure Edge?
Secure Edge and SASE Services
Paths Toward Better Edge Security
Use Cases and Adoption
Key Players and Areas to Watch
How to get this FREE Secure Edge and SASE Report?
As part of a special preview of our Cloud Tracker Pro research, which publishes regular in-depth research on cloud and communications trends, we are making the Secure Edge and SASE report free to registered Futuriom.com users.
Some of the important companies discussed and/or profiled in this report include (partial list): Akamai, Aryaka Networks, Bitglass, Cato Networks, Check Point Software, Cisco, Citrix, Cloudflare, Forcepoint, Fortinet, HPE, Palo Alto Networks, NetFoundry, Netskope, Versa Networks, VMware, Zscaler.