Inside Snowflake's $479M Funding Avalanche

Cloud data warehousing startup Snowflake has scored a gigantic Series G funding round of $479 million led by Dragoneer Investment Group and Salesforce Ventures. The San Mateo, California-based company now has raised $1.4 billion since its founding in 2012.
The round brings Snowflake's valuation to $12.4 billion, prompting speculation about a possible IPO. But Snowflake's alliance with Salesforce seems even more significant.
"This really was not about raising money. It was about establishing a strategic partnership with Salesforce," said Snowflake CEO Frank Slootman in an interview with CNBC. "It's not really a traditional fund raise. It's essentially a balance sheet transaction from equity to cash."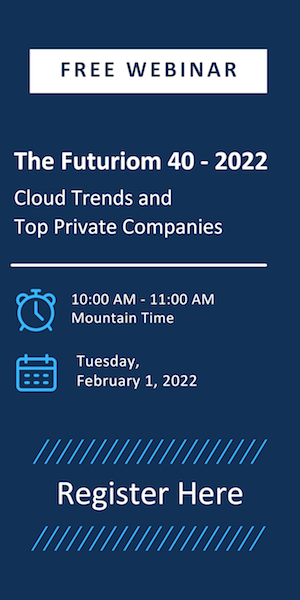 Clearly, by investing in Snowflake, Salesforce intends to work more closely with the startup, although both companies say details won't be revealed until the Snowflake Summit user conference in Las Vegas in June.
Both Stand to Gain
The partnership between Snowflake and Salesforce demonstrates an awareness that in the complex and rapidly evolving cloud landscape, no one can do it alone. Recognizing the innovators and teaming up with them is essential to success.
Salesforce, for instance, is intent on keeping pace with cloud infrastructure developments, including the shift from on-premises data warehousing to a virtual design. As part of this shift, Snowflake could add considerably to what Salesforce is offering.
Snowflake creates a virtual "data lake" that incorporates structured and unstructured data and works across multiple public and private clouds. It performs ETL (extract, transform, and load) functions and serves analytics using its own cloud-based resources. Customers pay only for the storage and processing they use. While Salesforce data works with Snowflake today, it's easy to imagine more innovative services emerging from a closer alliance.
Although Snowflake partners with the vendors of its chief competition, which includes Amazon Redshift, Google Big Query, and Azure SQL Data Warehouse, to name just a few, the company still aims for the top. Having Salesforce behind it, selling into that vendor's massive enterprise customer base, could propel Snowflake to new heights.
Betting on a Winner
In its effort to sponsor and partner with as many innovative startups as possible, Salesforce has picked a winner in Snowflake: A year ago, the company announced it had tripled revenue growth, employee headcount, and its customer list in calendar year 2018. Now, the company has grown its roster of customers from 1,400 to 3,400 and its employee headcount from 1,000 to 1,400. It has more than 20 locations, including offices across the U.S. as well as in Canada, Europe, and Singapore.
Exit Strategy Speculation
Today's announcement has raised industry speculation about a Snowflake IPO, and CEO Slootman has told many media outlets he intends to stick with a plan to go public before the November 2020 U.S. presidential election. There is also talk that Salesforce could buy the company. This would follow Salesforce's pattern of aggressive M&A over the last couple of years, highlighted by the acquisition of Tableau Software for $15.7 billion in August 2019.
Still, the forces at work in today's cloud markets are fickle and can be tough to predict. Consider another Snowflake competitor, Cloudera (Nasdaq: CLDR). Back in 2017, Cloudera was a rising star with many big technology partners and $945 million from a slew of investors, including Accel Partners, Intel Capital, Michael S. Dell, and Google Ventures, among many others. But since Cloudera went public that year at $15 a share, the company's stock has languished below the IPO price, recently trading hands at around $11.
Cloudera is still a force in the enterprise market. But Snowflake seems to be angling for a bigger future.