Multi-Cloud is About to Get Interesting

PALO ALTO, Calif. -- I just spent a couple days weaving in and out of traffic jams on the 101 in the rain, between looking at ways some infrastructure companies want to manage networking traffic jams in the clouds. The irony!
Clouds, traffic, and rain, get it? Okay well maybe it's a stretch. But I do think 2020 is going to be the year we hear a lot more and more about multi-cloud networking and security. Some news from the week includes a partnership between CUJO AI and Aviatrix, Kubernetes management enhancements by Red Hat's OpenShift, and a Cisco exec declaring that crossing cloud domains will be important.
Multi-Cloud Adoption Rises
Recent research points to the proliferation and shifting of cloud workloads as a coming management headache. As the opportunities and tools in public cloud explode, enterprises will be looking for ways to use multi-cloud networking to coordinate, manage, and secure efforts that may span a variety of public and private clouds.
A recent TECHnalysis survey of 600 US-based businesses shows that 30% of today's workloads are being run in the public cloud, another 30% are legacy applications still being run in the corporate data center, and the remaining 40% are a combination of private and hybrid cloud workloads. The shift to public cloud is expected to increase over time, though that appears to be slow right now.

According to the IBM Institute for Business Value (IBV), 85% of companies already operate in multi-cloud environments, and by 2021, 98% plan to use multiple hybrid clouds.
Complexity Rising
Now, the rate of public cloud adoption is a matter of debate -- but that's not the point. The point is that there is a shift going on, and regardless of what type of cloud we are talking about, there will be more clouds, and enterprise IT managers need better ways to manage the connections among them.

The problem, as always, is complexity. Whether it's an enterprise branch looking to connect to a cloud application or a Kubernetes cluster being connected to a globally distributed application, there is a wide range of software and equipment that needs to be orchestrated and secured in order to make it all happen right.
"Enterprise customers don't want to move stuff from cloud to cloud -- they are running stuff in many different clouds," explained Steve Mullaney, the CEO of multi-cloud networking startup Aviatrix, when I visited the company this week. "They want to run some workloads in Amazon, Active Directory in Azure, and TensorFlow in Google Cloud. Some of those things don't run in the other clouds. But they need to be networked."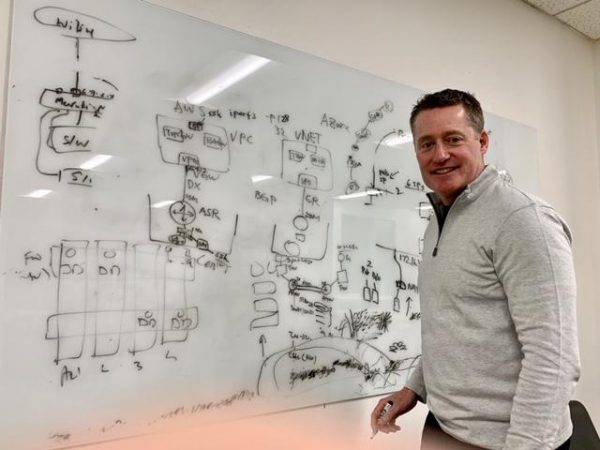 (Aviatrix CEO Steve Mullaney)
The trick is that AWS, Azure, and Google (as well as the many other public clouds) all have different proprietary architectures using their own "constructs." Aviatrix is looking to solve the problem of networking from inside of one cloud ("cloud-native") to the outside world or to other clouds with tools that will enable managers to automate connections. They do this with a series of API connections and an orchestration platform that can manage intra- or inter-cloud connections.
Hence the arrival of the heyday of the API gateway, which Cisco Distinguished Engineer Mike Dvorkin recently told me is where everything's happening these days.
"The interesting things are all around service meshes and API gateways," Dvorkin told me in a long interview. (This interview will be published next week here on Futuriom.) "Service mesh became hot when Google announced Istio and everybody was talking about them, but they did not see quite as much adoption despite the usefulness. A lot of this comes from reported complexity. You have to manage a lot of policies."
Dvorkin thinks the interesting innovations in connecting clouds will occur at Layer 7, where technology providers use API gateways and modern cloud tools such as JSON interfaces to connect applications.
SD-WAN Needs to Adapt to Multi-Cloud
Meanwhile, not wanting to miss out on the party, the SD-WAN gang is talking multi-cloud too, though it's from a different perspective -- networking from the enterprise and enterprise branch at the edge and into cloud points of presence (POPs), as I detailed in my recent Fierce Telecom article. Aviatrix's Mullaney has recently been making noise saying that a proliferation of gateways to the public cloud could threaten the SD-WAN movement, but many SD-WAN vendors would beg to differ. I think the story is more nuanced -- the cloud-native crew will extend their clouds closer to the edge and the SD-WAN vendors will adapt the edge to improve application performance to the cloud. Everybody meets in the middle. The SD-WAN vendors that adapt the fastest will survive.
There is also another crop of networking startups eyeing this opportunity. In addition to Aviatrix, others focused on multi-cloud connectivity include DriveNets, which has a distributed network operating system based on microservices for telco cloud networks, and Volterra, which is providing tools to connect and secure applications across multiple clouds.
What's cool about all of this is that multi-cloud networking is going to shake up the networking business. Whether or not they are admitting it publicly, the networking incumbents are both excited and scared. The public cloud explosion shifts the center of gravity away from enterprise routers and switches to cloud networking constructs that aren't always their core strength. Traditional vendors such as Cisco and Juniper Networks will need to up their multi-cloud game. Virtualization vendors such as VMware, Citrix, and Red Hat are adapting their networking capabilities to the multi-cloud world. And public cloud providers themselves, such as Amazon with the Transit Gateway and Microsoft Azure with its Virtual WAN and SONiC open-source networking product, are a big part of the game too.
In the end: Everybody will have more options for connecting multiple clouds. 2020 is going to be a year to watch in multi-cloud networking.
(Futuriom has started work on a Multi-Cloud Networking report for later in the year. Email us at analyst at Futuriom dot com for more information.)