Is the Cohesity IPO Back?

Cohesity is taking decisive steps toward its long-awaited initial public offering (IPO). This week, the data management firm announced new C-suite executives, a CFO and chief development officer, both with top-notch experience in public tech companies. At the same time, Cohesity management claims the company is ready to "reach positive cash flow within Fiscal Year 2024 (August 1, 2023 – July 31, 2024) while preserving a healthy cash position."
The new CFO is Eric Brown, who as CFO of Cohesity competitor Informatica (NYSE: INFA) helped marshal that company's IPO in 2021. He was also instrumental in transforming Informatica's marketing model from enterprise licensing to software-as-a-service (SaaS). Brown replaces Robert ODonovan as CFO, though ODonovan has agreed to stay on for a while, reporting to CEO Sanjay Poonen in key projects and supporting Brown in the transition, according to Cohesity.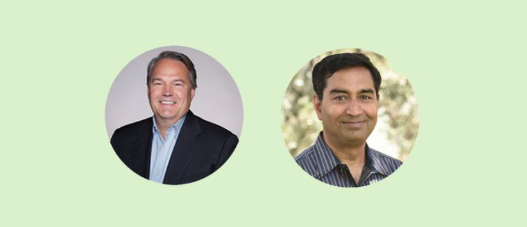 Eric Brown, new Cohesity CFO (left) and Srinivasan Murari, new CDO (right) Source: Cohesity

Srinivasan Murari, the new chief development officer, comes to Cohesity from Google Cloud, where he was VP of engineering. Before that he was SVP of engineering at VMware. His responsibilities will include overseeing engineering and R&D at Cohesity. Kirk Law, the prior CDO, is leaving Cohesity but has agreed to act as a senior advisor to CEO Poonen and to the engineering team over the next few months as needed, according to Cohesity.
A Fresh Slate
Both new hires are part of an executive shift that's been in the works for months. Back in June, the company promoted a roster of employees to newly created posts: The chief of staff, Rebecca Adams, has become SVP of People and Places; the SVP/GM of Cloud @Cohesity, Amith Nair, has become SVP of marketing; Elad Horn, formerly of Proofpoint, has become group VP of product; the head of investor relations, Tonya Chin, has become group VP, Corporate Communications and Investor Relations.
All of this has occurred in the wake of founder and CTO Mohit Aron's step away from the CEO position, which Sanjay Poonen (ex-VMware, SAP) took over one year ago. At that point, turnover of executive staff had become chronic and dissatisfaction with management was common knowledge, despite the company's leading position in data backup management. Now, it appears that CEO Poonen has taken that situation in hand by promoting from within and adding new roles as required to get Cohesity into place for IPO.
The Financials
Both executive hires, according to Cohesity's press release, represent "leadership additions to fuel [the] next stage of growth and public company readiness." And key to reaching IPO will be reaching positive cash flow from operations – a goal the company hopes to attain in fiscal year 2024 (August 1, 2023 – July 31, 2024). That timeframe indicates that Cohesity will seek to go public sometime after next summer, conditions permitting. High interest rates persist along with macroeconomic uncertainties.
There are also market challenges. There's the issue of archrival Rubrik, which is backed by Microsoft and reportedly has engaged several top banks to help with an IPO, though as of now the company hasn't filed for a public float. Rubrik also this week acquired cybersecurity startup Laminar and recently showed very slightly leading Cohesity in Gartner's Magic Quadrant for Enterprise Backup and Recovery Software Solutions.
Cohesity also faces competition from Commvault (Nasdaq: CVLT), Veritas, and Veeam. But Cohesity is determined to stay on track. Here's how CEO Poonen put it in the press release:
"All of our key metrics indicate we are building a category leader with a focus on public readiness [emphasis added]. We are taking share in our market by top-line growth while also aiming to become cash flow positive within our current fiscal year. Eric and Murari are well-respected talents in their areas of expertise who, along with our other leadership appointments, bolster our executive team to be one of the best in our category and position us well for our plans to become public [emphasis added]."
Futuriom Take: Cohesity is busting to go public in a hot market – providing macroeconomic conditions improve. We may see some action around the late 2024 timeframe. Whether Cohesity beats Rubrik to IPO remains to be seen.