Cohesity Inc. has finally filed for initial public offering (IPO) in a confidential draft S-1 with the U.S. Securities and Exchange Commission (SEC). This means the firm doesn't have to reveal its financials nor commit to a date, number of shares, or price range for its offering until 15 days after the SEC actually approves the transaction.
The news is no surprise. For nearly a year, Cohesity has been rumored to be on track for IPO. CEO Mohit Aron (pictured above) has been dropping hints for months. And glimpses of how Cohesity is doing were sprinkled throughout the past year, offering signposts to a potential forward move. Let's check out some of the milestones behind the news:
Customers. In a press release in March 2021, Cohesity boasted 2,300 customers, 50% more year-over-year, for its second fiscal quarter. For its fiscal third quarter, the company declared 40% growth year-over-year to nearly 2,500 customers. For the company's fiscal fourth quarter, ended July 31, 2021, Cohesity boasted a 40% customer growth rate year-over-year. Cohesity claims its roster includes four of the top 10 Fortune 500; three of the top 10 U.S. banks; and three of the top five global pharmaceutical companies.
Products/services. Cohesity has touted its ability to foil ransomware attempts by supporting zero trust security. It achieves this in part via artificial intelligence (AI)-based analytics and integration across a significant range of technology partners, as shown in the diagram below.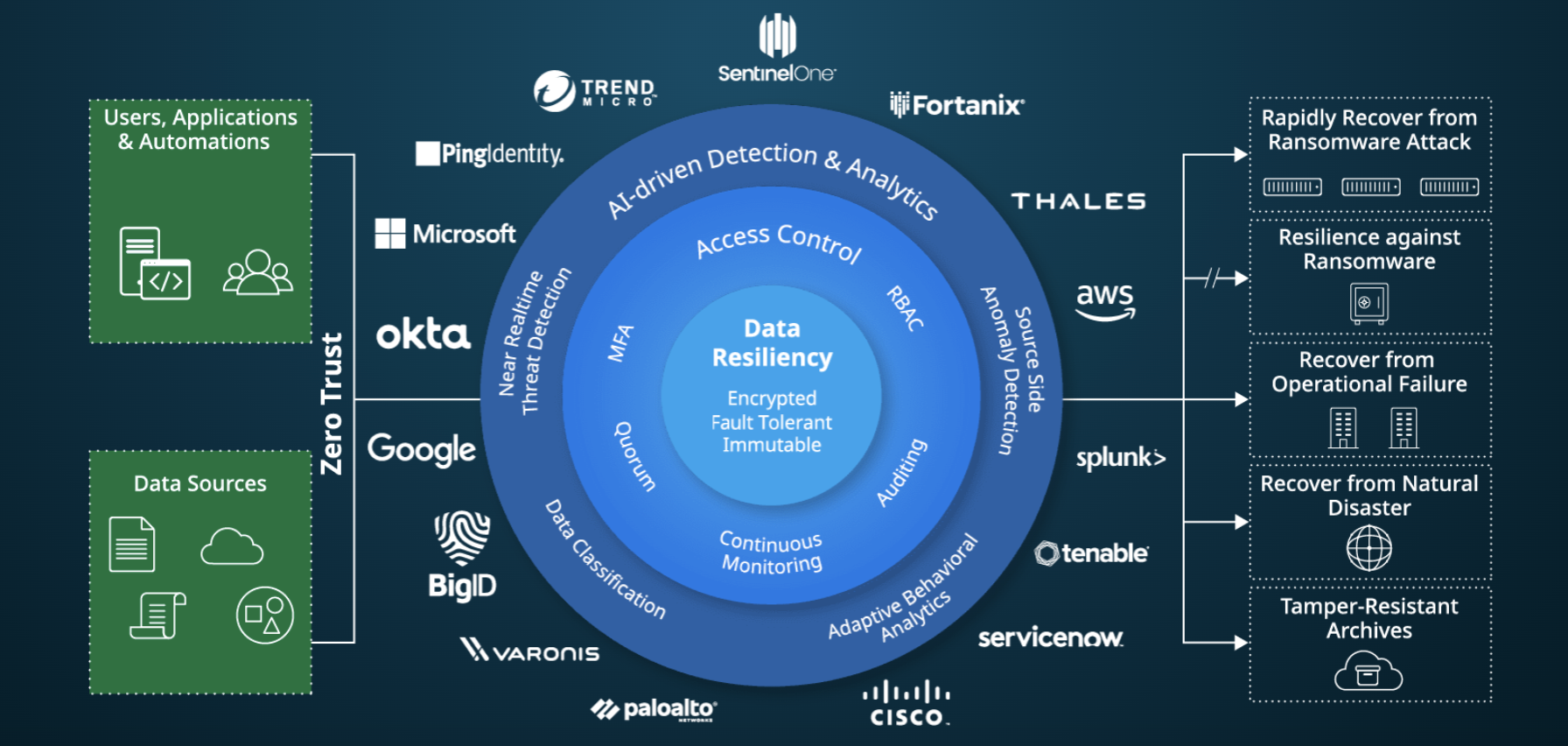 Cohesity's threat-defense architecture. Source: Cohesity
The company also has forged a relationship with AWS whereby Cohesity's "Data management as-s-service (DMaaS)" offering is hosted on AWS. AWS has also made an equity investment in Cohesity.
Revenue. For its second quarter 2021, the company claimed 90% year-over-year annual recurring revenue (ARR) from customer subscriptions to its services. For its third quarter, that number was 80%. For its fourth quarter 2021, the company claimed 70% ARR growth year-over-year and declared an annualized run rate of more than $300 million.
Funding and valuation. In April 2021, Cohesity declared a valuation of $3.7 billion while making a tender offer of $145 million to employees to sell a small portion of their equity. At the time, the company boasted that it had more than doubled its valuation within a year.
Leadership. The company has been bulking up its leadership with a definite view to IPO. In September 2021, Cohesity hired Kevin Delane (ex-Pure Storage) as chief revenue officer, citing his work in preparing that company for IPO. The company's also added a chief HR officer, Amy Cappellanti-Wolf (ex-Cisco, Disney, Sun, and PepsiCo). There have been additional executives added to direct Cohesity Japan, run its EMEA business, supervise EMEA channels, and head up Australia and New Zealand efforts. Cohesity has also added substantially to its board and advisory committee.
Adding It All Up
All systems are go at Cohesity. There are a couple of wet blankets – the reduction in customer growth over fiscal 2021 and the more sizable drop in ARR across the three 2021 quarters the company broadcast. But there's nothing amiss with 40% customer growth or 70% ARR growth, and the quarterly downward trend could signal a leveling-off period after the initial introductory uptick.
The coming year will be a significant one for Cohesity, as well as for the broader data backup management market, which seems to be burgeoning. Competitor Rubrik, which has a valuation and estimated run rate in line with Cohesity's, sold a minority stake to Microsoft (Nasdaq: MSFT) earlier this year. And more startups are cropping up, most notably HYCU, which scored $87.5 million in Series A funding early in 2021 for its multicloud data backup and recovery as-a-service.
Bottom line? Cohesity appears to have pulled ahead in the data management race and is set to chart its public course. The clock is ticking. Expect news early in 2022.