Sanjay Poonen Is the New Cohesity CEO

Data management startup Cohesity has a new CEO – Sanjay Poonen, the former COO of VMware (NYSE: VMW) and past president of SAP (NYSE: SAP). Founder Mohit Aron continues with the company as chief technology and product officer and remains on the board of directors.
The move comes at a crucial time for the cloud-native secondary storage and data management-as-a-service (DMaaS) company. Despite having over 2,100 employees and enjoying success with over 3,000 customers, Cohesity has suffered from high executive turnover rates and rumors of a difficult work environment. Declining market conditions have put an IPO, which the company filed for confidentially last year, in limbo.
At the same time, the firm's opportunity is enormous. "Cohesity sits at the intersection of three of the highest priority business issues today – cyber security, cloud, and data management," stated Poonen in a press release. "In my due diligence with customers, I've found that Cohesity has the best technology in its category and protects data for many of the biggest brands in the Fortune 500."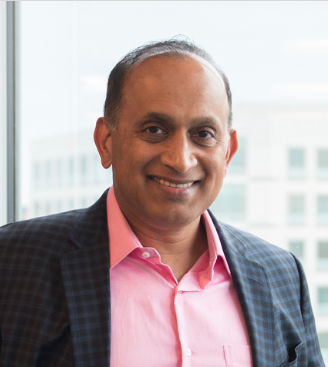 Sanjay Poonen, new CEO of Cohesity. Source: Cohesity
Indeed, Cohesity has held its own against major IT players such as IBM (NYSE: IBM) as well as other, newer rivals, most notably Rubrik. But it seems to need a push to get it to the next level.
And founder Aron concedes that he can't continue to oversee both the day-to-day running of the company as well as applying his famous technical expertise to guiding product development.
"Over the course of [the past] nine years, I have had the privilege and responsibility of leading Cohesity in a dual role that requires me to operate at both a broad and a deep level," Aron wrote in a blog. He said he's opted to go deeper into the engineering aspects of Cohesity's services, while ceding the broadly demanding CEO post to Poonen. "I'm very proud of what we have already achieved, and I know we're only scratching the surface of what's possible," Aron wrote. "More than ever, the world needs to safeguard and make the best use of its most valuable digital asset – data – and I remain dedicated to ensuring Cohesity is a pivotal enabler of that goal."
A Pro at the Helm
The choice of Sanjay Poonen as new CEO seems a very good one. Not only does he have the experience at the top of two leading tech firms with enormous relevance to Cohesity's data management focus, he has also served on numerous boards, including those of Philips, Snyk, Dell Boomi, Info, DocuSign, and Zoom. He also has experience as a startup investor, having served for over 9 years as a part-time affiliate of the Webb Investment Network.
Poonen's experience as a Silicon Valley notable should help Cohesity wrangle itself into better market position, starting with giving it new recognition. "The profile of this company has not been at the highest level of the media, because they didn't know much about it," Poonen told CNBC. "Just my being here brings a lot more awareness to this company." He also told the news outlet that he plans to establish Cohesity as a more significant partner in the cloud ecosystem – for example, by encouraging AWS to resell Cohesity as an option for secondary storage of cloud data.
Cohesity needs this kind of confident direction, just as it requires the technical focus of Mohit Aron. For a company that seemed to be working against itself a bit, this may be a significant turning point.