NVIDIA Earnings Highlight Data Center

Data center networking was the star of NVIDIA's latest quarterly earnings announcement on November 18, accounting for roughly 40% of a record $4.73 billion in overall sales.
The growth helped to boost GAAP earnings per share to $2.12, up 46% year-over-year and 114% sequentially. Net income of $1.34 billion was up 49% year-over-year and 115% sequentially.
The data center segment, comprising the vendor's accelerator and artificial intelligence (AI) components for high-performance computing (HPC), grew to a record $1.9 billion in revenues, up 162% year-over-year and 8% sequentially. This makes it second only to gaming among NVIDIA's segments, as indicated in the chart below: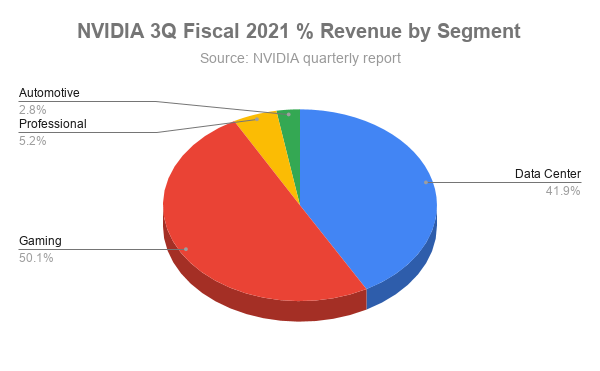 NVIDIA credited sales to hyperscalers, cloud titans, and large enterprises in various vertical industries for its strong data center results. And the company expects success in this area to continue, despite an OEM setback. (More on that momentarily.)
NVIDIA Builds on Strengths
NVIDIA's longstanding specialty has been the ability to streamline the processing of high volumes of information, via graphics processing units (GPUs), accelerator chips, and multi-tasking components that offload storage, networking, and security from central processors. Added to that has been a focus on artificial intelligence (AI), which CEO Jensen Huang calls "the most powerful technology force of our time."
This past quarter, NVIDIA execs said customers began to ramp up systems based on the A100, an accelerator chip for use in AI and HPC environments. These systems, which include the DGX A100 server and DGX SuperPOD supercomputer, also incorporate smart HDR InfiniBand network interface cards (NICs) from Mellanox, the company NVIDIA acquired for $7 billion earlier this year.
Within the data center segment, Mellanox accounted for roughly $615 million, or about one-third, of revenues. But there was a bit of bad news here: An OEM in China, responsible for the strong Mellanox orders, won't reorder next quarter. That will push 4Q data center revenues down sequentially, though NVIDIA expects Mellanox sales to grow 30% year-over-year for the full year anyway.
NVIDIA Banks on HPC, AI
NVIDIA continues to expect AI and HPC to fuel future growth, even if enterprises halt some spending due to the pandemic. This is because sales to cloud hyperscalers, including Alibaba (BABA), AWS (Amazon: AMZN), Microsoft (MSFT), Google (Alphabet: GOOGL), Oracle (ORCL), and others, along with big enterprise verticals such as healthcare research and financial services, show no signs of slowing down. Home lockdowns and remote work are boosting cloud sales for these firms.
NVIDIA sees opportunity in its emerging Bluefield-2 Data Processing Unit (DPU), which offloads and accelerates networking, storage, and security tasks from CPUs in HPC data centers, particularly ones with AI workloads. Based on technology acquired from Mellanox, Bluefield-2 can tackle work that would otherwise require 125 CPUs, NVIDIA claims.
NVIDIA is also keen to tackle AI in environments and applications where masses of incoming data must be scrutinized and inferences drawn.
"We, over the course of the last couple of years, developed an inference server. It's called Triton, has been adopted all over the place," said NVIDIA CEO Jensen Huang on last night's earnings call with financial analysts. "We have several hundred customers …. and I think this is going to be our largest near-term growth opportunity."
As data center networking becomes increasingly virtual, NVIDIA sees more opportunity. Here, the company's acquisition of Cumulus Networks dovetails with Mellanox's support of open-source switching software. "[I]t's safe to say that high-speed networking is going to be one of the most important things in cloud data centers as we go forward," CEO Huang said on last night's call. "And the vast majority of the world's data center[s] are still built for the traditional hyper-converged architecture, which is all moving over to microservices-based disaggregate --software-defined disaggregated architectures."
Arm Deal Hits a Snag
Asked about the competitive landscape, Huang stressed that AI inference capabilities are key to NVIDIA's differentiation. "[N]othing is better than the whole world recognizing that the best way forward is to do inference on accelerators," Huang said. "And when that happens, our accelerator is the most versatile. It is the highest performance. We move the fastest."
Huang's comments may target archrival Advanced Micro Devices (AMD), which also is focused intensely on the data center market. Fired with ambition to tap into what it sees as an enormous opportunity to support HPC and AI in hyperscale data centers, AMD last month announced the purchase of Xilinx for $35 billion in stock.
For its part, NVIDIA expects to complete its own $40 billion deal to acquire Arm Holdings, though that acquisition has hit a snag involving a major stakeholder in China.
If NVIDIA does miss the chance to buy Arm, it may not affect the company's momentum, given this quarter's figures and the vendor's clearly lucrative strategy.