AMD Grabs Xilinx for $35 Billion, Heads for Data Center

In a move that spotlights the rapidly expanding role of components in cloud networks — and the rapidly consolidating list of suppliers — Advanced Micro Devices (AMD) has announced plans to acquire Xilinx (XLNX) in an all-stock transaction expected to be worth $35 billion. The deal is anticipated to close by the end of 2021.
AMD says the acquisition is strategic, aimed at strengthening its presence in data centers — those at the heart of hyperscaler cloud networks as well as those serving the network edge.
These emerging cloud environments require high-performance computing (HPC) functions; multi-cloud connectivity; and application-specific requirements for AI-powered analytics, graphics, machine learning, and security.
AMD CEO Lisa Su, who will lead the newly merged company post-closing, described her outlook in a conference call with financial analysts:
"Looking out over the next decade…. Whether in the cloud, at the edge, or across the growing number of intelligent end devices, we are seeing increasing demand for high-performance computing…. [W]e see demand growing for adaptive computing capabilities that can accelerate evolving workloads…. [W]e've both chosen data center as our strategic focus."
AMD execs say Xilinx will add $31 billion to the company's current total addressable market (TAM) of $79 billion, representing a total expected TAM of $110 billion. Of that, AMD expects the largest chunk to come from data-center sales, as per the chart below, which is taken from AMD projections: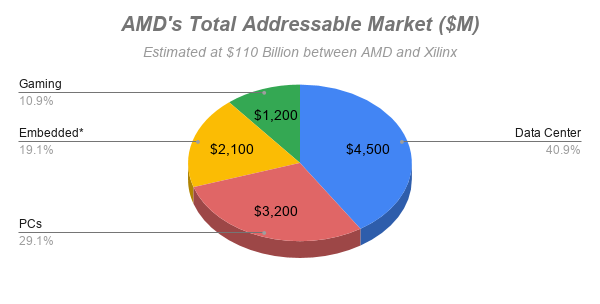 Source: AMD presentations 10/28/2020
* E.g., components embedded in smart vehicles.
Consolidation Increases in Cloud Components
The AMD/Xilinx merger is the second deal of its kind to hit the enterprise data center and cloud markets recently. And it will certainly have reverberations across the industry.
Early last month, NVIDIA (NVDA) announced plans for the $40 billion cash/stock acquisition of Arm Holdings. That deal, too, is expected to catalyze areas of the data-center and cloud chip market in NVIDIA's favor. The addition of Arm also should be boosted by NVIDIA's other recent acquisitions: Titan IC for an undisclosed sum and Mellanox for $6.9 billion. Titan IC specializes in artificial intelligence (AI) processors and chips that offload network, security, and storage tasks from CPUs. Mellanox offers a range of Smart NICs for use in high-performance data centers.
Like NVIDIA's deals, AMD's monster acquisition seems aimed at not only extending the company's reach in these hyperscale data center markets, but also at contributing software definability and flexibility to present and future products.
The flexibility option seems paramount. About 77% of Xilinx's revenue comes from field-programmable gate arrays (FPGAs), an area in which it competes primarily with Intel (INTC). Once used mainly for less challenging compute environments than application-specific integrated circuits (ASICs), Xilinx says FPGAs can be adapted by customers to fit a range of applications -- instead of being dedicated to a task as ASICs usually are.
One analyst on the conference call noted that Intel's purchase of FPGA provider Altera for $16.7 billion in 2015 didn't live up to initial expectations. But CEO Su thinks one key to successful integration of AMD and Xilinx will be a common base of software to work from. As she stated on the call:
I think we share the idea that a common software environment is so important.... And so, I think we'll have sort of a basket of technology that can be used very well from the infrastructure cloud side to the edge and endpoints.
An Expanding Chip Market
AMD and NVIDIA are two strong competitors with two enormous deals. And both are growing despite macroeconomic crises. To wit: AMD piggybacked its Xilinx news on its 3Q financial results, which were notable as well. Revenues of $2.8 billion were up 56% year-over-year and 45% sequentially; and non-GAAP earnings per share was 41 cents, up 128% over last year on net income of $501 million, which was up 129% year-over-year.
NVIDIA too posted impressive results for its last quarter: Revenues of $3.87 billion were up 50% year-over-year. Of that, 45% came from data center sales, which were up 167% year-over-year.
But there are other players in the league — primarily Intel, but also Hewlett Packard Enterprise (HPE), Broadcom (AVGO), Qualcomm (QCOM), and IBM (IBM). And cloud providers AWS (AMZN), Google (GOOGL), and Microsoft (MSFT) are designing their own components. All of these companies will offer plenty of competition for AMD and NVIDIA, amid what some observers believe could be integration distractions.
The takeaway seems to be that demand is on the upswing for components that can address the requirements of emerging cloud networks, which are only getting stronger with the migration to remote work and work from home. So as unpredictable as today's economic trends can be, it's a safe bet we'll see a lot more action in this space.