Aryaka Survey Reveals WAN Transformation

Aryaka released its sixth annual "State of the WAN" report, showing a general trend among enterprises worldwide toward cloud networking. This shift has been accompanied by a focus on security and reliance on managed services to cope with challenges of application performance and network complexity.
This year's report is based on results of a survey of 1,600 IT decision-makers worldwide across a range of industries. Of that total, 86% have closed 10% or more of their corporate sites as a result of the COVID crisis and the subsequent trend toward work from home (WFH). For a full 83% of respondents, over 25% of the workforce remains remote. And conditions are expected to persist: When pandemic restrictions finally lift, over 75% of survey respondents expect more than 25% of their workers to stay remote.
These circumstances have shifted enterprise WAN priorities. Companies have accelerated their digital transformation projects because they expect to support a hybrid, distributed workforce from here out. Indeed, 35% of Aryaka's survey takers said they would replace all of their datacenters with public cloud services over the next 12 months. But this mass migration cloudward brings several issues to the fore, including cost, complexity, application performance, and security, as illustrated in the chart below: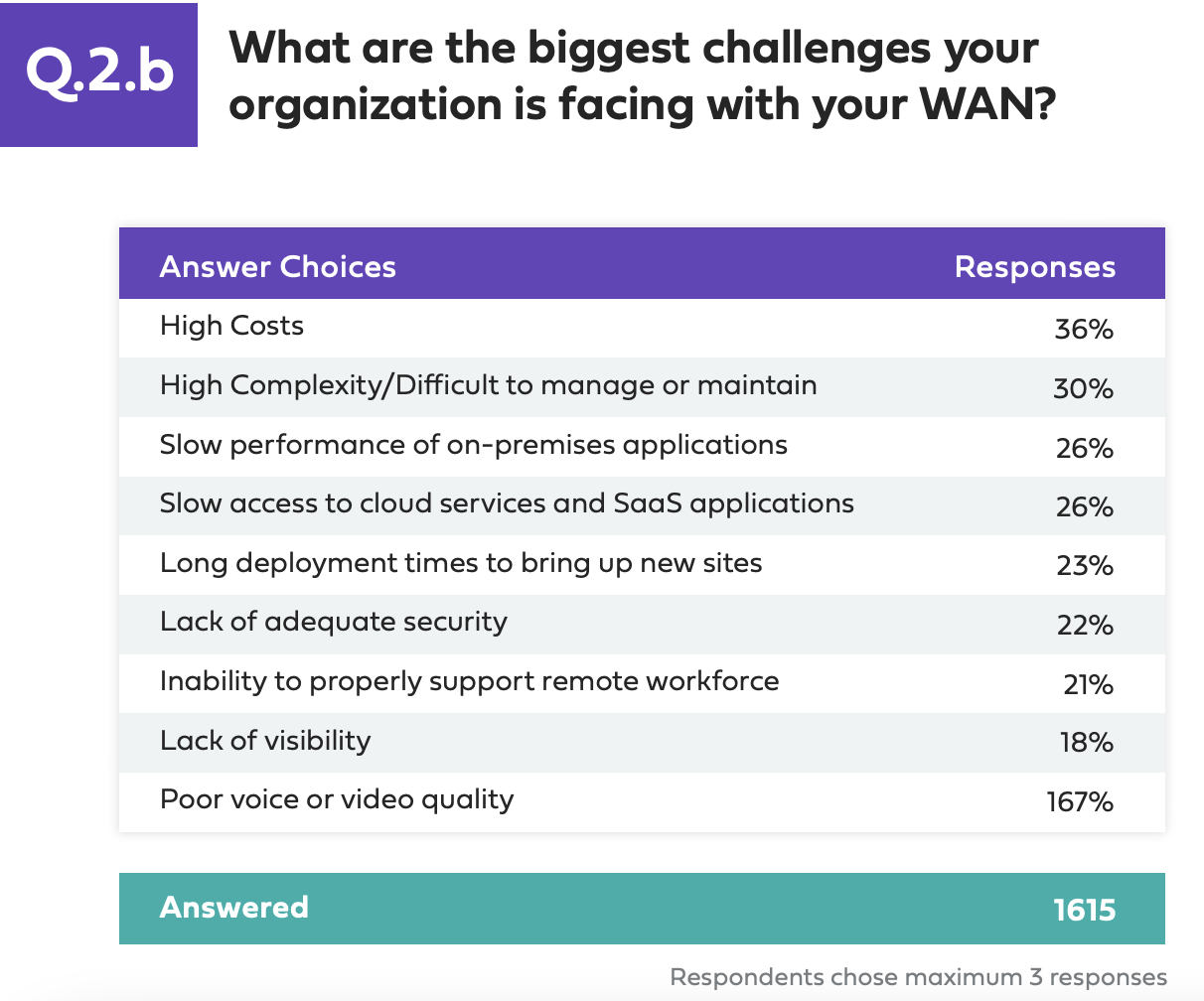 Source: Aryaka's Sixth Annual "State of the WAN" report.
Let's take a closer look.
Application Performance Underperforms
Poor performance tops the list of WAN complaints among takers of Aryaka's survey. A full third of respondents blamed the application source for performance challenges, despite the fact that 30% reported that over half their applications are in the cloud. Another 27% blamed the Middle Mile problem of connecting the service network to the endpoint or edge; 25%, the branch office edge itself. Only 14% claimed to have no application performance challenges.
Given these complaints, it's no surprise that WAN connectivity and application optimization topped the list of managed services most in demand for 44% and 40% of respondents, respectively.
SASE Services In Demand
Over two-thirds of enterprises surveyed by Aryaka also said they'd turn to managed services from telcos, managed service providers, or integrators as they adopt software-defined wide-area networking (SD-WAN) and/or secure access service edge (SASE) as part of their digital transformation plans. Just 19% said they'd go it alone to implement the typically intertwined technologies of SD-WAN and SASE.

Of Aryaka's total sample, 24% said they already have SASE and another 39% claim they will have it within the next 12 months. And 35% claim to have a full-fledged SASE strategy plan with timelines and goals. Another 32% are phasing out VPNs in favor of a zero-trust network access (ZTNA) approach, and 29% are consolidating security elements, such as ZTNA, secure web gateways (SWGs), and cloud access security brokers (CASBs) in an effort toward SASE.
All that said, when it comes to the future of distributed networking, 68% of organizations plan a hybrid approach, with some functions at the branch (a la SASE) and others in the cloud. Just 13% would move all security to the edge via SASE.
SD-WAN Slowly Growing
When it comes to SD-WAN adoption, respondents are in a similar place to SASE. Thirty-five percent are still learning about the technology; 23% are evaluating vendors. Just 11% have deployed SD-WAN.
Lack of knowledge was claimed as a key barrier to SD-WAN adoption by 31% of survey respondents. And internal politics was a factor for 30%. Of course, this suggests that some IT professionals may be resistant to SD-WAN because they don't understand it. Despite its entrenchment in the cloud, a full 28% of respondents think it's still a "very new technology." Cost is also a factor: 29% see increased spending as a barrier to adoption.
WAN Management Top Priority
When asked to rank technology initiatives to be undertaken in 2022, network management and monitoring, along with a complete WAN refresh and shift to cloud, topped the list of priorities -- ahead of SASE and SD-WAN, as shown in the chart below: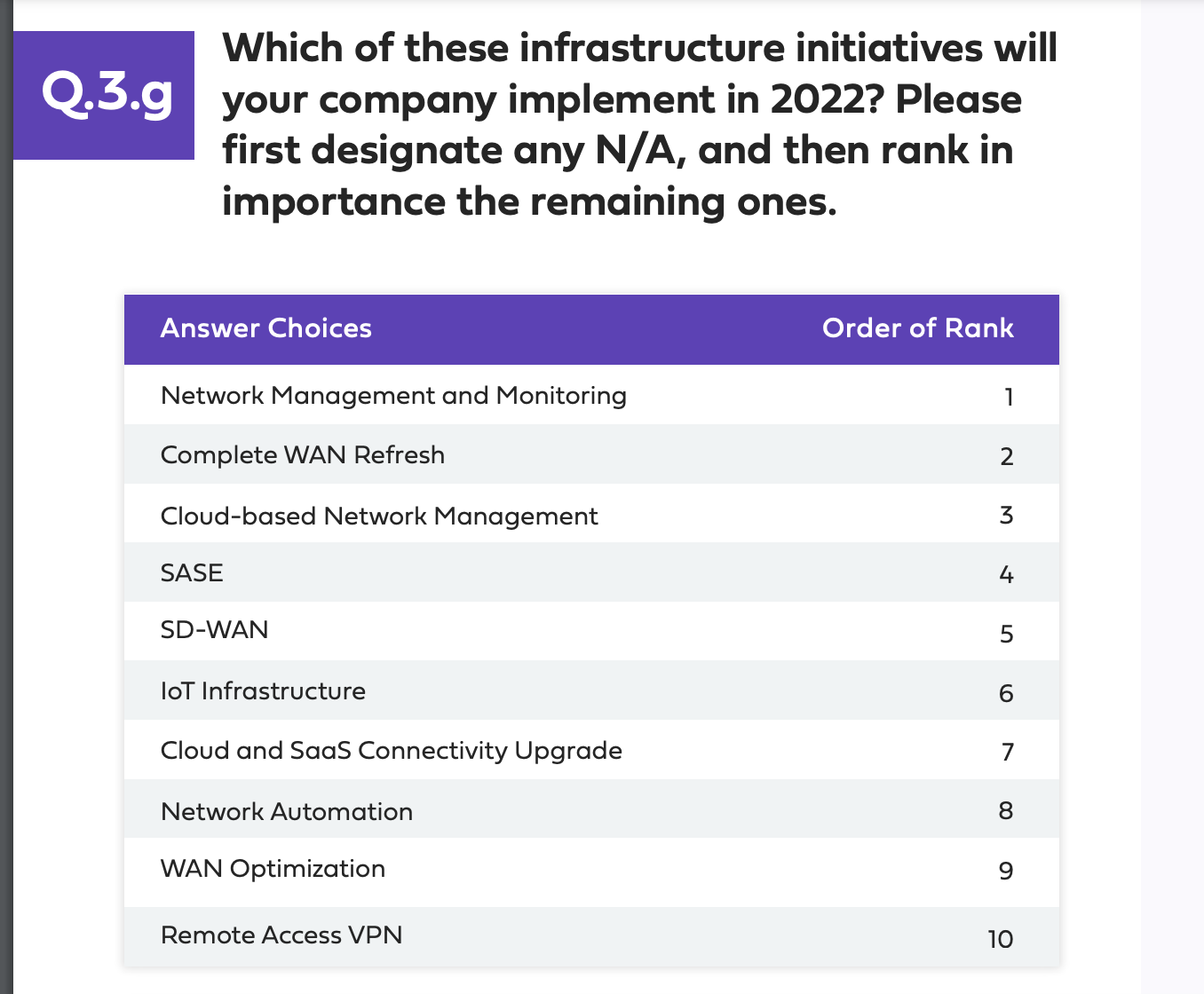 Source: Aryaka's Sixth Annual "State of the WAN" report.
Thankfully, respondents to Aryaka's survey reported no lack of funds to help further their technology plans. Seventy-four percent expect their IT budgets to grow at least 10% this year; just 19% expect them to decrease.
There is much more in Aryaka's survey to interest IT pros. But the key observations – the move to distributed cloud and the push for greater security and services – tally with what Futuriom sees in the market. Stay tuned for more.