Preview: The 2024 Futuriom Research Calendar

Here we go – we've been hard at work, planning all the work we have to do. We have released our preliminary 2024 research calendar, which includes topics both new and familiar!
Hybrid and multicloud infrastructure, cloud security, SASE, and cloud cost optimization are all red-hot topics that we intend to cover out of the gate in 2024. And no, we haven't forgotten AI and what AI means for cloud infrastructure -- a topic we have been on top of.
For those of you unfamiliar with our practice, Futuriom publishes two types of reports: Cloud Market Trend Reports (CMTRs), which are sponsored and thus can be downloaded for free by our audience; and premium Cloud Tracker Pro (CTP) reports, which require a subscription and include detailed deep dives on cloud and communications infrastructure trends.
Both these products continue to expand over time and cover a wide variety of topics on cloud infrastructure and communications.
Futuriom 50 in Its Fourth Year!
The year will kick off with the Futuriom 50. This is the fourth year in a row we are publishing our groundbreaking report on the top private companies in cloud and communications infrastructure technology. Each year, the report has expanded the scope of our coverage as well as the total number of startups we follow.
Many of the startups we picked for Futuriom 50 have gone on to be acquired or even to IPO. In many cases, we have correctly predicted which of the Futuriom 50 were getting close to IPOs. We'll announce in the report who we think is next!
This year we will also be introducing a new feature – the Futuriom company database, where we will present Futuriom 50 information online. Contact us if you would like information about how to submit information for the database ahead of time – or talk to our analysts.
Cloud Costs, AI, and More ...
Cloud cost management was one of our hottest topics for 2023. We've moved the Cloud Cost management (CCM) and FinOps report up into February of 2024 because it's such a hot topic. This will be followed by a Telco Cloud Automation and Sustainability report, synced with Mobile World Congress.
Continuing down the line, we'll push out Networking Infrastructure for AI in April, and then Cloud Security Platform Consolidation: From SASE to AI – to highlight activities around the RSA Security Conference.
In June, we unveil a new report focused on cloud visibility and NetDevOps, called – you guessed it – Driving Cloud Automation with Visibility and NetDevOps. After that, we'll once again publish our SD-WAN and SASE Managed Services Survey in July.
Our fall lineup includes Edge Compute Automation and Data Management (September), our always-popular Multicloud Networking and NaaS Survey (October), and the SASE Ecosystem Outlook report (December). You can see the full calendar below.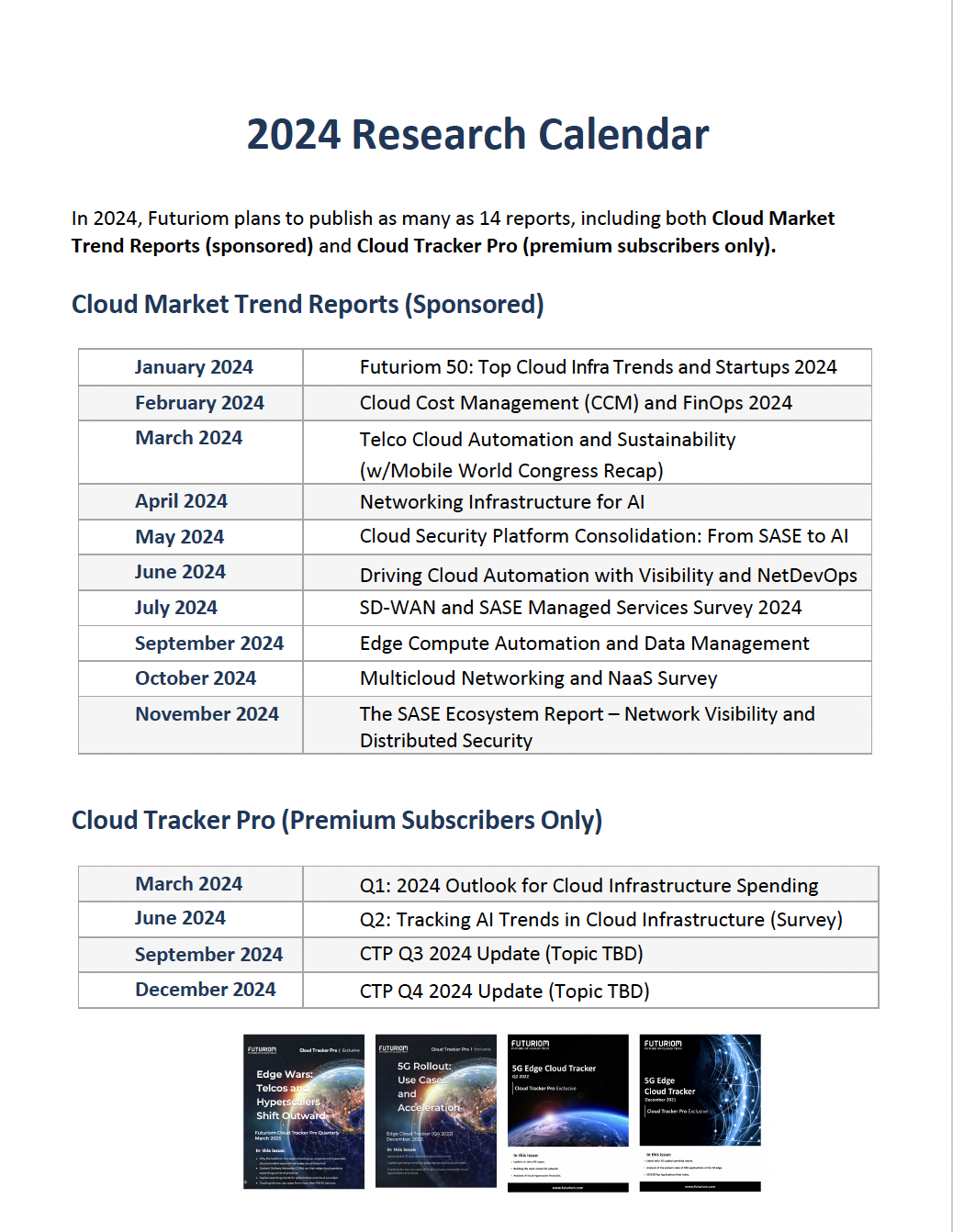 Cloud Tracker Pro Tracks Infrastructure at Work
The Cloud Tracker Pro Calendar will be full too! In this premium service, we dive deep on data and trends in the top use cases of cloud infrastructure, including cloud infrastructure investment via capital spending (capex), 5G service deployments, and the top use cases for hybrid cloud and multicloud technology.
The 2023 CTP reports covered trends in AI infrastructure, edge services, 5G use cases and acceleration, and hybrid cloud developments. We will track all of these trends in 2024, as well as capital spending trends among both service providers and cloud providers.
Check out the full calendar now! You can download it here.