Cloud Cost Management and FinOps 2023

In the past year, the economic environment has changed remarkably. The COVID technology boom, produced by low interest rates, government stimulus, and trends such as remote work and digitalization, produced enormous growth – but the economy is notably slowing. Rising interest rates have normalized technology investment expectations, and large technology firms have been cutting back on expenses and headcount. In conjunction with these trends, chief financial officers (CFOs) are taking a red pen to technology budgets – and we expect public cloud services costs to come under the microscope.
The need to deal with mushrooming cloud complexity and cloud costs is the reason we have published our first report on cloud cost management (CCM), an emerging industry segment that is rapidly gaining interest.
The Futuriom CCM Debut!
In this debut report from Futuriom, we explore the reasons why cloud complexity has become an untamed beast in many, if not most, companies today. We also dive into remedies that companies have at their disposal to first rein in cloud costs and, before long, to make business and engineering decisions based on cloud economics.
Finally, we'll end by profiling leading solution providers and highlighting their approach to helping their customers to optimize existing cloud spend and make smarter decisions about future cloud initiatives and longer-term strategies.
The report includes key trends and drivers of the need for CCM and FinOps solutions, as well as different technology solutions from vendors. Included is a summary of the leaders in he space, including 14 companies.
Special thanks to our sponsors -- Aviatrix, CAST AI, and Prosimo.
Read up on the full highlights below. You can download the full report here.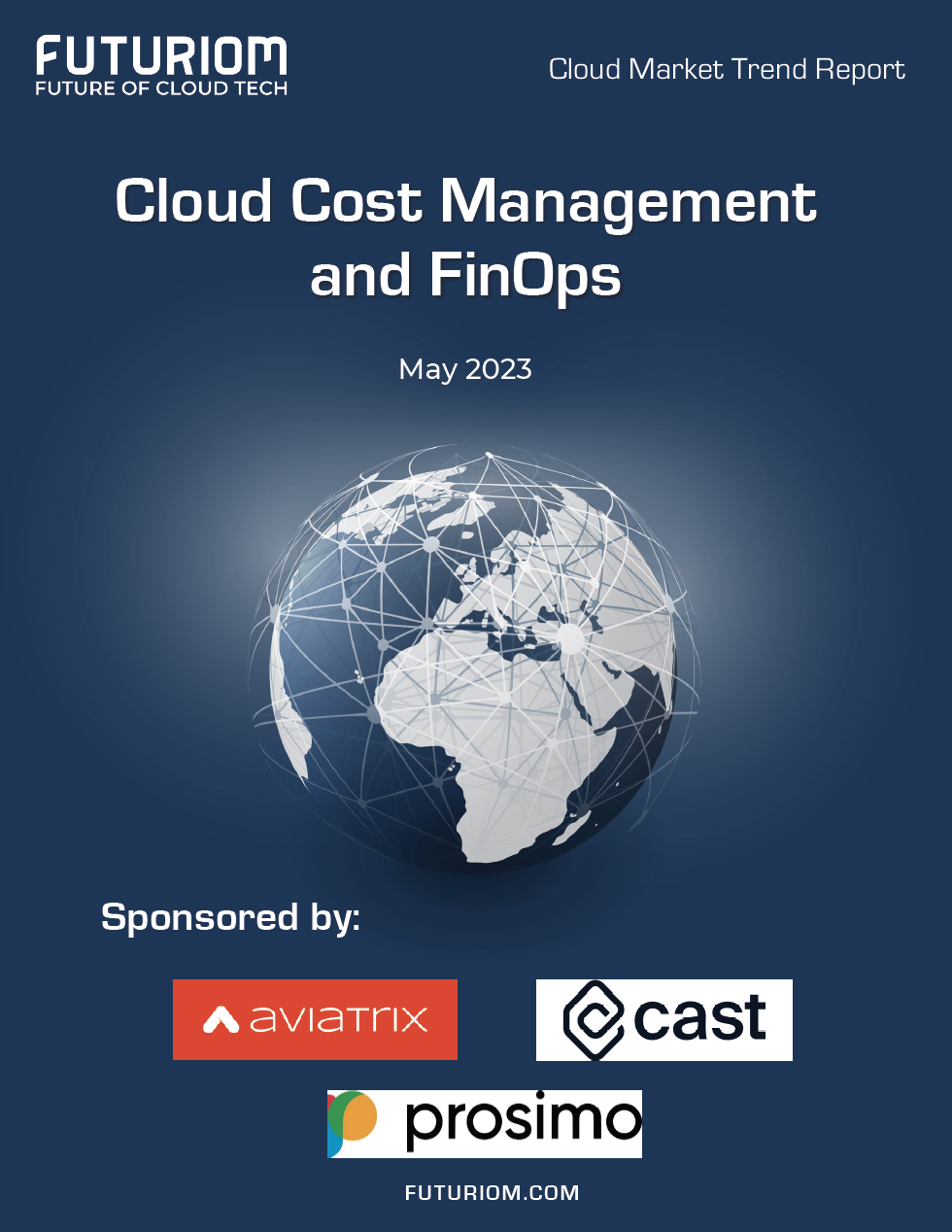 CCM Highlights and Trends
Recent survey data indicates that cloud investment will continue at a fast pace, but there will be more focus on management and optimization of cloud infrastructure. Our recent survey of IT managers and CxOs indicates that 47% of those surveyed plan to accelerate or keep the pace of cloud investment, with 28% focusing on solutions that can help them save costs.
Concerns about cloud cost management (CCM) are rising. In our work with enterprise end users, we are hearing more concerns about CCM, as the economic slowdown and rising interest rates have raised concerns about managing of cloud infrastructure costs. This has also surfaced in multiple surveys, by Futuriom and other research groups.
Better cloud visibility is needed. Increased visibility will enable management teams to make better decisions about cloud services – such as which services are cheaper or better.
Specialized cloud infrastructure technology such as cloud networking and analytics will play a key role in CCM. Futuriom has noticed that multicloud networking companies have recently picked up on the focus on CCM and are launching more visibility and CCM products and features.
Cloud compliance and visibility are also top of mind. Cloud management has reached a new phase of awareness at the C-level and board-level, driving new demand for technology platforms that can identify the costs, security risks, and needs for automation in cloud infrastructure.
Cloud management teams are weighing repatriation decisions. With the costs of public-cloud services under the microscope, the use of compute on premises may become more appealing – potentially accelerating the trend toward cloud repatriation.
New CCM, FinOps, and multicloud management tools will expand to help manage and mitigate cloud costs. Futuriom has identified a group of new tools and vendor delivering CCM, multicloud, and hybrid cloud visibility.
Companies mentioned in this report: Apptio, Aviatrix, CAST AI, CloudZero, Flexera, IBM (Turbonomic), Kubecost, Prosimo, Snow Software, Ternary, Virtana, VMware, Yotascale, Zesty