Why Google Cloud Platform Is on the Rise

The Google Cloud Platform (GCP), historically the third-place hyperscaler among the so-called cloud titans, is showing signs of drawing ahead in the enterprise cloud race.
Parent company Alphabet Inc. (Nasdaq: GOOGL) reported $4.6 billion revenue, up 54% year-over-year for Google Cloud, the division that hosts GCP, during the company's Q2 2021 earnings announcement this week. That gives the company an annual run rate of $18.4 billion compared to $12 billion at this time last year. And while Google Cloud showed an operating loss of $591 million for the quarter, that was 59% lower year-over-year and 39% lower sequentially.
"In Q2, there was a rising tide of online activity in many parts of the world, and we're proud that our services helped so many consumers and businesses," said Alphabet CEO Sundar Pichai in the opening remarks of a press release. "Our long-term investments in AI and Google Cloud are helping us drive significant improvements in everyone's digital experience." [Emphasis added.]
A Closer Look at GCP Numbers
Google Cloud's revenue isn't in the league with public cloud sector leader AWS, which reported $13.5 billion in revenue for the first quarter of 2021. And it's not yet nipping at the heels of Azure, which accounted for the greater part of a $14.6 billion segment last quarter. Still, when comparing the growth of GCP against that of its direct rivals over the past four quarters, GCP's progress is clear, as shown in the chart below: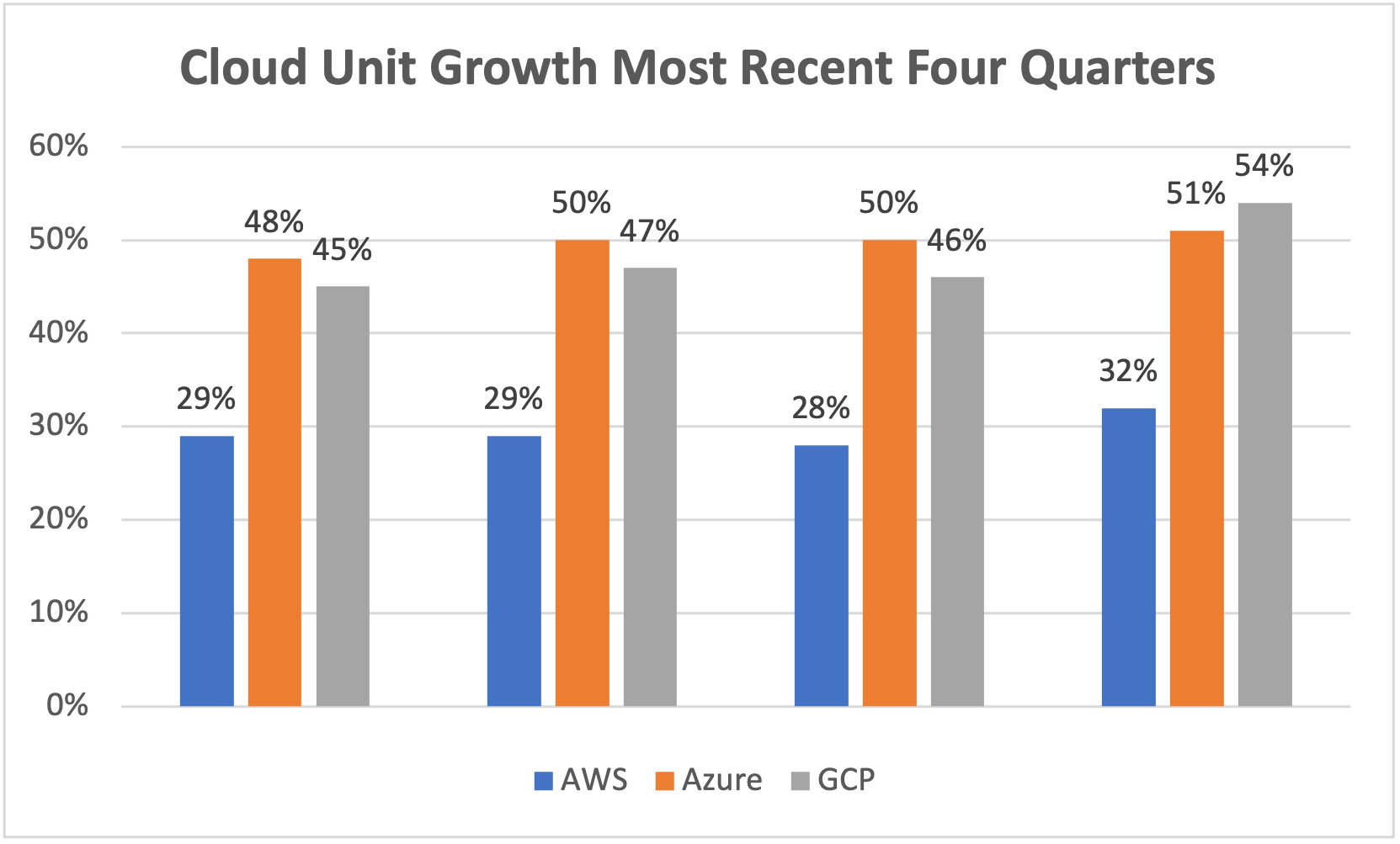 Source: Company reports
What's Different About GCP
GCP's differentiators, Google says, are its security features and analytics, both artifacts of the company's broader heritage as a search and content giant. "This quarter we saw … the increase in cyber and ransomware attacks is a wake-up call for the industry. Over two decades, Google has built some of the most secure computing systems in the world," Pichai said on this week's earnings call with financial analysts. He referenced Google security software BeyondCorp and cited the company's pioneering work in Zero Trust Network Access. And the GCP Chronicle and BigQuery analytics platforms were mentioned as standouts as well.
Google also has taken advantage of the growing affinity between telecommunications service providers and the big cloud companies. While Google Cloud can't claim a deal as startling as Azure's with AT&T or even IBM Red Hat's with Verizon, its business with telcos is building.
"Our focus on delivering industry specific solutions, coupled with our secure, open cloud infrastructure enable us to support leading telecommunications companies such as Reliance Jio, Telecom Italia TIM, and Ericsson, to work together on applications and new solutions for 5G networks and Mobile Edge Computing. These join existing customers Vodafone, Telus and many others," said CEO Pichai this week.
Kurian Credited

Some sources credit Google Cloud CEO Thomas Kurian, who has been in charge of the division since 2018, for GCP's growing popularity. Nico Grant at Bloomberg noted the following in an article this week:
"Under his supervision, Google Cloud's revenue has more than doubled and is growing at a quicker pace than that of its parent company, Alphabet Inc. During the Covid-19 pandemic that caused Google to pause most hiring, Kurian's division snapped up new employees…. His workforce is now 37,000 people strong, from 25,000 when he took the reins, making Kurian one of the most important executives at Google."
Kurian has reportedly made sales a priority for Google Cloud, which could account for the growth in enterprise customers in key markets. For example, Pichai noted that this quarter featured customers such as Johnson Controls, PayPal, and Whirlpool, which have extensive enterprise resource planning (ERP) systems based on software from SAP (NYSE: SAP). The additions speak to a keen awareness of the enterprise market opportunities emerging from digital transformation initiatives.

There's every chance that GCP will continue to grow. Google Cloud's parent is intent on growing support for GCP, recognizing its value to the company. And without exception, technology companies that serve the enterprise are reporting enormous opportunities as customers shift larger and more critical applications to the cloud. Within a few quarters, it's possible we'll see GCP edging a lot closer to its rivals.