Alibaba Cloud Looks to Get Stronger in Breakup

The Alibaba Group (NYSE: BABA) will soon make its cloud division a separate corporation and possibly take it public, in a move that could make the business more agile as it looks to artificial intelligence (AI) and workload collaboration to expand internationally.
Alibaba made the announcement this morning as part of what the company termed a "corporate governance reform" that represents "the most important organizational change in Alibaba in 24 years."
Alibaba said the breakup was initiated by Daniel Zhang, CEO of the entire Alibaba Group holding company. He took over as president of Alibaba Intelligent Cloud and enterprise communications platform DingTalk after Jeff Zhang quit the post in the wake of a 24-hour outage last year that caused big losses in the Asia-Pacific financial sector.
Under the new regime, Zhang will continue to preside over Alibaba Group, which will act as a holding company for six major business groups, under which multiple companies will operate. The groups include Alibaba Cloud Intelligence, Taobao Tmall Business (Chinese e-commerce), International Digital Commerce, Local Life "click and collect" restaurant delivery service, Cainiao logistics, and Dawen Entertainment.
Each of the business groups will have its own CEO and board of directors and be responsible for its own destiny. According to Alibaba's press statement, "[E]ach business group and company must actively face the rapid changes in the market and technology, form their own development strategies, make quick decisions, strive for progress, be brave in innovation, and face the test of the market…" Each group will also be able to pursue its own financing and stock market listing.
CEO Zhang Pushes Cloud
Notably, Daniel Zhang continues to oversee Alibaba Cloud in addition to his duties as Alibaba Group CEO, a post he inherited from co-founder Jack Ma (who just recently returned to China from a long absence and has no apparent role in the reorg). During the company's latest conference call to report earnings for the quarter ended December 31, Zhang said the decision to head up Cloud was determined by three elements:
"First, cloud computing is one of Alibaba's core strategies for the future. Innovation and other technologies will have an impact not just on Alibaba Cloud, but the entire Alibaba Group.
"Second, Alibaba Cloud is also the foundation through which Alibaba serves the real economy and will continue to drive physical-digital integration.
"Third, we believe this is a critical period for technological breakthrough and development in this nexus of cloud computing and AI."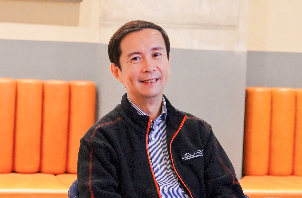 Alibaba Group CEO and Intelligent Cloud President Daniel Zhang. Source: Alibaba
Alibaba Cloud's Potential
Alibaba Cloud is the largest cloud service in China with a 36% market share there, according to Statista. Worldwide, the company has between a 4% and 10% market share behind titans AWS, Microsoft Azure, and Google Cloud, depending on who's counting. At the enterprise level, rivals include IBM and Oracle in the cloud space.
Over the past year, Alibaba Cloud faced challenges brought on by the Chinese government's strict "COVID zero" lockdown measures (just recently lifted) as well as a government crackdown on technology businesses that the ruling party believes run counter to the Communist economic approach. For the year ended December 31, 2022, Alibaba Cloud realized just 3% quarterly growth year-over-year to about $2.9 billion, compared to 10% or 12% in prior quarters.
Still, with an ongoing proliferation of datacenters and points of presence around the world (including 28 regions and 86 availability zones), Daniel Zhang is confident that Alibaba Cloud will continue on an upward trajectory. Its goals include: staying focused on expanding partnerships and ecosystem relationships; being international in scope; adding AI to its products; and providing cloud services that tap Alibaba's DingTalk for "workplace collaboration and application development."
According to Bloomberg, Alibaba Cloud was a distant second to the company's e-commerce business in fiscal 2022, accounting for about 9% of all revenues. But Zhang is intent on improving that figure. During the Q&A of the company's last earnings call, he said:
"When it comes to cloud computing, this is an industry where China is really just getting started, compared to the US. IT spending as a proportion of GDP is just 1% in China, but 5% in the US. And cloud accounts for just 15% of IT spending in China, versus 21% in the US. These are figures from IDC. Just looking at these two sets of numbers, you can see the immense opportunity that exists in China. Of course, as technology continues to develop and new cuttingedge technologies come to the fore, like generative AI, which we just touched on, but also VR, virtual reality, which we've discussed previously, all of these technologies are going to require massive computing power. So we can expect to see exponential growth in demand for computing power."
Bottom line? Alibaba Cloud remains a priority for the Alibaba Group. And functioning as a discrete entity could make it more agile and aggressive in pursuing international cloud customers. Could resistance from western countries hurt these goals? That remains to be seen. In 2022, the group opened datacenters in Saudi Arabia, Germany, Thailand, South Korea, and Japan, indicating its reach is still broad and extends to Europe as well as throughout the APAC region.
Alibaba Group's shares climbed on the news at midday were trading at $96 +9.88 (11.47%)