AWS Brightens Amazon's Dull Report

Amazon Web Services (AWS) was the sole bright spot shining through otherwise disappointing earnings results from parent Amazon (Nasdaq: AMZN) last night.
Indeed, Amazon CEO Andy Jassy cited AWS at the top of the earnings release: "The pandemic and subsequent war in Ukraine have brought unusual growth and challenges," he stated. "With AWS growing 34% annually over the last two years, and 37% year-over-year in the first quarter, AWS has been integral in helping companies weather the pandemic and move more of their workloads into the cloud."
For the quarter ended March 31, AWS posted $18.44 billion in revenues, higher than the $18.27 billion analysts expected. And while operating expenses increased 28% year-over-year to $11.9 billion for the quarter, so did operating income, which rose 56% year-over-year to hit $6.5 billion in the quarter.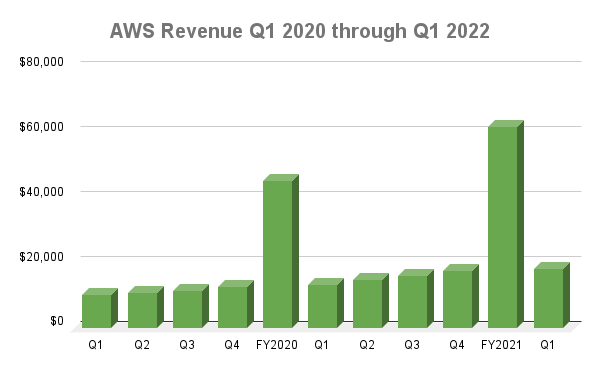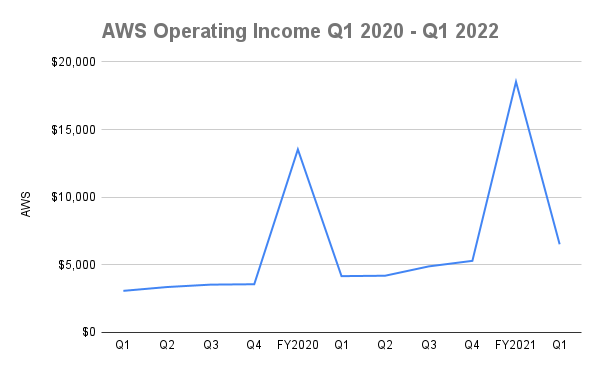 Source: Company reports

AWS Wins Big NSA Contract
There is more good news from AWS: Though Amazon didn't mention it in its earnings presentation, the U.S. National Security Agency (NSA) this week acknowledged that it has re-awarded AWS a $10 billion contract for cloud services after an extended reevaluation prompted by opposition from Microsoft (Nasdaq: MSFT) when AWS was picked back in 2021.
"NSA recently awarded a contract to Amazon Web Services that delivers cloud computing services to support the agency's mission," an NSA spokesperson told online news publication Nextgov. "This contract is a continuation of NSA's Hybrid Compute Initiative to modernize and address the robust processing and analytical requirements of the agency."
Other Big Wins
On the earnings call, Amazon boasted of numerous new business for AWS. "Companies like Telefonica, Verizon, Boeing, MongoDB, Amdocs, Bundesliga, Maple Leaf Sports and Entertainment, the NHL, and Thread announced new agreements and service launches supported by AWS," said CFO Brian Olsavsky. "We also continue to build support infrastructure to best serve AWS' millions of customers. We recently completed the launch of our first 16 local zones in the United States with 32 more to come across 26 countries."
On the earnings call, Amazon execs also said the backlog of customers with long-term commitments to AWS represented $88.9 billion in business, up 68% year-over-year.
Some Otherwise Sorry Figures
Jassy did well to lead with AWS results. In contrast, Amazon as a whole didn't fare so well. While quarterly revenues grew 7% year-over-year to $116.4 billion, nearly every other measure of profitability was down: Net loss was $3.8 billion for the quarter, down from a profit of $8.1 billion for last year's quarter. For the twelve months preceding March 31, 2022, net cash provided by operating activities was $39.3 billion, down 41.5% from $67.2 billion for the twelve months ended March 31, 2021.
For the first quarter, AWS represented 16% of overall Amazon sales, compared to 12.4% for last year's first quarter.
Guidance Gloomy
For the next quarter, Amazon expects to report between $116 billion and $121 billion in net sales, representing growth between 3% and 7% year-over-year. Operating loss could fall to $1 billion, or operating income could rise to $3 billion, compared to operating income of $7.7 billion for the second quarter of 2021.
Bottom line? Until inflation, Russia's invasion of Ukraine, supply-chain and staffing woes improve, AWS will remain a bright spot in an otherwise bleak forecast.