Telco 5G Gets Cloudy: Who's Doing What

As telecom operators move to 5G networking, they are challenged to make the most of the opportunities it presents, particularly in multi-cloud networking for enterprises. And cloud companies of all kinds -- including giants like Microsoft (MSFT), IBM (IBM), and VMware (VMW), continue a massive push to help the telcos reach the goal.
Recently, the campaign has become more energized. The aim is not just to help operators link to major cloud titans at the edge, but to help them create their own 5G-enabled, cloud-native edge and core environments. Cloud vendors hope this effort will finally get the operators to optimize their networks for new kinds of money-making services, which in turn will open new doors of profitability for all connected players.
"This may be one of the last opportunities operators will have to open up their networks and not just provide connectivity," said Misbah Mahmoodi, senior director of product marketing for VMware, in an interview with Futuriom.
Like most of the major cloud players, VMware is part of a massive, multi-market effort to boost 5G that requires participation not only from the major public cloud vendors and service providers but from colocation hosting providers, content networking companies, systems integrators, distributed routing suppliers, and every other participant in digital transformation.
While much of this trillions-of-dollars addressable opportunity remains in the future, recent developments show the forces underway in support of carrier 5G. Following are some recent news highlights, in alpha order by vendor:
Cellwize Wireless Technologies. The Tel Aviv-originated startup, founded in 2013, uses artificial intelligence (AI) and machine learning to create a cloud-based, abstracted, multivendor view of a mobile network operator's radio access network (RAN), which links users to services. The solution, called CHIME, uses application programming interfaces (APIs) to enable automation and orchestration for all vendors' wares in the RAN, thereby streamlining 5G service upgrades.
Cellwize claims 40 mobile network operators across 16 countries as customers. It says 3 million cell sites and 800 million subscribers worldwide are overseen by CHIME.
Cellwize recently scored $32 million in Series B funding led by Intel Capital and Qualcomm Ventures LLC with participation from Verizon Ventures, Samsung Next, and others. Its total funding is now $56.5 million.
Guavus. The Thales subsidiary has launched a new iteration of its AI-based analytics solution for carriers. Guavus-IQ on Amazon Web Services (AWS) gives mobile network operators in-depth, AWS-cloud-based information about their subscribers. The goal is to allow the carriers to view how subscribers are behaving on their 4G and 5G services and how well the services are performing for those subscribers.
Guavus-IQ on AWS is based on AWS's existing licensing of Guavus technology for use in Amazon Kinesis Data Analytics -- a solution for customers with real-time streaming data applications. "Guavus and AWS have a shared vision of helping operators accelerate their digital transformation initiatives and improve their customer experience through real-time decisioning," said Alexander Shevchenko, CEO of Guavus, in a prepared statement.
HPE. Hewlett Packard Enterprise (HPE) early this year unveiled a suite of 5G tools for telcos that are tied to HPE's Aruba Central AI-equipped platform for managing, securing, and orchestrating the software-defined wide-area networking (SD-WAN) and wireless solutions offered through HPE's Aruba division.
IBM. The company recently unveiled its own program, called IBM Cloud for Telecommunications, which packages services and solutions such as Red Hat OpenShift, IBM Edge Application Manager, and IBM Telco Network Cloud Manager, to assist telcos looking to develop lucrative 5G services. IBM says the roster is based on IBM's Cloud Satellite, now in beta, which sets up infrastructure for consistent deployment of applications across public, private, and hybrid clouds — all managed by IBM Cloud.
Part of IBM's effort is a partner ecosystem of 35 vendors, including Cisco (CSCO), HPE, Intel, Nokia (NOK), and Samsung, to name just a few, as shown in IBM's chart below: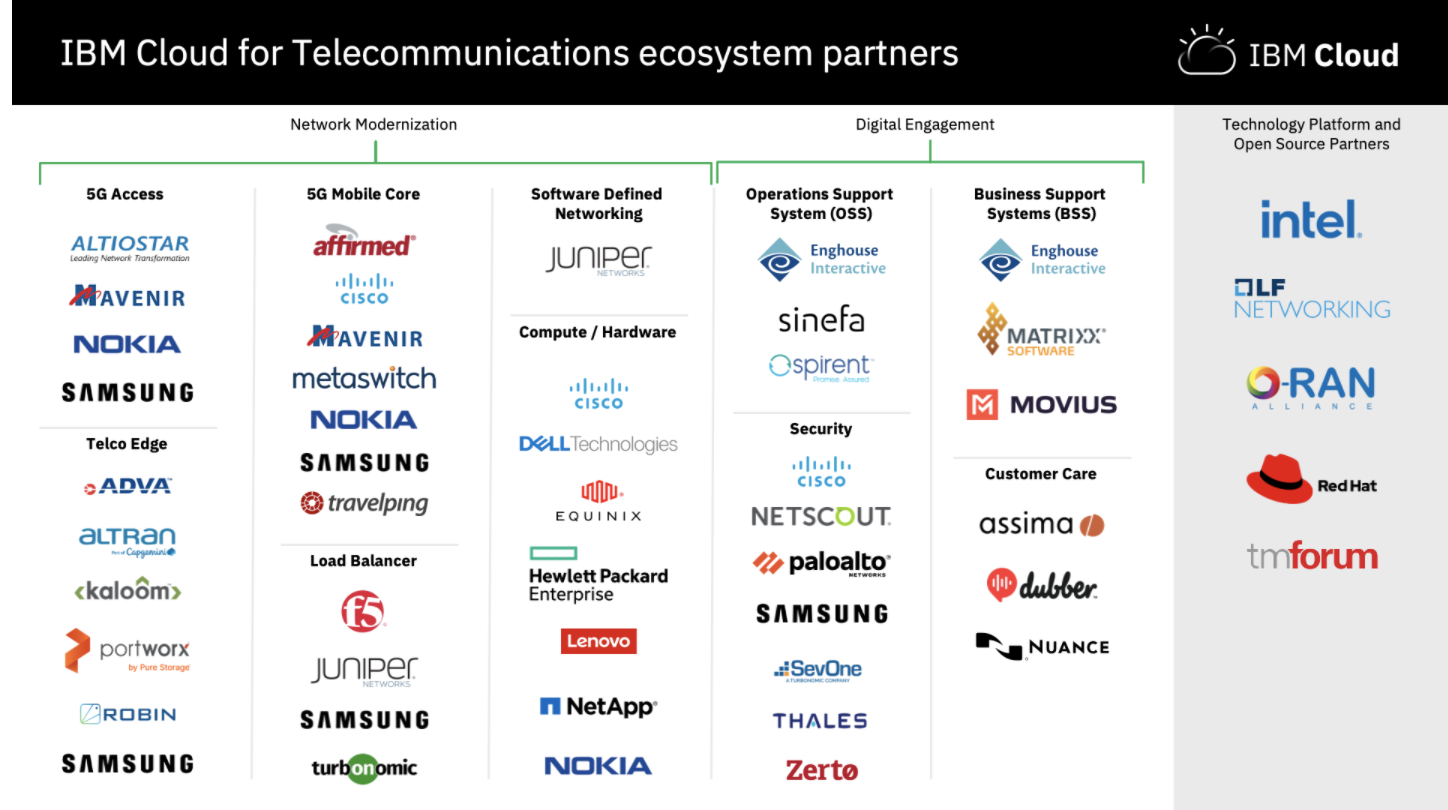 Source: IBM

Microsoft. In September 2020, the company unveiled a detailed strategy to boost carrier 5G called Azure for Operators, which includes a "carrier-grade cloud" featuring AI and machine learning. This ambitious and enormous project will use technologies acquired from Microsoft's purchase of Affirmed Networks for over $1 billion and Metaswitch for roughly $270 million earlier this year. It also will leverage Azure Edge Zones and Azure Edge Stack, Microsoft's solutions for distributed, edge cloud deployments.
Not surprisingly, Microsoft's partner ecosystem includes many of the same players that IBM's does, including Nokia and Samsung. And in many ways, Microsoft's plan seems a bit more developed than Big Blue's at this point in time. By emphasizing the network edge, Microsoft is taking aim at the most vital area of focus for carrier 5G, and that's gotten the business of a range of worldwide service providers, including the following: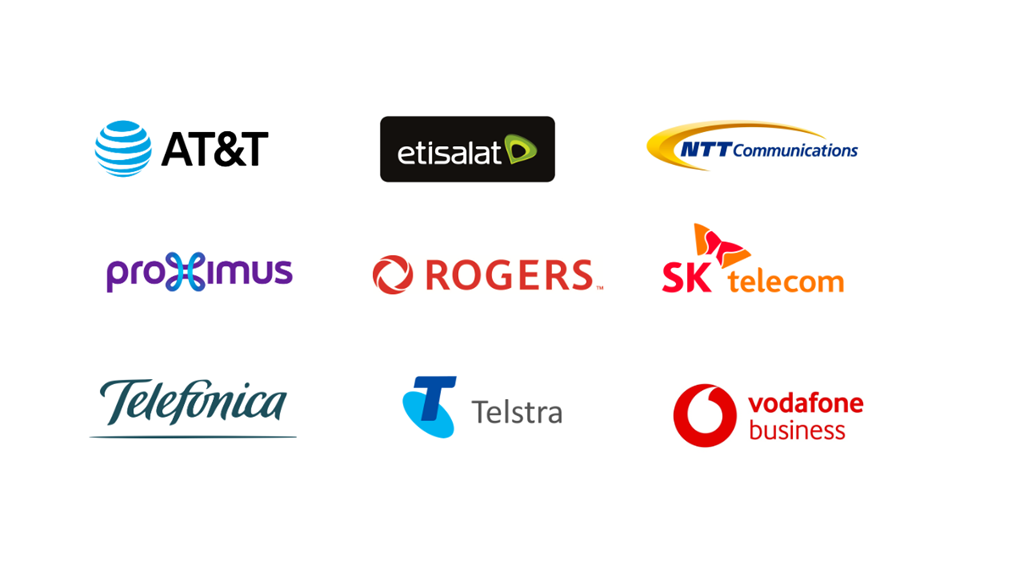 Source: Microsoft

VMware. Among the most aggressive players in boosting telco 5G efforts, particularly for enterprise applications, VMware in June introduced a certification program aimed at helping telcos move to cloud-based 5G services. It's also established a VMware Telco and Edge Cloud Business Unit. And in early September 2020, VMware released VMware Telco Cloud Platform, comprising a range of solutions to help service providers set up, manage, and, as Mahmoodi states, "monetize" their emerging 5G environments.

All of the above players, among many others, see telcos as key to 5G emergence. Though often viewed as cumbersome and constrained by hierarchical and siloed org charts, operators still own the underlying infrastructure to which 5G must attach. Only by enabling these carriers to modernize — to open and disaggregate the RAN and build out more digital transformation --- can cloud companies catch the rising 5G tide they hope will lift all boats.