Inside Microsoft's Massive Push to the Edge

The edge is heating up. Microsoft made some interesting moves this week as it unveiled a number of initiatives targeted at building out connectivity at the edge of the cloud -- where end users initially connect to cloud applications. Microsoft is calling its approach Azure Edge Zones, which includes a technology stack and strategy with a number of technology vendors and service providers as partners.

This follows on the heels of Microsoft's move last week to buy Affirmed Networks -- a deal that Bloomberg put at $1.35 billion, a number that shocked many in the industry. Put all this activity together, and it's clear that Microsoft has big plans for the edge.
The edge cloud, as Futuriom is calling it, is a huge area of potential growth for the next ten years. This is the cloud connectivity infrastructure that lies between enterprise end-users and consumers and the cloud networks that host applications. As applications get more sophisticated, boosted by the arrival of technologies such as microservices which can distribute applications across networks and clouds, a new edge infrastructure will be needed more intelligently manage, secure, and network data closer to the customers.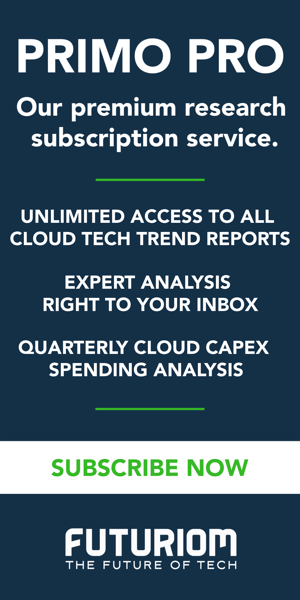 5G is a big catalyst for this move to the edge, and it's covered in detail in our April report -- 5G Catalysts: Opportunities at the Edge. It will ramp up the throughput of data, provide lower latency connectivity, and put more taxing requirements on edge infrastructure. Many existing edge compute applications can be supported with 4G/LTE connectivity or even low-power, wide area networking protocols. But a wide range of new use cases will require 5G in order to maximize connection density, boost bandwidth, minimize latency or guarantee quality of service via network slicing.
All new platforms create new applications and business opportunities. This will be the case with the edge. And this is why Microsoft is targeting this opportunity.
Edge Zones and Service Providers
Microsoft this week announced the launch of Azure Edge Zones and Azure Private Edge Zones, which company officials said are meant to provide a consistent set of development, management and other cloud services for emerging edge-computing scenarios. The company said public previews will likely be available this summer.
These Edge Zones will be built by Microsoft as well as a wide range of partners, including service providers and technology vendors. Microsoft highlighted the opportunity for operators and networking providers to build 5G-optimized services and applications for their partners and customers.
In a blog for Microsoft on Tuesday, Yousef Khalidi Corporate Vice President, Azure Networking, wrote that Azure Edge Zones are designed to improve application performance at the edge and target the opportunity in areas such as online gaming, remote meetings and events, and smart infrastructure.

As part of the service-provider partnership, Microsoft has created a version of Edge Zones called Edge Zones with Carriers which connects Azure services directly to 5G networks in individual carriers' data centers. Microsoft has already announced big deal with AT&T for edge connectivity, but its also announced additional carrier partners including NTT Communications, Rogers, SK telecom, Telstra, Vodafone, Proximus and Etisalat. Microsoft says to expect its telecom and carrier partners to bring Edge Zones to mutual customers later this year.
Microsoft is planning to deliver standalone Azure Edge Zones in more than ten cities in the next 12 months, starting with Los Angeles, Miami and New York this summer. Last year, AWS announced AWS Local Zones, designed to bring certain AWS services to a particular geographic area, starting with Los Angeles. AWS' main partner with its 5G-cloud connectivity strategy is Verizon.
These moves highlight the opportunities for service providers in the new edge. They have the potential to launch important new connectivity services to support edge applications. This is being highlighted by the current COVID-19 crisis, which points to the need for more resilient and secure infrastructure for remote working and services such as telemedicine.
Going Private on the Edge
Another part of Microsoft's announcement was Private Edge Zones. This will combine a 5G LTE network combined with Azure Stack Edge (the product formerly known as Azure Databox Edge). Private Edge Zones can be combined with Microsoft technologies such as Azure IoT Central and Azure Sphere.
Microsoft has drawn in some top networking companies to help build out its edge stack. Some of the technology partnership include Arista Networks, VMware, Metaswitch, Nokia, Nuage Networks (a division of Nokia), Palo Alto Networks, and NetFoundry -- just to name a few (see the full partner list below).
Some of the more interesting relationships involve the partnership with SD-WAN supplies such as VMware and Nuage, as well as cloud-native secure networking technology such as NetFoundry. This points to the coming convergence of secure networking with the edge.
For example, The new Edge Zones will enable customers to run valued-added products as Virtual Network Functions (VNFs), such as using VMware's VeloCloud or Nuage Networks to provide virtualized networking services. In another example, NetFoundry is providing a cloud-based networking solution that enables applications to securely and reliably connect to compute environments using a zero-trust model.
Microsoft has illustrated its full Private Edge Zones ecosystem in the illustration below.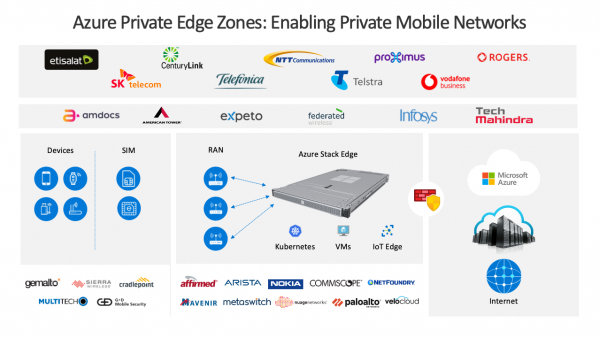 With Microsoft putting its muscle behind the edge and recruiting a wide range of partners, it's highlighting the development of one of the most exciting areas developing in cloud infrastructure -- the cloud edge. This is going to be the next big growth story for the cloud.