Cloud Capex Update: Cloud Titans See Growth

Despite uncertainties in the current technology markets, the so-called cloud titans — Amazon (AMZN), Apple (AAPL), Facebook (FB), Alphabet/Google (GOOGL), and Microsoft (MSFT) — are reporting cloud growth in response to shifts in enterprise demand.

One measure of this growth can be seen in capital spending, another in the overall revenues of cloud suppliers that serve the enterprise market. Equipment suppliers also are reporting ongoing enterprise demand in spite of supply chain woes.
Following Cloud Titan Capex
For the second quarter of 2020, AWS and Microsoft, both heavily invested in the enterprise market, showed strength despite the COVID-19 pandemic. Following mostly solid
first-quarter results
, these two reported significant capex growth this quarter, as shown in the charts below: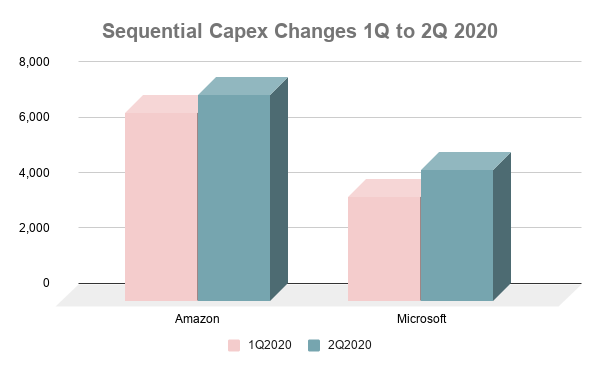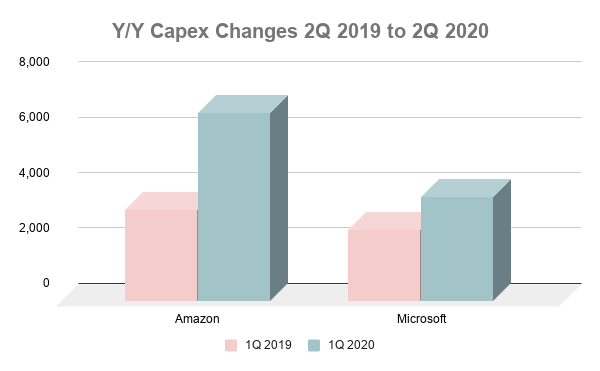 The capex trend also was reflected in the recent earnings report of Equinix (EQIX), which continues to invest in hyperscale facilities worldwide to serve big cloud customers. It's also interesting to note that network interconnection represented thousands of enterprise deals for Equinix during Q2, indicating strong interest in hybrid and multi-cloud offerings.
Growth in Cloud Revenues Too
While the other big cloud players didn't show big capex this quarter, their revenues and projections for the year indicate no slowdown in adding resources to their public cloud environments for business.
In this vein, Alphabet's latest
quarterly report July 30
shows capex down 10% sequentially and over 12% year-over-year. But Google Cloud revenues grew 43% year-over-year and 8% sequentially. Apple and Facebook also reduced capex in the latest quarter, even while showing overall revenue increases (11% year-over-year for both companies).
According to financial analysts Simon Leopold and colleagues at Raymond James, cloud growth can be just as important an indicator as capex. In a recent note they stated:
In addition to capex, we also look at the rate of growth of hyperscale business particularly their fast growing cloud offerings as a longer-term indicator of networking capex trends. We consider cloud growth a good proxy, as computational resources remain the foundation and are likely to grow consistent with this business.
More Evidence of Rising Enterprise Clouds
Financial results from the public cloud titans don't give a full picture of enterprise demand, but there are signs in other market areas that companies are increasingly turning to cloud solutions to save operating costs and meet theneed for remote work.

For example, there has been upsurge evident in sales of products and services for edge solutions, software-defined wide-area networking (SD-WAN), and cybersecurity.
In a recently released SD-WAN Infrastructure Growth Report, Futuriom predicts SD-WAN tools and software market to accelerate to a growth rate of 34% CAGR to reach $2.0 billion in 2020, $2.85 billion in 2021, and $4.6 billion by 2023. The acceleration will be spurred by enterprises seeking better connections to cloud applications.

Equipment vendors also weigh in. Reporting second-quarter earnings last week, network switch supplier Arista Networks (ANET) showed strong sales not just to cloud titans but to enterprises as well. Enterprise customers now represent roughly 35% of Arista's revenues, second only to cloud titans, which account for 40%.
Obstacles Mar Cloud Sector Outlook
The trajectory of enterprise cloud growth faces a number of threats. First is the general slowdown in enterprise spending. On last week's
earnings call with financial analysts
, Arista CEO Jayshree V. Ullal acknowledged the problems with current sales when she stated:
"[T]he level of contact for both product capability, conversation, relationship, partnership and, in fact, even testing for both new prospects and enterprise and campus will be challenging. And nobody is in the building to upgrade their campus either. So the COVID-19 will definitely delay our enterprise cycles for new prospects, but should be OK for new projects with familiar customers."

Supply chain issues also block progress. "I do think Q2 is a case … less about demand and more about supply constraints," said CEO Ullal last week. She acknowledged that a lack components due to COVID-19 issues is hindering enterprise sales as much as customer reticence.

In spite of hindrances, though, signals are pointing toward ongoing, albeit slow, enterprise interest in all things cloud, and an equivalent move by cloud suppliers to meet the demand.
Support unfettered independent technology analysis! Futuriom research and analysis is supported in part by Cloud Tracker Pro, our premium subscription product. See our detailed reports on important markets and trends, including Cloud Capex Trends, 5G Cloud Edge, SD-WAN, and more!