Microsoft Earnings Spotlight Edge and Hybrid Cloud

Microsoft Corp. (Nasdaq: MSFT) beat Wall Street's expectations in its fiscal fourth-quarter earnings report July 22, led by strong, albeit sequentially reduced, revenues from Azure.
Total revenues were $38 billion for the quarter. Earnings per share came in at $1.46, on net income of $11.2 billion. And for the first time, Intelligent Cloud took the lead in sales, bringing in $13.4 billion compared to Microsoft's other two business units — Productivity and Business Processes (which generated $11.8 billion) and More Personal Computing ($12.9 billion), as shown in the chart below (Source: Futuriom, based on Microsoft financials):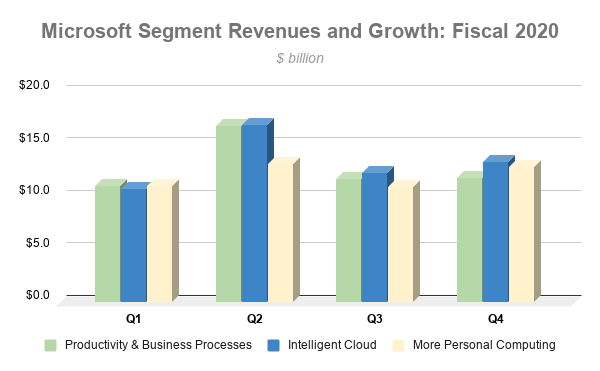 While all of Microsoft's business units feature cloud-based services, Intelligent Cloud is home to Azure, Microsoft's flagship offering in public cloud, along with an array of server products and enterprise services. Still, the pace of Azure sales growth slowed from from fiscal 2019's fourth quarter, showing 47% year-over-year growth compared to 64% a year ago.

The fact that Intelligent Cloud nevertheless outperformed other segments indicates that Azure's popularity isn't the problem. A slowdown in enterprise commitment to new projects, as well as some pricing incentives on Microsoft's part, point to the same backdraft from the COVID-19 crisis claimed by other big tech players — including IBM (NYSE: IBM), which also reported quarterly earnings this week.
Azure Presented as "World's Computer"
Regardless of sales slowdown, CEO Satya Nadella led his remarks on last night's earnings call with a dissertation on Azure, highlighting the service as the way for enterprises to handle workloads at scale. "We are building Azure as the world's computer," he stated, noting expansion of Azure regions worldwide.

Nadella made clear that supporting hybrid cloud environments and edge computing will be driven by an intent to build out Azure. "At the data layer, Azure is the only cloud with limitless data and analytics capabilities that can deliver a cloud-native data estate for every organization," Nadella said.
Highlights of Microsoft's Cloud Strategy
Microsoft's earnings presentation clarified the key strategic points that have echoed throughout industry marketing and reporting this past few months. As noted below, these include support for hybrid and multi-cloud environments, extension into 5G and other edge services, and development tools, including ones geared to artificial intelligence (AI) applications:

Hybrid and multi-cloud. Microsoft is pushing Azure Arc, an extensible control plane that brings non-Azure resources under Azure management. These resources can be physical servers, virtual machines, Kubernetes containers, or instances from other cloud providers like AWS and Google.

Edge and 5G. Microsoft's purchase of Affirmed Networks in March and its subsequent acquisition of Metaswitch made clear the company plans to deploy Azure Stack and Edge Zones to interconnect public cloud and private data center environments (the latter via Azure Stack HCI) with service provider 5G, opening potential for new business.

Development tools and AI. Azure AI includes a series of tools for smart application development. Codespaces combines a software development hosting service from GitHub, the company Microsoft acquired in 2018, with Azure tools and Microsoft Visual Studio.
Microsoft Provides Cloud Guidance
Microsoft is among the only companies to offer guidance recently, subdued as it is. "For Intelligent Cloud, we expect revenue between $12.55 and $12.8 billion," said CFO Amy Hood last night.

A 4% drop in Intelligent Cloud segment revenue may not rock Microsoft overall, and sales figures could shift up or downward, depending on macro factors. But the guidance shows the company's confidence in its position and strategy. And executives' emphasis tallies with key points made by other players, such as IBM, giving a clearer view of where enterprise cloud business is headed.