What's Behind the Cloud Slowdown

Cloud titans Amazon (Nasdaq: AMZN), Microsoft (Nasdaq: MSFT), and Google (Alphabet, Nasdaq: GOOGL) all reported earnings recently – and all showed a slowdown in cloud growth. The reasons for the droop in sales vary, but all three insist that sales continue unabated, and all continue to invest heavily in cloud.
Following is a brief look at each company's quarterly results, plus the reasons each gave for the reduction in cloud growth:

Amazon
Overall results: On July 8, 2022, Amazon reported revenues of $121 billion, up 7% year-over-year, the same as growth last quarter and higher than analysts expected. Diluted earnings per share (EPS) was $.20 on net loss of $2 million, which reflected the impact of losses on the company's unfortunate investment in electric vehicle maker Rivian Automotive in 2019.
AWS: AWS revenues were up 33% to $19.7 billion for the quarter; last quarter, AWS revenues were up 37%. Still, for this past quarter AWS accounted for 16% of Amazon's revenue, up from 13% during last year's second quarter.
Reasons given for cloud slowdown: Customers ramping slowly; cost of investments in business. "AWS continues to grow at a fast pace, and we believe we're still in the early stages of enterprise and public sector adoption of the cloud," said CFO Brian Olsavsky on the earnings call. "We continue to invest thoughtfully in new infrastructure to meet capacity needs."
Notably, Olsavsky mentioned that AWS operating income was $5.7 billion, down 14% sequentially. He attributes the reduction to compensation costs for the quarter, along with "increasing technology infrastructure investment to support long term growth."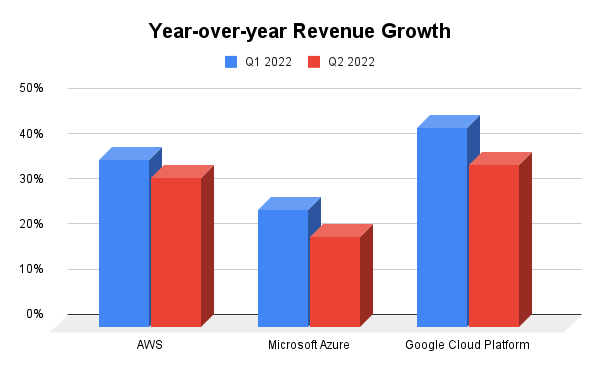 Source: Company reports
Microsoft
Overall results: On July 26, 2022, Microsoft reported $51.9 billion in quarterly revenue, up 12% year-over-year, compared to growth of 18% last quarter. Diluted EPS came in at $2.23 on net income of $16.7 billion, up 2%. Both sales and net income were lower than Wall Street expected. Microsoft blamed the strong dollar in overseas markets for the slip, since the foreign exchange rates reduce the face value of international sales.
Azure: Microsoft does not break out its Azure cloud earnings but includes them along with other unspecified products and services in a couple of segments. One of these, called Intelligent Cloud, which contains Azure, scored $21 billion in quarterly revenue, up 20% year-over-year, down from 26% last quarter. A subset called cloud services, which includes Azure services, grew 40% year-over-year, though that too was down from last quarter's 46%.
For Microsoft's whole fiscal year 2022 ended June 30, 2022, Intelligent Cloud revenue was $60 billion, down 25% from fiscal 2021. For the quarter, Intelligent Cloud sales comprised 40% of Microsoft's total revenues; last quarter, the segment accounted for 39% of revenues.
Reasons given for cloud slowdown: Unspecified though acknowledged. "Azure and other cloud services revenue grew 40% and 46% in constant currency, about one point lower than expected, driven by a slight moderation in Azure consumption growth across customer segments," said Amy Hood, Microsoft CFO, on the earnings call.
Though she didn't highlight specific reasons for the drop, some observers say the vendor is coming off the high point of cloud sales resulting from the shift to cloud during the height of the COVID 19 pandemic – a factor that also can be applied to AWS and Google. Still, officials tout strong growth in commercial bookings for Azure, plus record loggings of high-end customers (deals worth over $100 million or over $1 billion).
Alphabet/Google
Overall results: On July 26, 2022, Google parent Alphabet reported revenues of $69.7 billion, up 13% year-over-year. Last quarter's revenues were 23% over the prior year's quarter. EPS for this quarter was $1.21 on net income of $16 billion.
Google Cloud Platform (GCP): Revenues for GCP for the quarter ended June 30, 2022, were $6.2 billion, up 36% year-over-year. Still, last quarter, the segment grew 44%. And for this quarter, GCP showed a net operating loss of $858 million, up a whopping 45% from last year's quarter. For the quarter, GCP accounted for 9% of company revenues, the same as it did last quarter.
Reasons given for cloud slowdown: GCP has acknowledged its enormous spend on GCP. "[Customers] are in the early days of this [cloud] transformation, and we continue to invest in our products, go-to-market capabilities and cloud regions," said Ruth Porat, Google CFO, on the earnings call last week. She also blamed the strong dollar's effect on foreign exchange rates.
Bottom Line on Cloud Slowdown
The top three public cloud providers echoed one another in blaming a slow ramp-up in cloud adoption for the overall droop in sales. It's clear that the spike in demand during the height of the pandemic has leveled off. Factors such as the strong dollar's impact on earnings are also in play, along with geopolitical issues worldwide.
It's also clear that cloud sales continue to outpace most other segments of each firm's business. We can assume cloud will continue to ramp and that most obstacles, while challenging, are ultimately temporary.