Microsoft, Google Earnings Calm Markets

The large public cloud companies did their best to come to the rescue of the market on Wednesday, announcing solid earnings and forecasts amidst a major market downdraft in shares of cloud technology companies.
The public cloud services of Alphabet Inc. (Nasdaq: GOOG, GOOGL) and Microsoft Corp. (Nasdaq: MSFT) buoyed the first-quarter earnings of both companies as reported last night.
Microsoft Touts Azure
Microsoft's earnings were stronger in general, with the company reporting revenue of $49.4 billion, up 18% year-over-year. EPS was $2.22 on net income of $16.7 billion. Analysts had expected $49.05 in revenue and $2.19 EPS.
Microsoft's cloud revenue of $19.1 billion was nearly 39% of overall sales, because the company stuffs other services and products into the same Intelligent Cloud box with Azure. The segment grew 26% year-over-year, with Azure (and other, unspecified, cloud services) growing even faster at 46% year-over-year.
"Overall, we are seeing larger, more strategic Azure commitments from industry leaders, including Boeing, Kraft Heinz, US Bank, and Westpac," said CEO Satya Nadella on the earnings call. "The number of $100 million-plus Azure deals more than doubled year over year."

Microsoft expects its Intelligent Cloud segment to accrue between $21.1 billion and $21.35 billion in sales next quarter, driven by Azure. That represents over 10% potential growth sequentially. As it usually does, Alphabet declined to provide guidance. Still, the quarterly results of both companies point to the significance of cloud services not just to the individual companies but to the economic outlook. As enterprise keep shifting their workloads from on-premises datacenters to the cloud, demand will result in strong sales of cloud services.
Alphabet Falls Short
Alphabet, whose online advertising is much larger than cloud, fell short of analyst expectations for the quarter ended March 31. Revenues were $68.01 billion compared to hopes of $68.11 billion; earnings per share (EPS) were $24.62, while analysts wanted to see $25.91.
Overall sales grew 23% compared to the same quarter last year, when growth was up 32%. The company also has authorized a $70 billion buyback of shares of its Class A and Class C stock, a clear effort to boost share value.
But the Google Cloud results were brighter. Sales of cloud services were $5.8 billion for the quarter, up 44% year-over-year. Google Cloud revenue now accounts for 9% of overall sales, compared to 7% in the first quarter of 2021. Still, last year's quarter had been up 46% year-over-year for cloud. And Google Cloud continues to accrue operating expense for Alphabet, though the losses continue to reduce steadily over time: This quarter that cost was $931 million, down 5% compared to $974 million for last year's quarter.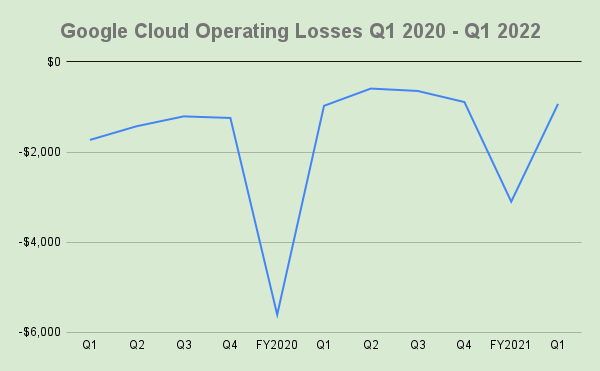 Source: Alphabet financial reports
Google Cloud Focus: Cybersecurity
On the earnings call, CEO Sundar Pichai emphasized the company's focus on Google Cloud, particularly in the area of cybersecurity. "Cybersecurity has been a particular focus," he responded when questioned about the future of Google Cloud. And Pichai referred to Google Cloud's recent purchase of security service provider Mandiant for $5.4 billion as evidence of the focus on security.
Notably, Pichai also advocated for Google Cloud's 5G telecom strength: "Google Distributed Cloud Edge, a new edge solution designed to run telecommunication networks at scale … is helping Bell Canada evolve its 5G network," he said.

Earnings for Amazon (Nasdaq: AMZN), provider of market-leading AWS services, are scheduled for April 28.