The Top 3 Public Cloud Providers Compared

Recent earnings reports show the top three public clouds – Amazon Web Services, Microsoft Azure, and Google Cloud Platform (GCP) – realizing sizable double-digit growth, as enterprises continue to move their IT resources to those services.
But how well are the cloud titans doing compared to one another?
Let's start with revenue. For the fourth quarter of 2021, AWS led the charge, with $18 billion in sales; Azure came in second, with a subset of $18.3 billion (Azure shares its accountable segment with server products and some other, unspecified cloud services); and GCP scored $5.5 billion.
AWS continues to be the market leader, though Azure is gaining ground as customers turn to multicloud alternatives. GCP is also finding its niche, thanks to sophisticated data management and security solutions.
According to published research figures, the market shares for the top cloud companies look roughly like this: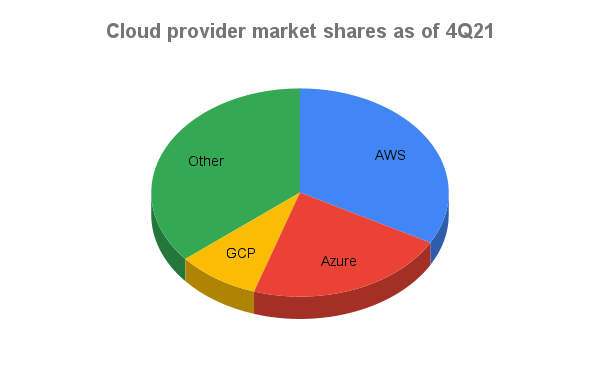 Source: Published research figures from Synergy Research and Canalys
Next we look at growth rates. Tracking all three companies for the past three years, the percentage of increase in sales for the fourth quarter of the calendar year looks like the following: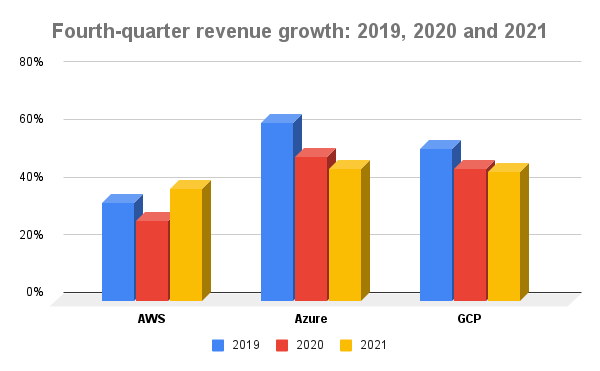 Clearly, AWS is lagging its rivals in the percentage of sales growth, but Azure and GCP have suffered a decline in sales growth year-over-year for the fourth quarter. This could be a seasonal shift, but it's worth noting.
Let's take a deeper look at each cloud provider.
Strengths and Weaknesses
AWS
Pros. AWS knocked it out of the park last quarter. "AWS added more revenue year over year than any quarter in its history," said CFO Brian Olsavsky on the latest earnings call. "It is now a $71 billion annualized run rate business, up from $51 billion run rate one year ago." And AWS has contributed in terms of profit as well as sales. For the quarter, AWS operating income was $5.3 billion, up 48%, compared to operating income growth of 28% for 2020. Further, AWS is contributing significantly to its parent's financial profile, not just through its services to external customers but by supporting Amazon's other businesses.
Cons. AWS is challenged to keep pace with customer demand. When asked about potential bottlenecks to business success, CFO Olsavsky had this to say: "[P]robably the limiter in that business is our ability to work with customers to accelerate their timelines. So, we're investing and working hard to do that." Talent shortages in house and with third-party sellers could contribute to slowdowns in customer implementations. AWS also had a rash of high-profile outages in 2021.
Google Cloud Platform
Pros. Like Microsoft, GCP growth numbers may be trending down after an initial adoption curve, but progress is apparent. "For the full year 2021, compared with the full year 2020, we saw over 80% growth in total deal volume for Google Cloud Platform and over 65% growth in the number of deals over $1 billion," said Alphabet CEO Sundar Pichai on the latest quarterly earnings call. During 4Q21, Alphabet's backlog of products and services increased over 70% to $51 billion, Pichai said, mostly thanks to Google Cloud. The company also added 6,500 employees in the fourth quarter of 2021, which execs said comprised mostly technical roles applied to Google Services and Google Cloud. Execs boast too about GCP's data management capabilities and its sustainable underlying platform. "Importantly, we have made progress operating 24/7 on carbon-free energy and continue to provide customers the cleanest cloud in the industry," Pichai said.
Cons. GCP is losing in the area of operating income. Operating loss for Google Cloud last quarter was $890 million, down 28% from a year ago. That compares to a 4% reduction in operating loss for 2020's quarter, indicating that things are heading in a more sustainable direction. Still, to maintain its competitive position, Alphabet will need to continue spending on GCP, which could constrain profitability.
Microsoft Azure
Pros. Microsoft Azure seems to be gaining strength in multicloud environments, particularly as a backup/alternative to AWS. CEO Satya Nadella said on the latest earnings call that the customer base for Azure Arc, a multicloud and on-premises management system, tripled year-over-year. He cited Azure's "open multicloud infrastructure" as being instrumental in gaining CVS Health, Johnson & Johnson Medical Devices, Kyndryl, and Wells Fargo as customers last quarter. (Interestingly, Google also cited Well Fargo as a key customer, hinting at the multicloud approach by that fintech.) CEO Nadella also cited Azure's strengths in telecom, which were highlighted in a 5G core networking deal with AT&T last summer. And he noted that Microsoft will invest in developing so-called metaverse functions atop Azure: "And so today, between Azure IoT, Digital Twins, and Mesh, we have many examples where customers are engaged with us. So that's what will show up in Azure, and we're investing significantly there."
Cons. As competition increases, Microsoft will continue to be challenged to maintain its primacy with big enterprise customers. Also, Microsoft's intended purchase of gaming giant Activision for a proposed $68.7 billion could divert resources, particularly in the progress of Azure metaverse functions touted by CEO Nadella. Talent shortages could play into the diversion as well.
Summary
AWS is solidifying its claim as market leader in the public cloud space, but as customers move toward multicloud environments, AWS will likely cede more territory to Azure. Meanwhile, GCP is popping up as a strong contender in single- and multicloud scenarios requiring sophisticated data management and security.
For more detailed analysis, you can see our Cloud Tracker Pro service.