Cloud Tracker Pro
Telco Q1 Results: Risks, Warnings, and Some Upside

Many of the world's major telecommunications companies have held their own through the initial phase of the COVID-19 pandemic. A few actually produced better-than-expected results during the latest quarter, at least in some areas. But the full impact of the crisis has yet to be felt, and in its wake, telcos are betting their futures on 5G and managed cloud services.
While many reports aren't in yet for 1Q2020, some of the world's biggest telcos have reported mixed results, including AT&T (NYSE: T), América Móvil (NYSE: AMX), China Mobile (NYSE: CHL), and Verizon (NYSE: V). And while revenues are generally down, they typically aren't diminished by more than 5%, and in Europe and the Middle East, four out of seven large carriers — Orange Group (OTCMKTS: FNCTF), Millicom (Nasdaq: TIGO), Ooredoo, and Telenet (OTCMKTS: TLGHY) — reported first-quarter growth of at least 1% year-over-year.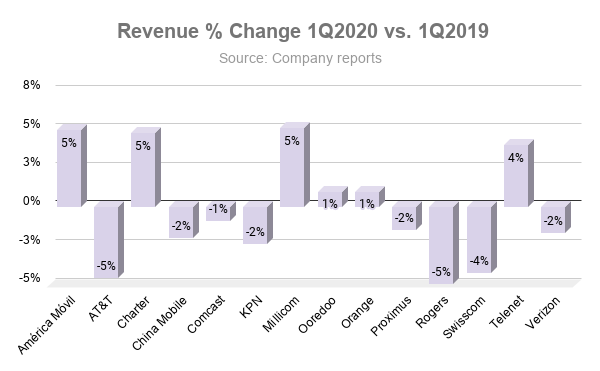 How the Money-Makers Did It

Notably, the companies that reported comparatively significant gains in revenue had exceptional reasons for doing so. América Móvil, for instance, saw year-over-year first-quarter growth in postpaid mobile (up 13.6%) and fixed broadband (up 7.8%), boosted by a spate of acquisitions last year, including Brazil's Nextel.

Millicom too, which serves telecom markets in Latin America and Africa, attributes revenue growth this quarter to the contribution of companies acquired last year in Panama and Nicaragua.

Belgium's Telenet said its 4% revenue boost came from sales by digital broadcast company De Vijver Media, which Telenet bought in 2018. In its 1Q2020 press release, Telenet warned against expecting too much from the growth spurt: "[O]ur top line remained broadly unchanged as an improved trend in our subscription revenue was almost fully offset by lower business services and other revenue…."

Cable Companies Conquer
To access the rest of this content, you need a Futuriom CLOUD TRACKER PRO subscription — see below.