SD-WAN/SASE Managed Services Survey Report 2022

Software-defined wide-area networking (SD-WAN) and Secure Access Service Edge (SASE) technology have emerged as two of the fastest-growing markets in enterprise networking and cybersecurity. The two technology platforms are now converging to manage a wide variety of networking and security services. This report, based on a survey and interviews with enterprise technology users, explains why end users are drawn to both SD-WAN and SASE technology, as well as why managed services are likely to grow as a choice for delivery of these technologies to organizations worldwide.
It's clear from our interview and survey work that both groups of technologies are gaining traction. Futuriom expects the SD-WAN tools and software market will remain at a steady CAGR of 34%, reaching $2.6 billion in 2021, $3.5 billion by 2022, $4.6 billion by 2023, according to our recent research. The SASE market, which is a broader extension of SD-WAN, includes many different cloud security tools and services (to be detailed later in this report), which extends and adds to the size of the SD-WAN market. These tools provide the foundation for robust growth in managed services.
This report focuses on how SD-WAN and SASE services will be delivered by MSPs to provide better ease of use and integration by end users and consumers. To dive deeper into how SD-WAN and SASE will be increasingly delivered as a managed service, Futuriom conducted a survey of 118 enterprise end users in the United States to assess their goals and needs for adopting SD-WAN and SASE managed services technology. The respondents were all filtered to make sure respondents were director-level or above titles in IT or network management.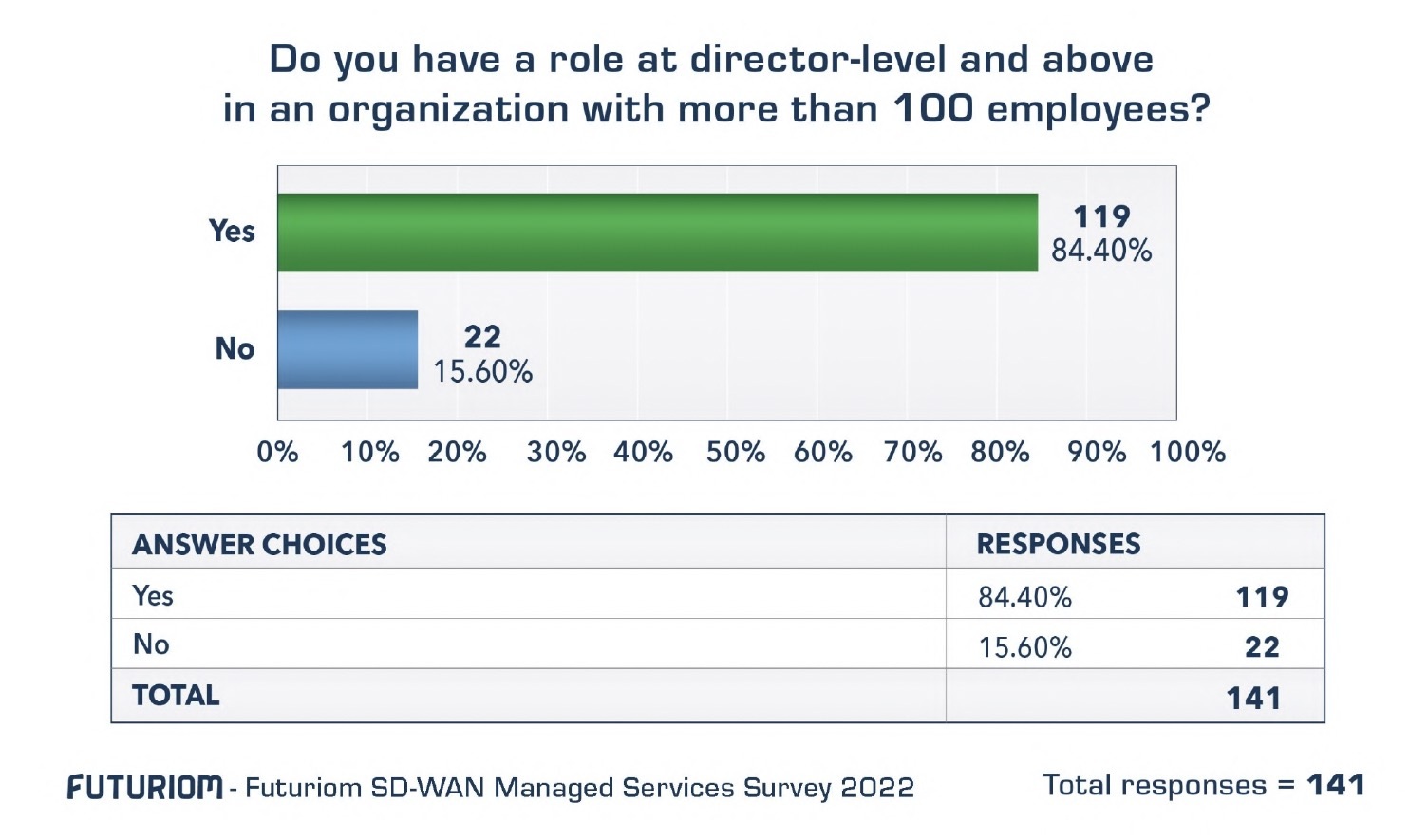 Results were further filtered by the respondents that answered at least 90% of the questions. The final pool of 118 U.S.-based enterprise networking and IT managers confirmed continued awareness and growing interest in SD-WAN and SASE managed services.
Here are some of the key data points we gathered:
Of those surveyed, 72% of respondents said they were aware of both SASE and SD-WAN managed services offerings.
SASE/SD-WAN enable the Internet as a key networking tool for hybrid work and work-from-anywhere (WFA). A full 75% of respondents (89) believe that SD-WAN and SASE managed services will help build momentum behind using the Internet for business connectivity, including Dedicated Internet Access (DIA).
Hybrid work is here to stay. A total of 83% of respondents said "Yes" that digitalization and hybrid work environment has increased their need for SD-WAN managed services.
SASE technology is growing as a key part of cybersecurity strategy. When asked if SASE technology will grow as part of an organization's strategy to implement a more agile, pervasive cybersecurity strategy, 85% of a total of 117 respondents said "Yes." Only 7% said "No," and 8% said they didn't know.
There is demand for many SD-WAN/SASE features and services. The top need reported was for managed security services, selected by 79% of respondents, followed by co-management and self-service portals at 51% (more than one choice allowed). The next most popular features included multicloud connectivity (47%), AIOps (38%), and multiple connectivity options including wireless (36%). Application QoS (36%), unified communications support (25%), and integrated transport (17%) were also popular.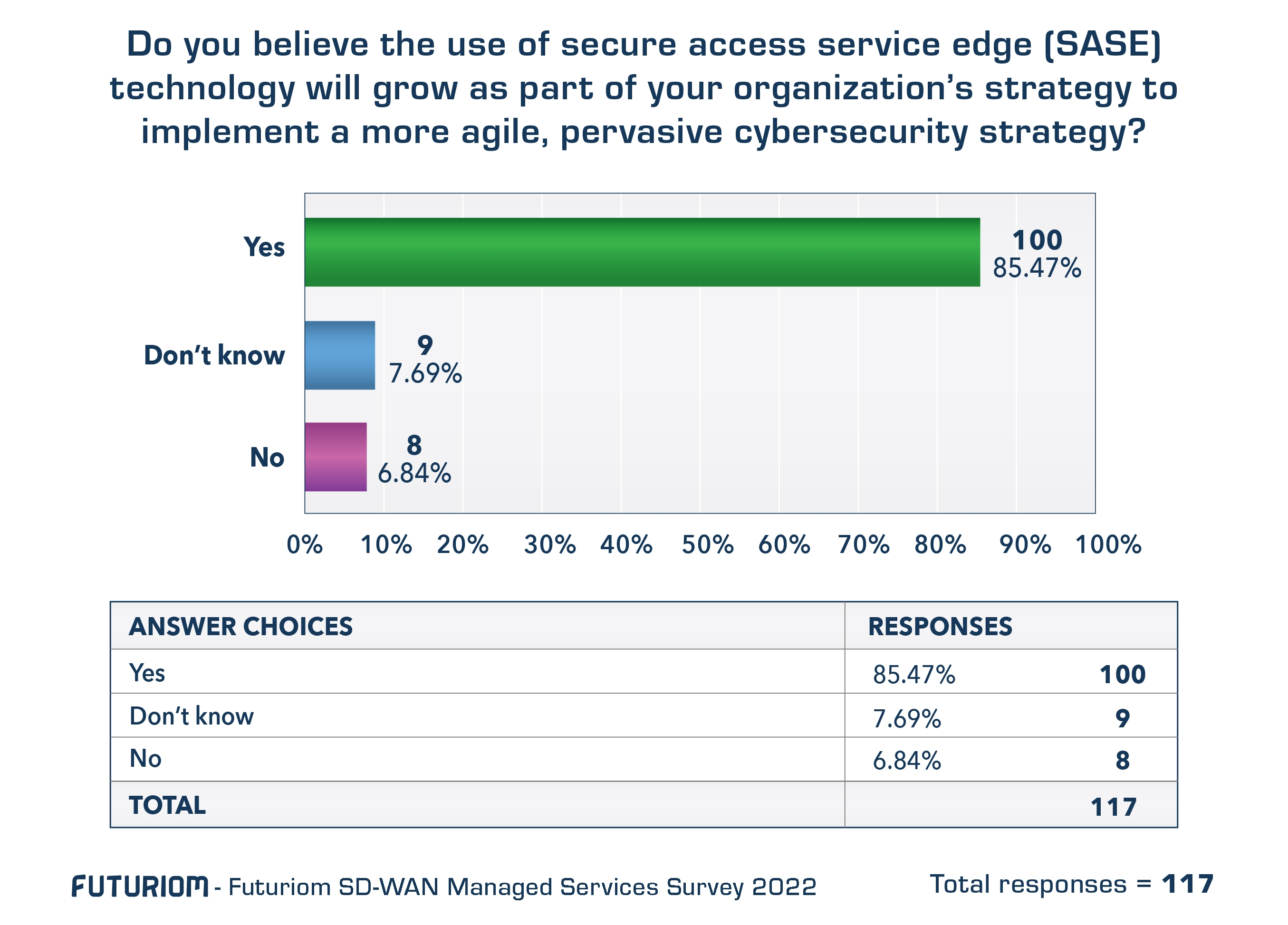 Some of the SASE/SD-WAN managed service providers discussed and/or profiled in this report: Apcela, Aryaka Networks, AT&T, British Telecom, Cato Networks, Cloudflare, Colt, Comcast, Deutsche Telekom/T-Systems, Hughes, Lumen Technologies (formerly CenturyLink), Masergy, NTT, Orange, Tata Communications, Telefonica, Telstra, Verizon, Vodafone, Windstream. Some of the SASE/SD-WAN vendors and suppliers mentioned in this report include Cisco, Fortinet, HPE (Aruba/SilverPeak), Juniper Networks, Nokia (Nuage), Palo Alto Networks, Versa Networks, and VMware.
(Note: This is not an exhaustive list of companies in this market, but one that represents the leading providers of SASE/SD-WAN managed services in the view of Futuriom analysts.)