2021 SD-WAN Managed Services Survey Results

Software-defined wide-area networking (SD-WAN) is one of the most important trends to occur in the Communications Service Provider (CSP) and networking services market in recent decades. Futuriom's 2021 SD-WAN Managed Services Survey Report details the trends and needs of enterprises in their adoption of SD-WAN managed services (MS).
Based on virtualized networking and cloud technologies, SD-WAN and SD-WAN managed services (MS) allows CSPs, Internet Service Providers (ISPs), and Managed Service Providers (MSPs) to offer a variety of value-added services, including popular growing services such as cloud security and multi-cloud networking.
This will give service providers as well as enterprises a unique opportunity to employ a cloud and software as-a-service (SaaS) model to adopt network services. For service providers, it offers them the opportunity to transition to cloud business models and avoid getting stuck as "dumb pipe" providers.
Networking from the Cloud
Because of the cloud-managed nature of SD-WAN, enterprises no longer see the network – whether it's LAN, WAN, or cloud — as something that must be built internally with specialized hardware. SD-WAN can be used to deliver a wide variety of software and services that can be accessed and managed from the cloud with commercial off the shelf (COTS) hardware — including, but not limited to, integrated underlay/overlay technology, WAN optimization, multi-cloud connectivity, link balancing and backup, security services, and applications control and prioritization.

Futuriom research has shown that enterprises and end users see both economic and technical benefits of SD-WAN technology. In addition to improving the performance and management of WAN network and cloud connections, they can streamline operations by reducing the complexity in configuring branch-office devices, routing schemes, and network addresses.
With SD-WAN MS, many of these functions can be abstracted into the cloud and managed by the service provider or an enterprise manager using a cloud interface, rather than by using proprietary networking equipment.
Survey of 120 Enterprises
To dive deeper into how the SD-WAN MS market is evolving, Futuriom conducted a survey of 120 enterprises to assess their goals and needs for adopting SD-WAN MS technology.
The respondents were all filtered to ensure they had director-level or above titles in IT or network management. Through our survey work, primary research, and interviews, Futuriom has identified Seven Key Trends in the SD-WAN MS market, which are highlighted in this in-depth report, which is available to Futuriom Cloud Tracker Pro subscribers only.

Special thanks to our sponsors: Aryaka Networks, Fortinet, Juniper Networks, Nokia/Nuage, and Tata Communications.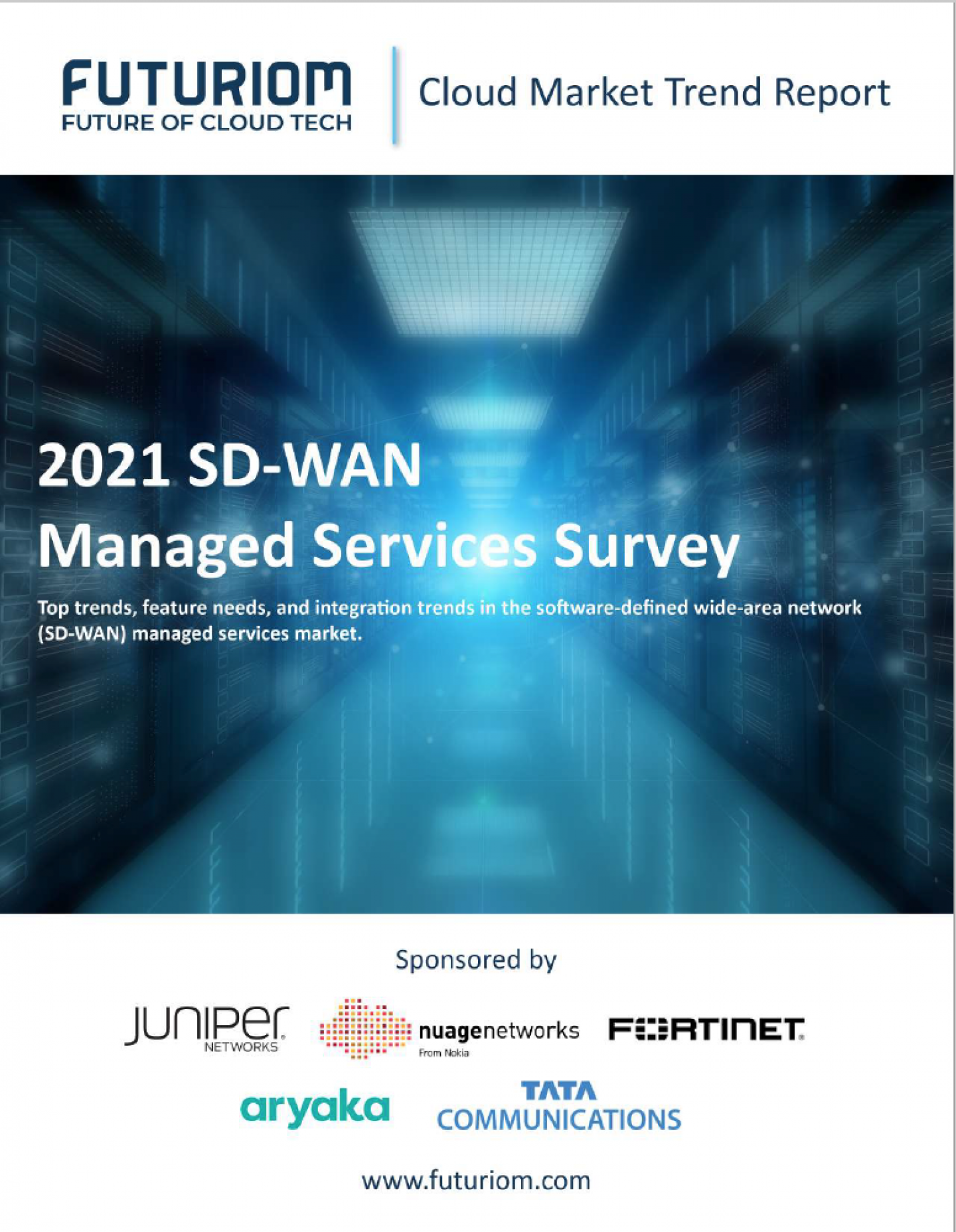 Key Findings and Highlights
• SD-WAN managed services are growing fast and gaining traction as an alternative to legacy network services. Futuriom's annual SD-WAN Managed Services Survey of 120 network and IT managers shows growing awareness of SD-WAN managed services (MS).

• Trend #1: Demand for enterprise SD-WAN technology is growing. In the survey, 82.5% of the enterprise end users (99 respondents) said their awareness of SD-WAN MS offerings is growing. A full 90.8% said that SD-WAN technology will grow as part of the strategy to replace alternatives such as leased lines.
• Trend # 2: The expansion of Work from Anywhere (WFA) drives interest in security solutions. COVID-19 has put more emphasis on finding more secure remote connectivity, said 88.3% of survey respondents (106). This has triggered a wave of new remote work solutions and partnerships.
• Trend #3: Value-added services are important part of SD-WAN MS offerings. Value-added services received the highest mean ranking of features needed. Next in line with the best scores were value-added bundles for SaaS and multi-cloud connectivity and self-service portals.
• Trend #4: High Interest in Customer Portals and Co-Management. When we asked survey respondents whether co-management and self-service customer portals were a key feature of the SD-WAN MS offering, 78.3% (94) replied "Yes."
• Trend #5: Multi-cloud connectivity demand is growing. The surge toward cloud applications highlights the need for networks to support multiple cloud providers or hybrid cloud operations.
• Trend #6: There is strong demand to integrate SD-WAN with software-defined branch (SD-branch) and wireless. Of those surveyed, 88.3% (106) said that SD-branch features for wireless and wired management are important in SD-WAN MS.
• Trend #7: Futuriom sees integration with additional access methods for SD-WAN MS such as satellite.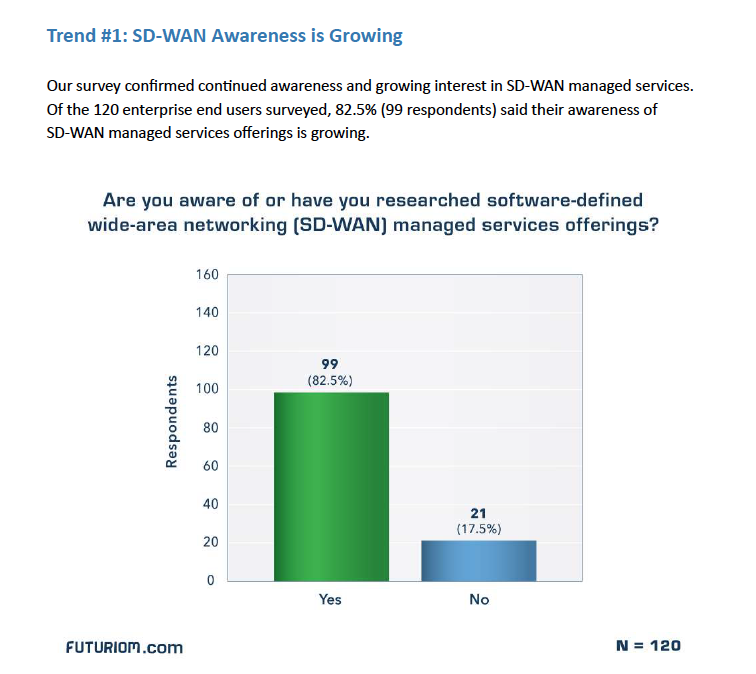 Companies discussed and/or profiled in this report:
Aryaka Networks, AT&T, British Telecom, Colt, Comcast, Deutsche Telekom/T-Systems, Fortinet, Hughes, Juniper Networks, Nokia/Nuage, Lumen Technologies (formerly CenturyLink), Masergy, NTT, Orange, SES, Tata Communications, Telefonica, Telstra, Verizon, Vodafone, Windstream

Total Pages: 31
Cost: The 2021 SD-WAN MS Survey Report is included as part of Futuriom's Cloud Tracker Pro subscription service. This can be purchased online for $895 per year, per users.
You can click below to subscribe and download the report.