Security, Cloud Drive SD-WAN Managed Services

If you haven't heard, this technology called software-defined wide-area networking (SD-WAN) is taking off. That's because it's a much easier way for enterprises to build resilient, secure, and more flexible networks to access the WAN, including cloud applications.
Service providers worldwide are hopping on board the success train with manages services targeting enterprises that would like to buy SD-WAN, including security add-ons. The latest Futuriom research -- the SD-WAN Managed Services Report -- indicates strong end-user demand for managed services that deliver better security, better cloud peformance, and ease-of-use
SD-WAN Success
The success of the SD-WAN market has spawned a variety of approaches as covered in Futuriom's SD-WAN Growth Report (June). This means that SD-WAN offers more options to those who don't have the resources to implement as a do-it-yourself (DIY) proposition, opening the door for service providers to act as integrators and facilitators and provide SD-WAN as a managed service.
Futuriom launched the SD-WAN Managed Service survey in the summer of 2019 to get the lowdown on what is driving the SD-WAN Managed Services market and what end users find attractive about SD-WAN services. We used an independent third-party cloud data provider to reach out to those with director-level and above job roles in networking and IT management. Two filter questions were used to ensure that folks in those roles answered the questions – the rest were thrown out. Overall, we got 121 responses.
The key findings can be seen below -- as well as some graphical highlights and the Table of Contents.
This report is only available to our premium subscribers (subscription link below).
SD-WAN Managed Services Survey: Key Findings

• SD-WAN managed services are gaining momentum. Service providers are seeing SD-WAN as a way to quickly deliver better networking services to enterprise customers.

• Enterprise SD-WAN demand is accelerating. In a survey of 121 network and IT managers, 64% are looking to add an SD-WAN managed service in the next two years.

• The top drivers of SD-WAN managed services are the need for better security, application performance, and ease of use/management. These benefits were selected by 62%, 52%, and 41% (respectively) of our survey audience.

• Security is seen as the primary benefit of SD-WAN managed services. Security was seen as a top benefit over traditional network, and it was also picked by 51% as the top benefit of SD-WAN managed services.
• Survey respondents are interested in additional value-added services. 61% of respondents said they are interested in additional cybersecurity services with SD-WAN.
• The top SD-WAN platform providers with service provider deals include Cisco, Fortinet, Nuage Networks, Silver Peak, Versa Networks, and VMware VeloCloud.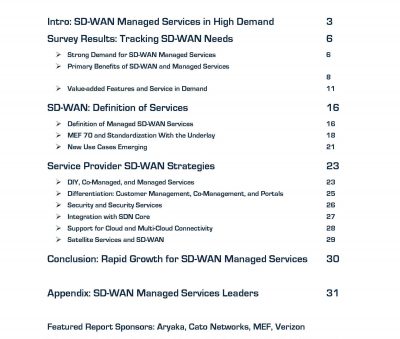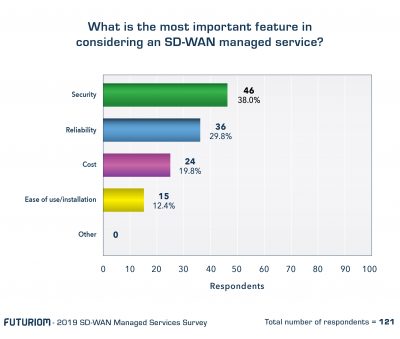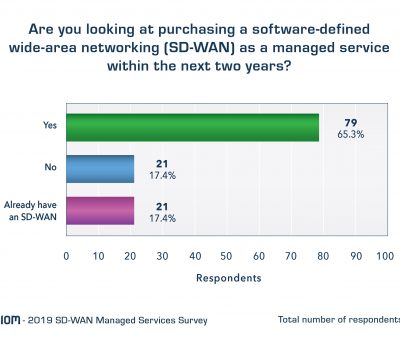 Report length: 40 pages
Companies included: Aryaka Networks, Cato Networks, MEF, Verizon, AT&T, CenturyLink, Colt, Comcast, Deutsche Telekom, Hughes Network Systems, Masergy, SES, Spectrum Enterprise, Tata Communications, Telefonica, Vodafone, Cisco, Fortinet, Nuage Networks, Silver Peak, Versa Networks, and VMware (VeloCloud).
Price (one-user license): $695
Price (multi-user license or distribution license): Contact sales at futuriom dot com.