Samsung and IBM to Offer Private 5G Edge Solutions

Samsung Electronics Co. Ltd. and IBM (IBM) have unveiled a joint plan to promote the blending of private wireless 5G networking with cloud-based services.
The move reflects a trend toward bringing 5G and cloud services together. The goal is to augment high-speed customer applications that use 5G with solutions that put workloads as close to the network edge as possible.
IBM and Samsung's arrangement entails joint marketing of Samsung's Galaxy 5G-enabled devices for enterprise and industrial use — including Samsung's Compact Core 5G enterprise server and its smaller mmWave Link Cell device for offices, factories, and warehouses (see below) — with IBM's Edge Application Manager, which is based on Red Hat's OpenShift hybrid cloud platform.
IBM also will throw in services for specific vertical industries. And the two companies will look to add artificial intelligence (AI) from IBM to the mix, streamlining Internet of Things (IoT) and industrial IoT (IIoT) applications even more.
Source: Samsung

IBM and Samsung Build on Partnership
Today's news isn't a first for IBM and Samsung. Their arrangement dates back to 2019, when the two companies announced plans to create a platform linking IBM's cloud capabilities to Samsung 5G-enabled Galaxy phones, tablets, and watches. At that time, the companies said this platform would assist first responders and factory workers to react promptly and safely in emergencies.
Then in May 2020, IBM and Samsung announced plans to support enterprise 5G applications using IBM's artificial intelligence (AI), Samsung's mobile devices, and 5G services from M1, a telecom provider based in Singapore. The work is part of a Digital Economy project undertaken by Singapore's government.
Now, IBM and Samsung are after another segment of the enterprise market. Since 5G's capacities enable a range of new, faster applications such as Iot/IIoT, computer vision, factory automation, self-driving vehicles, smart cities, and virtual reality, the field is full of opportunities to bring enterprises onboard. But implementation can be difficult and expensive without the right infrastructure. That's where IBM and Samsung hope to attract business.
Where's the 5G Service Provider in All This?
Notably, the latest arrangement between Samsung and IBM doesn't include a specific service provider partner. But perhaps that's the point. Both companies are part of a larger effort underway to create 5G edge opportunities to attract service providers and their enterprise customers to pair up with cloud contenders.
"This may be one of the last opportunities operators will have to open up their networks and not just provide connectivity," said Misbah Mahmoodi, senior director of product marketing for VMware (VMW), in an interview with Futuriom about the imminent rollout of 5G services.
VMware is one of a group of cloud companies, including IBM, Microsoft, HPE, and other vendors, which have launched programs not only to create 5G edge connectivity to their cloud services but to help carriers to create their own edge clouds.
In November 2020, for example, IBM released Cloud for Telecommunications, another product/services marketing effort specifically intended to boost carrier 5G services with help from an ecosystem of suppliers that includes Samsung and Nokia (see below). The group also includes Affirmed Networks, the cloud-based mobile management and orchestration vendor Microsoft bought early in 2020 for a rumored $1.35 billion specifically to address the 5G edge.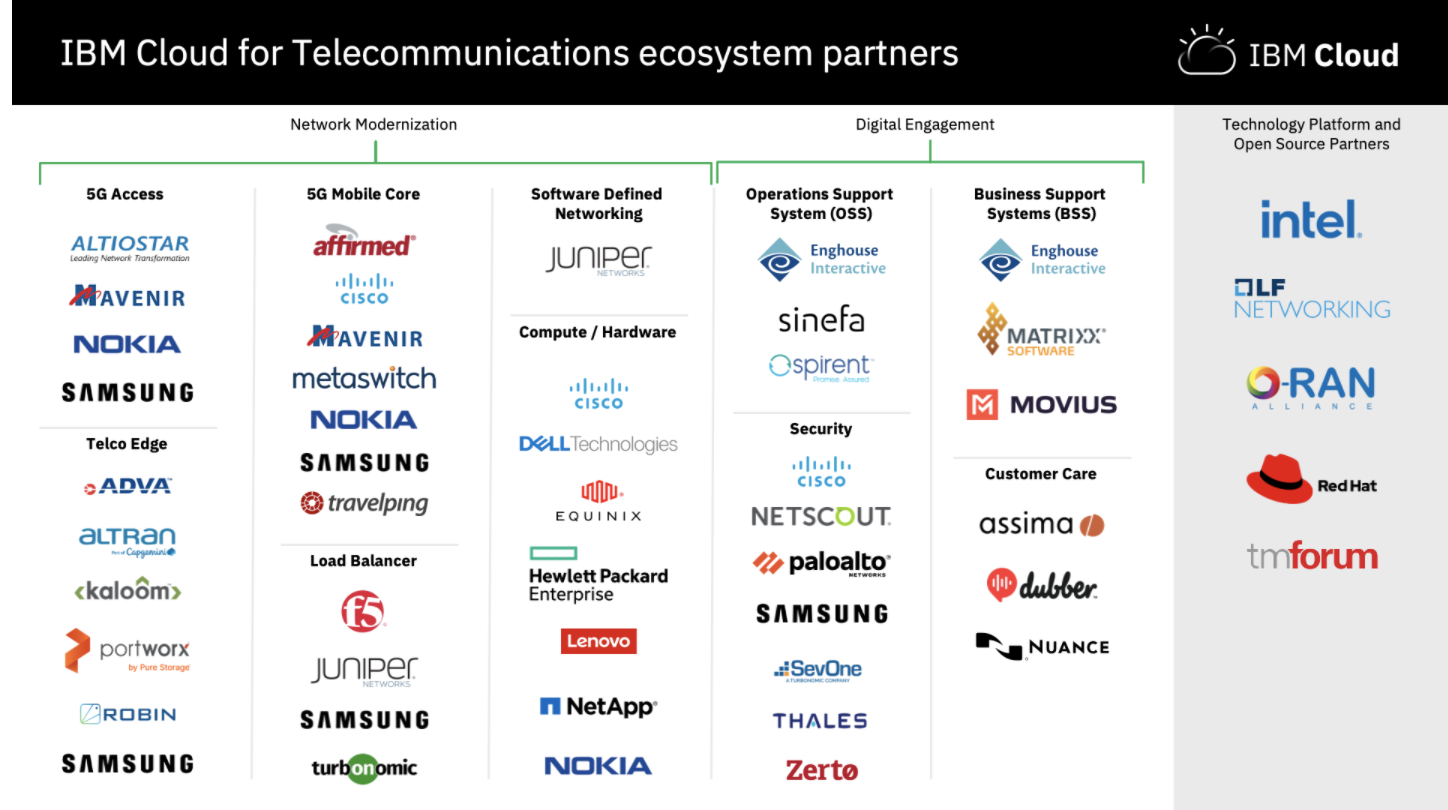 Source: IBM
Telcos Forging Private Wireless Teams
Some telcos are already on the bandwagon, perceiving the opportunities not just for private 5G but for partnerships that pair it with cloud services. In October 2020, Verizon (VZ) announced plans to offer private 5G wireless networks worldwide in partnership with Nokia (NOK). In the same timeframe, Verizon said it would work with Microsoft (MSFT) to bring Verizon's 5G mobile edge computing (MEC) into the Azure Cloud. This will enable industrial-grade automation apps based on Azure to avail the speed and performance of Verizon's 5G private service.
As 5G rollouts continue, expect to see more cloud enablement and more partnerships and business arrangements among 5G telcos, mobile equipment makers, and cloud service providers. These hookups will be both for marketing and technical innovation. And permutations will vary as the network edge shifts from premises to cloud to telco and perhaps to all three at once.