NVIDIA Parades Futuristic Tech at GTC

NVIDIA (Nasdaq: NVDA) unveiled a dizzying array of futuristic technologies at its GTU virtual conference this week. And the centerpiece was the company's Omniverse platform, described by the vendor as "a scalable, multi-GPU virtual world platform that enables 3D design collaboration and true-to-reality simulation."
Omniverse illustrates what appears to be NVIDIA's goal – to offer components that will fuel the future for consumers and enterprises. It's an ambitious and complex aim with lots of moving parts, as NVIDIA CEO Jensen Huang demonstrated as he worked his way through a series of announcements during his keynote yesterday. Following is a brief summation.
Omniverse Add-Ons
Not to be outdone by Microsoft (Nasdaq: MSFT), which announced a "metaverse" enhancement to its Teams enterprise collaboration service last week, NVIDIA has added a platform for generating artificial intelligence (AI)-driven avatars to Omniverse. The innovation fuses speech AI, computer vision, natural language comprehension, recommendation engines, and simulation. To demonstrate, CEO Huang showed his own AI-driven avatar, complete with glasses and trademark black leather jacket, which answered random scientific questions – about exoplanet discovery and the nature of proteins, for example.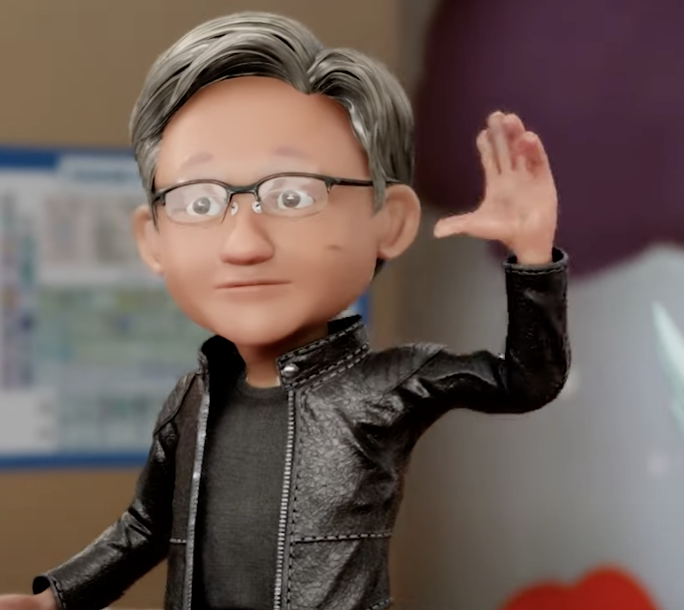 "Ask me anything," said Toy Jensen Omniverse Avatar. Source: NVIDIA
"The dawn of intelligent virtual assistants has arrived," said Huang in a prepared statement. "Omniverse Avatar combines NVIDIA's foundational graphics, simulation and AI technologies to make some of the most complex real-time applications ever created. The use cases of collaborative robots and virtual assistants are incredible and far reaching."
NVIDIA also released Omniverse Replicator, which helps create data-driven simulations such as those used in digital twin scenarios, in which an entity is designed and then set up in the physical space. Digital twins can be used for training, monitoring, and managing factories, products, and facilities.
NVIDIA says Omniverse has been downloaded 70,000 times by developers at 500 companies and is available in an enterprise version for $9,000.
Data Center Steroids
NVIDIA also released a series of data center announcements, spearheaded by the Quantum-2, a 400-Gbit/s Infiniband platform comprising a switch (the Quantum 2), ConnectX-7 network interface card (NIC), BlueField-3 data processing unit (DPU) and software. "Quantum-2 is the first networking platform to offer the performance of a supercomputer with the shareability of cloud computing," Huang said. It's ideally suited to high-performance computing, he noted, and it is sampling now.
Additionally, NVIDIA unveiled a three-pronged architecture geared to establishing zero trust in enterprise data centers. The BlueField DPUs offload CPU processing of east-west traffic created by containerized cloud applications. The BlueField DOCA (Data Center-on-a-Chip Architecture) 1.2 is a software development kit (SDK) used to create next-generation firewalls. NVIDIA says the Check Point Software Technologies (Nasdaq: CHKP), F5 (Nasdaq: FFIV), Fortinet (Nasdaq: FTNT), Juniper Networks (NYSE: JNPR), Guardicore, Palo Alto Networks (Nasdaq: PANW), Trend Micro, and VMware (NYSE: VMW) all will be using the SDK in their wares.
NVIDIA also released Morpheus, an AI application framework designed to learn patterns of network and server traffic over time in order to identify anomalies and remediate them.
…. And Much More
NVIDIA had many announcements in the AI realm, encompassing language modeling, graphing for neural networks, and libraries for data scientists and developers.
There also are enhancements to NVIDIA's Isaac robotics series to create and test robots. There was also an impressive demonstration of the company's NVIDIA DRIVE platform for autonomous vehicle development.
Wrapping it up, Huang had this to say: "Robots, [autonomous vehicle] fleets, warehouses, factories, industrial plants, and whole cities will be created, trained, and operated in Omniverse digital twins."
Even Earth itself is in the process of being replicated by NVIDIA in the form of a supercomputer called E-2 with the purpose of simulating and predicting climate change.
Grandiose? Indeed. But compelling as well. NVIDIA has set a high bar against a backdrop of futuristic markets. The real world will be challenged to keep up.