EDJX Fuels Smart Cities Trial

EDJX, one of the Futuriom 40 private companies, is part of a smart cities trial beginning in Austin, Texas, that could have global implications.
The edge computing startup is contributing its platform to an effort sponsored by a Texas-based consortium called the Autonomy Institute, which brings together experts from the public and private sectors as well as academia to come up with solutions that coordinate 5G, Internet of Things (IoT), edge computing, and intelligent transportation for emerging autonomous systems within cities.
The initial trial of the institute's technology is set to happen at the Texas Military Department at Camp Mabry in Austin, Texas. Trials are also planned for Denver, Dallas, Pittsburgh, and possibly EDJX's home base of Raleigh, N.C. Depending on results, the Autonomy Institute hopes to eventually start trials in cities outside the U.S.
Autonomy Institute Pins Hopes on PINN
The Autonomy Institute's technological linchpin is aptly named PINN, standing for Public Infrastructure Network Nodes. These are lamppost-like constructions built to contain edge resources (such as those from EDJX) and connectivity for smart-city systems. The institute describes PINN as follows:
"PINN is a unified open standard supporting 5G wireless, edge computing, radar, lidar [light detection and ranging], enhanced GPS, and intelligent transportation systems (ITS). PINN looks like a streetlight post, so a PINN cluster could potentially provide a lot of computing power without requiring a lot of cell towers or heavy cables."
"PINNs look like a next-generation futuristic light pole," John Cowan, CEO of EDJX, told Raleigh news channel WRAL's TechWire this week. "They process data right there at the point of capture."
The EDJX platform seems ideally suited to be packed into PINN posts. The vendor's secure, small-form-factor, ruggedized servers (called Nanoservers) come with a serverless software development platform (called the EDJX Serverless Edge) that supports IoT, industrial IoT, augmented reality, robotics, and similar applications. EDJX also promotes its solution as a serverless Secure Access Service Edge (SASE) that can be used for machine-to-machine communications (M2M) and mobile edge computing (MEC).
For the project in Austin, EDJX was allied with another vendor, Atrius, which embeds sensors in lighting networks for use in indoor positioning (similar to GPS) and IoT applications. Atrius is a division of industrial technology company Acuity Brands (AYI) and has worked for several years on this technology.
Taken together, the EDJX and Atrius solutions will help populate the first PINN in Austin, which EDJX envisions as eventually serving as proof of concept for urban deployments like the one represented below: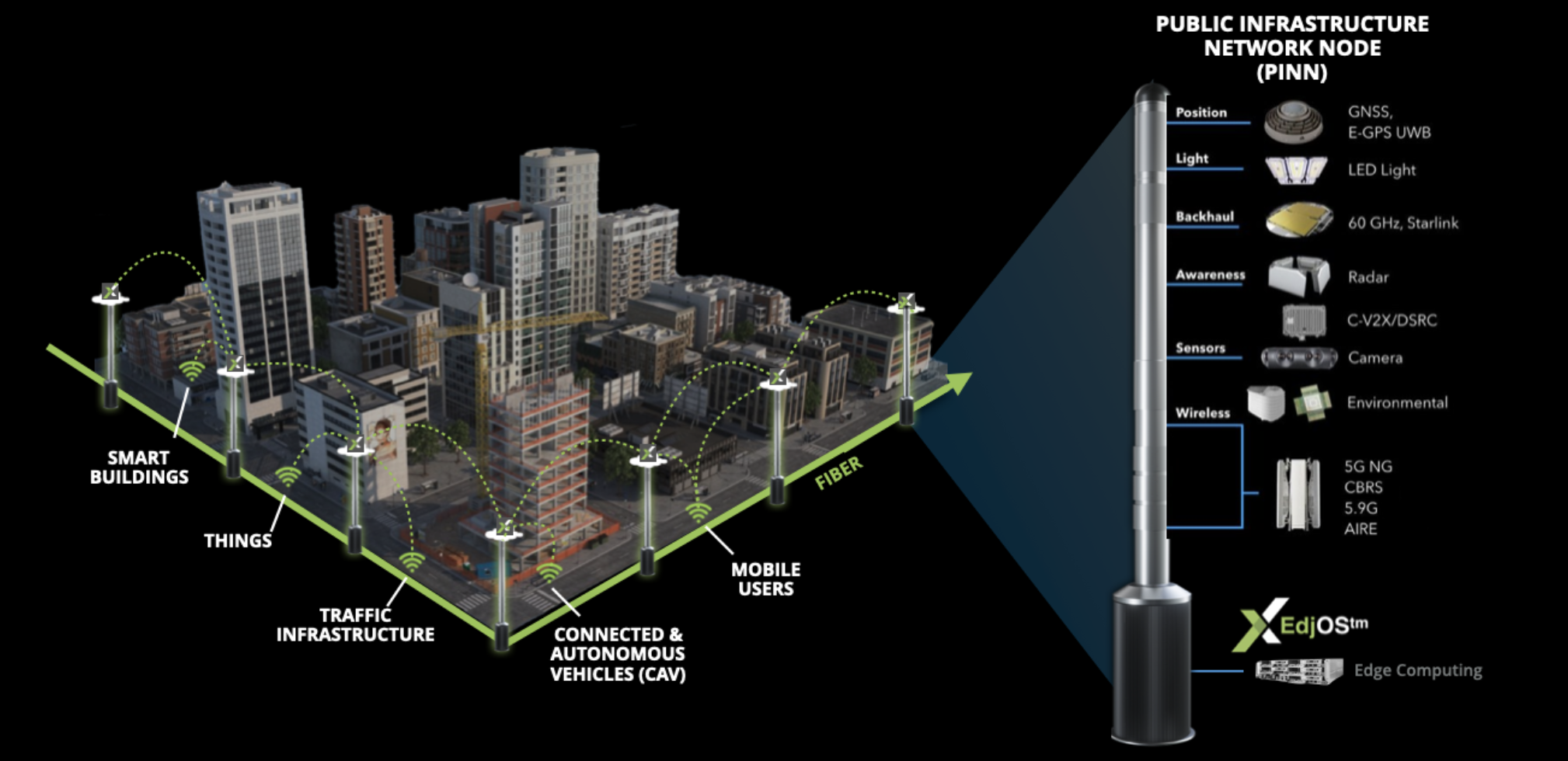 Source: EDJX
It's not clear what other companies might be involved in future trials. But the Autonomy Institute's board includes representatives from Aura Intelligent Systems, AVAI Mobility Solutions, Q Network, Resilienx, SpaceX, and IBM's Watson — to name a few. And with participation from members of government, the military, MIT, and Georgia Tech, it won't be tough to track down more.
Notably, many of these experts are on tap to study not just technologies for smart cities, but issues of planning for PINN locations. Smart cities will need designated routes and locations to function alongside the autonomous systems they support — just as cars required highways and trains needed rails.
More Edge Expected in Smart Cities
The Autonomy Institute's experiment is one of numerous smart-city projects undertaken worldwide, including one in Las Vegas reported by Futuriom last year, which included technology from Cisco (CSCO), NTT Data, VMware (VMW), and UBiqube.
In addition, telcos and cloud providers are clamoring for a spot in the smart city space — and particularly at the edge. AWS, Microsoft Azure, and Google Cloud all have a smart cities message. Carriers do too: AT&T (T), to name just one, has its own Smart Cities Living Lab created by a public/private partnership effort called the Dallas Innovation Alliance. Other service providers worldwide are also advertising their 5G and edge compute capabilities, and the trend is growing as 5G takes shape, catalyzing edge solutions for multi-fast urban networks.
So far, however, the Autonomy Institute seems to be, if not unique, at least at the forefront of attempting to solve the complex issues around smart cities. That includes not only finding cutting-edge technology from the likes of EDJX, but planning smart-city infrastructure that can be managed like roads and rails. Smart move.