Betacom and UScellular Streamline Multisite Private 5G

Private wireless company Betacom has partnered with cellular carrier UScellular to streamline communications among multiple private 5G sites throughout the U.S.
Betacom is connecting its private Citizens Broadband Radio Service (CBRS) networks with UScellular's public 5G, providing hybrid private/public 5G networking nationwide. Betacom said the partnership is geared especially to networks in manufacturing and Industry 4.0 environments. Betacom will support the service with service level agreements (SLAs).
The new hybrid private/public 5G service is needed, say the partners, because industries are adopting multisite networks with increased automation. It is no longer efficient to "DIY" links across multiple CBRS sites for companies that support many manufacturing, warehousing, retail, and government facilities.
"Organizations today need seamless mobility with incredibly high densities of sensors and devices to accelerate their industry 4.0 initiatives," said Betacom CEO John Bjorklund in a statement. "This new service acknowledges and uniquely meets that need."
One SIM to Rule Them All
Betacom is claiming a first in the annals of private CBRS networking because it is offering single SIM authentication for the service, which establishes virtual private networks (VPNs) between the private network "islands" connected by UScellular services. Data traffic just switches over from one network to the other without interruption. Also, in the case of a CBRS outage, traffic automatically fails over to the cellular network.
"[This] enables devices to move seamlessly from CBRS location to CBRS location on the public network in between, without needing to authenticate on and off each," stated Michael Davies, VP Business Partner Strategy at Betacom, in an email to Futuriom. "So devices can operate in the same secure environment without compromising the data integrity from one location to another. Right now that cannot happen between environments because mobile network operators require authentication on and off their networks and each CBRS environment requires separate authentication."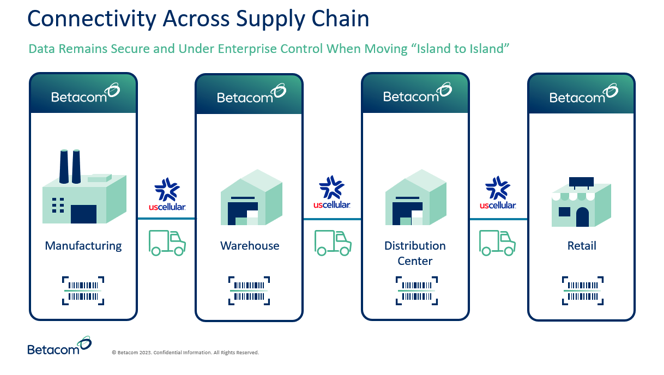 Source: Betacom
Moving Across Carriers
Betacom's hybrid private/public 5G service appears to be a first among CBRS providers. However, the issue of providing Internet of Things (IoT) connectivity across mobile carriers has been undertaken by others. KORE (NYSE: KORE), for instance, offers "connectivity as a service" featuring single SIM solutions for linking IoT devices across multiple sites (and carrier services) worldwide. KORE in turn claims to compete with IoT services from T-Mobile and Vodafone, as well as with a range of mobile virtual network operators (MVNOs) such as Aeris or Wireless Logic.
Another question concerns the use of private 5G in manufacturing, which has been slow to gain traction. Despite much hype, a great many manufacturing operations continue to operate without 5G. Security concerns, funding and staffing issues, and a resistance to pulling out old networking environments in favor of new ones all factor in to keeping many would-be projects in what one service provider called "proof of concept hell."
Still, proponents of private 5G insist that the wheels will start to roll faster next year. Solutions such as Betacom's hybrid private/public 5G service, which addresses a major obstacle to adoption, should help.
Futuriom Take: Betacom's hybrid private/public 5G service in partnership with UScellular is exactly the kind of solution that's been missing from private 5G up to now. Instead of merely touting private 5G, Betacom has taken a big step toward making it a useful reality for Industry 4.0 customers.