CSP Network Automation Survey Results

5G is going to drive network automation technologies deeper into communications service provider networks (CSPs), according to our latest independent research report.
Major operators, including CSPs and cloud providers, would like to roll out new applications supported by 5G's large portfolio of features, which includes adjustable spectrum, network slicing, support for Internet of Things (IoT), and low latency. But they're not sure they can use all these features unless the network is ready to handle them.
The detailed findings of what 5G means for network automation and how CSPs plan to implement them is part of our CSP Network Automation Leadership Survey report (free to registered Futuriom.com users).
The research for the report was based on the Futuriom Network Automation Survey, which reached 113 qualified service providers with director-level and above positions in network planning and architecture.
In our survey of 113 network automation end users, 108, or 95% of respondents, said they think that network automation will be crucial to successfully launching 5G networks.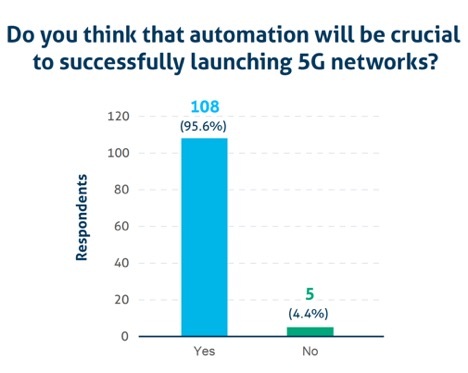 Trends in CSP Network Automation
The goal behind 5G networks is multi-faceted: Not only do CSPs want to add more bandwidth, but the flexibility and features of 5G will allow them to launch a wide range of new services targeting real-time data applications and low latency.
In order to deliver this, Futuriom sees a substantial shift in service provider networks from legacy models involving proprietary, vertically oriented systems to the open and scalable systems in the cloud ecosystem, which are driven by application programming Interfaces (APIs) and programmability.

CSPs will also continue to invest in real-time monitoring and telemetry, intent-based networking, analytics, artificial intelligence (AI), and orchestration software. These pieces are finally starting to arrive in service provider networks, and 5G will drive them there faster than ever before.

The automation boom is also likely to accelerate adoption of open and commercial off-the-shelf (COTS) hardware. Significant cost reductions can be achieved by the use of dis-aggregated, white-box networking and cloud-native infrastructure solutions.
Based on our survey results, our discussions with industry experts, and interviews with service providers, there are key technology trends supporting the future of service provider automation.

Details of this FREE Report
As part of a special preview of our Cloud Tracker Pro research, which publishes regular in-depth research on cloud and communications trends, we are making the CSP Network Automation Leadership Survey report free to registered Futuriom.com users. Download the report right here.

Companies discussed and/or profiled in this report: Amdocs, Arrcus, AT&T, Bharti Airtel, Ciena, Cisco, CPLANE.ai, DriveNets, Enea, EnterpriseWeb, Ericsson, EXFO, Gluware, Guavus, HPE, IBM (Red Hat), Itential, Juniper Networks, Nokia, Rakuten Mobile, Reliance Jio, RIFT, Telstra, T-Mobile, UBiqube, VMware, Zededa.
(Note: This is not an exhaustive list of companies in this market, but one that represents vendors with compelling technology approaches that have been investigated by Futuriom analysts.)
This report was generously sponsored by DriveNets and Itential.

Key Findings and Highlights:

Network automation represents essential technology for CSPs who are optimizing their network infrastructure in order to deliver a superior customer experience while streamlining their internal IT processes.
5G and edge compute will be a key driver of CSP automation: Service providers will not be able to keep pace with cloud-scale expansion of bandwidth and connections without using scale-out cloud automation techniques. Ninety-five percent of respondents to our survey said they think that network automation will be crucial to successfully launching 5G networks.
Network automation is real: Out of more than a hundred CSP experts surveyed for this report, 83% reported that they have at least started this transition, including 28% who stated that they've completed it.
Key enabling technologies of CSP automation include Intent-based networking (IBN), artificial intelligence (AI), network telemetry, and closed-loop monitoring: CSPs replace the manual execution of repeatable tasks with programmed tasks automated with the use of software.
Telecom network automation is an area of focus for a large number of new market entrants as well as established telecom industry vendors such as Ciena (CIEN), Cisco (CSCO), Enea (ENEA), Ericsson (ERIC), HPE (HPE), IBM (IBM), Juniper (JNPR), Nokia (NOK), and VMware (VMW).