2023 SD-WAN/SASE Managed Services Survey Report

Software-defined wide-area networking (SD-WAN) and secure access service edge (SASE) have been evolving to help networking and cybersecurity professionals with many new challenges, including the growing complexity created by distributed applications, cloud connectivity, and sprawling security risks.
What's needed more than ever are software-based platforms for integrating the management of network and security functions at the same time. This approach was first initiated by SD-WAN, which separated the software control from the hardware for branch-office networking. SD-WAN evolved and grew by adapting security functionality (SASE), which could be integrated into the network platform.

The market has expanded to include SASE functionality, which provides cybersecurity functions such as secure web gateway (SWG), cloud access security broker (CASB), firewall-as-a-service (FWaaS), intrusion detection, zero-trust network access (ZTNA), and many others to protect enterprise access to public networks and SaaS apps.
Special thanks to our sponsors -- Aryaka Networks, Tata Communications, and Versa Networks.
What's in This Report?

In this report, we will update you on the evolution of SD-WAN/SASE managed services, anchored to a detailed annual survey of enterprise users of SD-WAN and SASE technology. The report includes the following:
Full survey results from 196 IT networking professionals, including details on their challenges, needs, and desires for SD-WAN/SASE managed services.
International survey with respondents from the U.S., Germany, and India.
An overview of recent news in SD-WAN/SASE managed services.
Key partnerships and offerings in the market.
We also detail trends in consumption of managed network services – and why SD-WAN/SASE technology is naturally suited to delivery as a managed service. We have interpreted the results and tied them to ongoing trends in the industry, as the market for SD-WAN/SASE managed services evolves.
To access the report, download it here.
Survey Background & Demographics
Our survey took place in March and April of 2023. The total audience of 196 respondents came from three countries: the U.S. (127 respondents), Germany (37), and India (32).
We qualified the audience by asking filter questions to ensure respondents were director-level and above employees managing network and cybersecurity services at companies with more than 200 employees. In addition, we qualified respondents for networking and cybersecurity budget authority. The majority of respondents were C-level executives (51%), with the next largest groups comprising director level (31%) and vice president level (15%).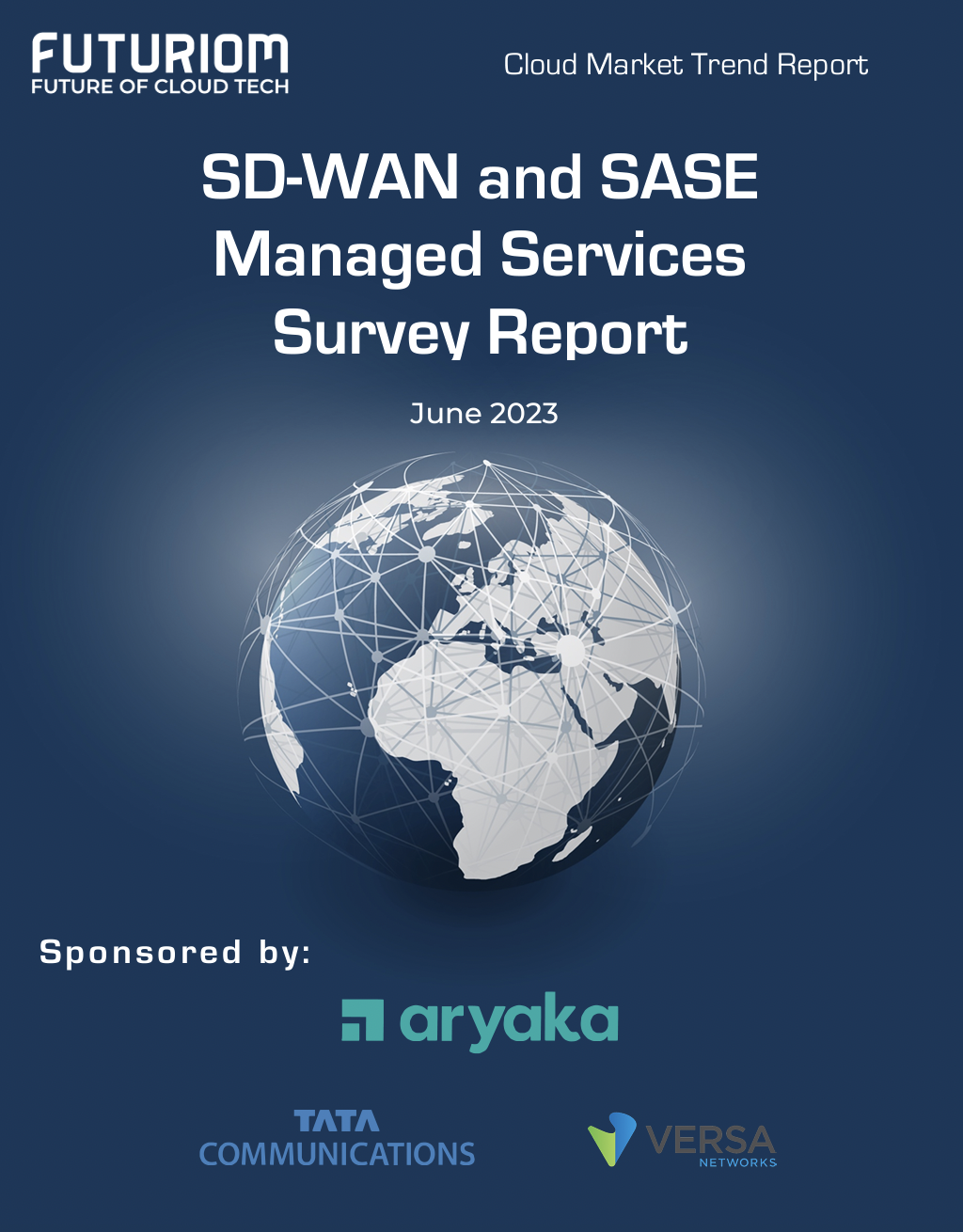 Report Highlights and Key Findings

Survey respondents indicate strong demand for SD-WAN and SASE managed services. Our survey data and discussions with end users indicate that SD-WAN/SASE technology helps professionals with network and security challenges, including the growing complexity created by distributed applications, cloud connectivity, and sprawling security risks.
Managing network complexity is the largest challenge driving managed services demand. When asked about the largest challenges in managing WANs, 85% of respondents identified complexity, followed by expertise and knowledge (68%). Rounding out the responses were cost (60%) and time (47%). (Multiple responses were allowed.)
Hybrid work and the need for zero-trust network access (ZTNA) are key drivers of SD-WAN/SASE technology. In the survey, 98% of respondents said that hybrid work has increased demand for SASE and ZTNA. When we asked respondents if ZTNA is a crucial component of SASE and SD-WAN offerings, 92% said yes.
Hybrid (cloud/edge deployment) and single-pass architectures will be important components of SASE/SD-WAN services going forward. When respondents were asked if they wanted a hybrid solution that can accommodate networking and security both on premises and using cloud points of presence (PoPs), 98% said yes. In addition, 94% of respondents said they prefer a single-pass architecture.
There will continue to be a diversity of SD-WAN/SASE deployment models. The two most popular models for deployment are best-of-breed combination (34%) and single-vendor (23%), but survey results show a wide diversity of deployment models.
Companies covered in this report: Aryaka, Amazon, AT&T, British Telecom, Cato Networks, Check Point Software, Cisco, Colt, Comcast, Deutsche Telekom/T-Systems, Forcepoint, Fortinet, HPE (Aruba), Hughes, Juniper Networks, Lumen Technology, NTT, Orange, Palo Alto Networks, Tata Communications, Telefónica, Telstra, VMware, Verizon, Versa Networks, Vodafone, Windstream, Zscaler

Total Length: 27 pages