Datacenter Chips Drive NVIDIA Results

NVIDIA (Nasdaq: NVDA) beat Wall Street estimates with its Q3 earnings, and datacenter chips and artificial intelligence (AI) played a starring role.
The chip vendor reported revenues of $7.1 billion, up 50% year-over-year and 6% higher than analysts expected. Adjusted earnings per share came in at $1.17 per share, up 60% from last year's corresponding quarter, beating analyst expectations of $1.11 per share. Net income was $2.4 billion.
Datacenter chip revenue was $2.9 billion, up 24% sequentially and 55% year-over-year. "Strong growth was led by hyperscale customers, fueled by continued rapid adoption of Ampere architecture Tensor Core GPUs for both internal and external workloads," said CFO Colette Kress on the earnings call last night.
Datacenter chips are gaining on NVIDIA's gaming chip revenue, which came in at $3.22 billion for the quarter, up 42% year-over-year. Next quarter's revenue, which NVIDIA predicts will grow 4% (give or take 2%) to $7.4 billion, will depend largely on datacenter sales.
"We expect sequential growth to be driven by Data Center and Gaming," said CFO Kress. "We can probably expect our Data Center to grow faster than our Gaming, probably both in terms of percentage wise and in absolute dollars."
Data Center Growth No Surprise
The growth in datacenter chips is no surprise. NVIDIA archrival Advanced Micro Devices (Nasdaq: AMD) is also profiting from demand for chips that enable hyperscale cloud providers and large enterprise customers to grow their intelligent computing resources.
AMD reported revenue of $4.3 billion, up 54% year-over-year on its third-quarter earnings report October 26. Of that, enterprise, embedded, and semi-custom chips (which contain AMD's datacenter chips) accounted for $1.9 billion, up 69% year-over-year and 20% sequentially. That compares to AMD's computing and graphics revenue of $2.4 billion, up 49% year-over-year and 7% sequentially.
"[W]e continue to believe that datacenter is the most strategic part of our business, and we're making good progress with our customers and partners," said AMD CEO Lisa Su on the quarterly conference call with analysts.
NVIDIA Looks to the Omniverse
Throughout last night's call – which oddly featured extremely poor sound quality – execs underscored NVIDIA's AI capabilities to the point of tedium.
Central to the discussion was Omniverse, highlighted during last week's GTC conference and hailed by the vendor as "a scalable, multi-GPU virtual world platform that enables 3D design collaboration and true-to-reality simulation." According to NVIDIA CEO Jensen Huang, Omniverse gathers together a range of NVIDIA's top capabilities in graphics and AI and represents an enormous data center-driven revenue opportunity.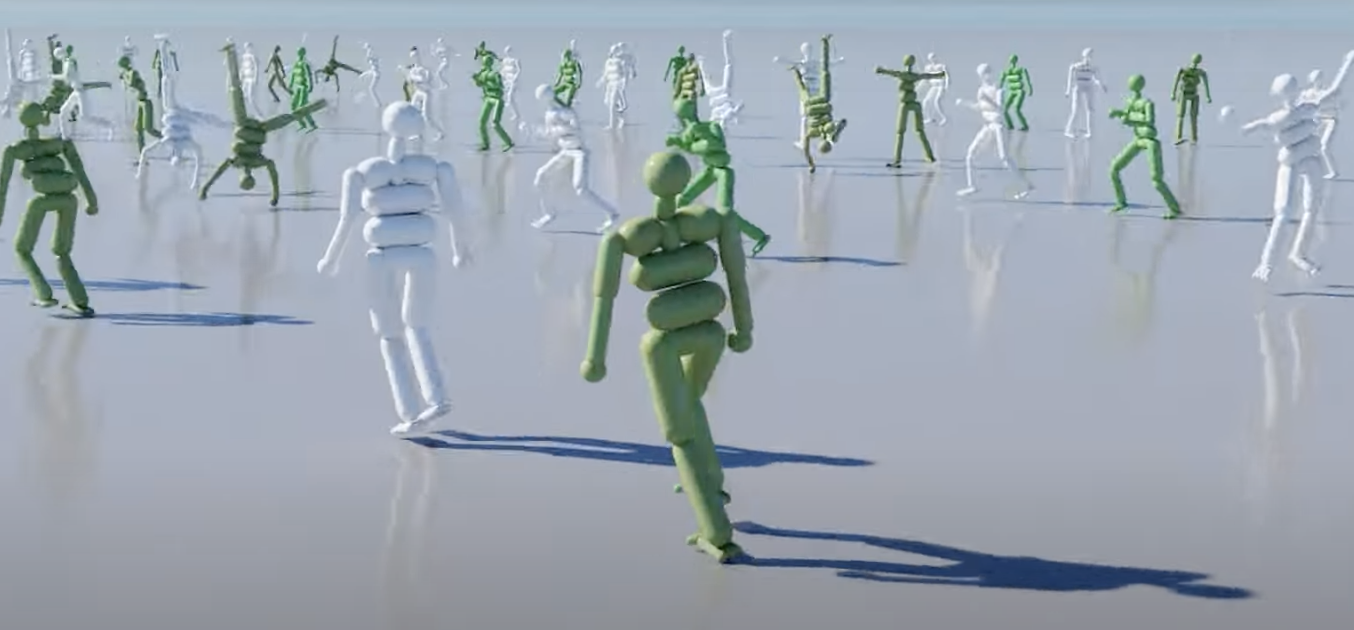 Avatars dance in a video promoting Omniverse. Source: NVIDIA
For example, Huang noted that Omniverse Avatar, which creates intelligent avatars for enterprise applications, is key to solving the worldwide labor shortage:
"[O]ne of the areas that has severe shortages around the world is customer support, just genuine severe shortages all over the world, and we think the answer is Omniverse Avatar. And it runs in Data Center, you could easily adapt Omniverse Avatar to do drive-thrus or retail check out or customer service…. You can use it for a tele-operated customer service and … you could use it even for video conferencing…. I think Omniverse Avatar is going to be a really exciting driver for enterprise this next year. And so next year is going to be a pretty terrific year for Data Center."
ARM Merger Still On
Last night's call was so filled with boasting of new products there was hardly any time for questions about NVIDIA's ongoing efforts to buy ARM Holdings for $40 billion. The effort was most recently undermined by U.K. regulators requesting further investigation into the deal's anticompetitive potential. This latest objection is part of a growing obstacle course of international questions, objections, and general hindrances that threaten to at least push the deal far into the future.
No matter, says NVIDIA. "Arm with NVIDIA is a great opportunity for the industry and customers with NVIDIA's scale, capabilities and robust understanding of data center computing, acceleration and AI," said CFO Kress last night. "[W]e continue to believe in the merits and benefits of the ongoing acquisition."
NVIDIA stock soared to a new high on last night's news. As of this writing, shares were trading at $323.86, +31.25 (10.68%).