How Telcos Are Prepping for Generative AI

As generative artificial intelligence (AI) continues to ramp among public cloud providers and their customers, a chorus of voices asks, What about the telcos?
What, indeed? Communications service providers have traditionally been slow on the uptake when it comes to new technologies. Their complex legacy networks, many years in the making, aren't easily adapted to fit new architectural requirements. And having spent billions on 5G with little to show for it, telcos as a group seem loath to invest in the distributed, accelerated computing infrastructure required to support gen AI.
A closer examination of the situation shows it may be too soon to count out telco activity in generative AI. While this vertical may be taking a slow ramp to new applications, the telecom sector is no stranger to AI in general.
AI and machine learning (ML) have been in use for years by large telecom providers. Applications include combating telecom fraud, aiding customer service, and informing engineers in the field. Generative AI promises to help telcos to improve these scenarios even more, as well as to create new opportunities in network automation and security.
Trends in Telco Generative AI Adoption
In our latest Cloud Tracker Pro Quarterly Update, we explore telco interest in generative AI, an interest driven in part by a massive push from leading carrier IT suppliers who see a potentially enormous addressable market via their telecom customers. Here are some of the key trends we explore:
A lack of hype doesn't mean nothing's happening. As noted, AI is already playing a role in today's telecom networks. And large telcos worldwide are looking to expand its uses as generative AI progresses.
AI operations (AIOps) has played a key role in telco AI adoption for years. Telcos have used AI for fraud detection and assistance in customer service for over a decade.
Generative AI will revolutionize many telco applications. Once deployed, gen AI heralds a shift in the way telcos operate what have traditionally been operations support systems (OSSs) and business support systems (BSSs).
Challenges loom. While generative AI is making inroads with telcos, the complex structure of telecom networks presents organizations and technological challenge for telcos – including a prevalence of infrastructure silos. Telcos also are concerned that using generative AI for customer relationship management may draw them into trouble with regulators over data privacy concerns.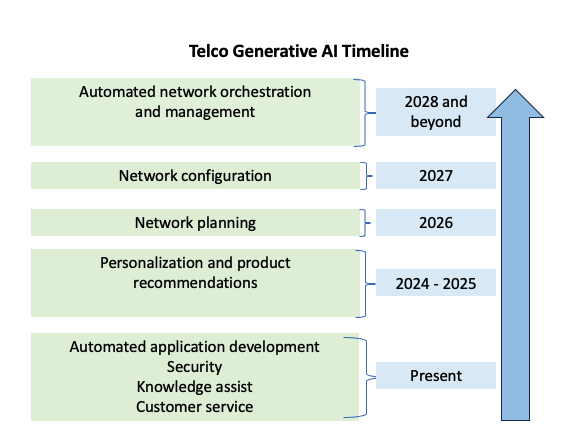 Building on our previous quarterly report, "Navigating the AI Goldrush," we explore how telcos are meeting these and other trends, if not head on then certainly incrementally. It may take a while, but there are ample signs that generative AI is indeed coming to the telecom sector.
CTP subscribers can download the full report below.

As ever, let us know what you think. Email us individually or at analyst@futuriom.com