Where's the 5G Pot of Gold?

As we approach the gigantic Mobile World Congress show in Barcelona at the end of the month, it might be time to reassess the long-running hype on 5G. After all, the industry has been promoting 5G with endless hype for at least five years.
The verdict is in: Consumers are disappointed in 5G services, and though businesses have an eye on its future potential, trials have been slow to transition to real-world implementations. In addition, the rollout of 5G has been slower than expected and businesses have not seen the kind of return on investment (ROI) promised by industry vendors.
Let's take it further: The industry's leading vendors, including Ericsson, Nokia, and Huawei, have massively disappointed their shareholders and stakeholders, including their customers. They have consistently overpromised and underdelivered on 5G expectations. Their businesses have shown little progress on the back of 5G. We'll walk you through that below.
Still, there are pockets of 5G profitability. Digging into recent financials of leading 5G suppliers indicates that the enterprise market will be crucial to the success of 5G, and within that segment, private wireless networks are fueling some 5G demand. Meanwhile, telco advancement of standalone 5G (5G SA) is viewed as an essential step, along with cloud and edge networking, toward realizing the potential of 5G.
For that future to unfold may take more time than was expected back in 2019 or 2020, when it was thought that 5G would take businesses by storm. Global economic changes, geopolitical issues, and the lasting effects of the COVID pandemic are taking a toll on telcos' ability to move ahead with costly SA rollouts – not to mention the general pullback on enterprise spending among service providers' business customers.
Let's take a closer look at what the world's leading 5G suppliers have to say.
Ericsson: Private Wireless Boosts Enterprise Sales
At first glance, Ericsson (Nasdaq: ERIC) seems to have fared poorly in 2022: For the final quarter of the year, net sales were down 39% year-over-year (y/y) before adjustments for comparable units and currency; for the full year, they were down 17%. Still, for the company's Enterprise segment, net sales grew 15% for the quarter, 16% for the year, compared to much lower percentages of growth for Ericsson's other segments, as shown below:

Source: Company financial reports
Ericsson said Enterprise sales were boosted by the Enterprise Wireless Solutions division based on Ericsson's Cradlepoint acquisition in 2020. And while analysts questioned the value of the company's $6.2 billion purchase of communications platform provider Vonage last year, Ericsson claims that Vonage will be key to furnishing a Global Communication Platform for its Enterprise division to "enable new ways of monetizing 5G by transforming how network features such as speed and latency are globally exposed, consumed and paid for." (Quote taken from prepared remarks of Ericsson CEO Börje Ekholm in the company's fourth-quarter and full year-2022 report press release.)
Ericsson also benefited last year from sales in South East Asia, Oceania, and India, thanks to major 5G rollouts in those regions.
Still, Ericsson's short-term outlook for all its businesses remains cloudy, for which the vendor blames the macroeconomic downturn and geopolitical tensions. And it's share price has been a disaster -- showing losses for investors for the past ten years!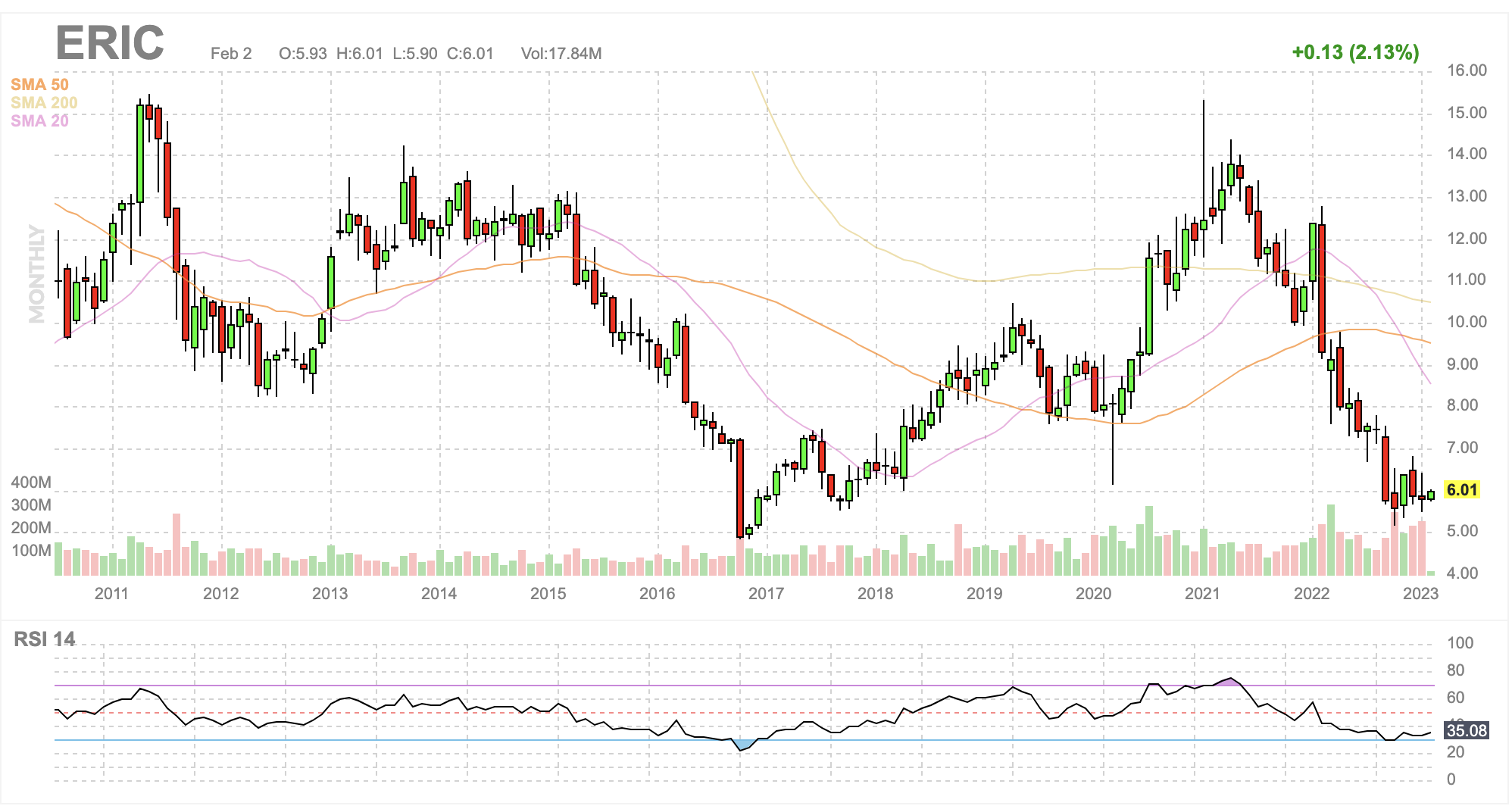 And questions remain as to why Ericsson could not make a go of its Internet of Things (IoT) Accelerator and Connected Vehicle Cloud business. The company announced in December 2022 it was selling it to Aeris Communications. Ericsson seems to have lost a 5G opportunity in a sector where IoT demand is growing.
Nokia: A Mix of 5G Opportunities
Nokia also has the same long-term challenges and questions, but it has shown slightly better progress in recent quarters. It also might be able to make a go of private wireless.
In its final quarter and year-end report for 2022, Nokia (NYSE: NOK) reported that its Mobile Networks segment grew 3% for the quarter and the year on a constant currency basis and saw strong growth in India, where net sales grew 116% y/y for the quarter in constant currency as 5G services from Bharti Airtel and Reliance Jio unfolded across that country.
Nokia also reported strong enterprise wireless solution sales within its Cloud and Network Services segment, which grew 10% for Q4 2022 y/y and 8% for the full year 2022 y/y on a reported basis. While not specifying figures for private wireless, Nokia reported that the subsegment grew by "double digits" for the fourth quarter, and the company now has over 560 customers for that technology, including 45 customers added in Q4 alone.
While it's not clear how much of the private wireless sales were associated with 5G, Nokia has made it clear that 5G is a fundamental element of its strategy. And in at least one major private wireless project, 5G played a key role. Nokia's report states:
"In December 2022, our Submarine Networks business inaugurated the deployment of a private 5G network on its submarine systems production and assembly site based in Calais. More than 2 years of development and integration were necessary to deploy the largest private industrial 5G network in Europe to date, and to provide coverage to the 50,000 square meters of the Calais site. Eleven buildings as well as the loading docks will be covered by 59 5G small cell antennas."
Nokia's report shows that submarine networks grew 32% in constant currency for Q4 2022 and 25% for the year. Submarine networks also contributed 13% of net sales to the company's Network Infrastructure Group, which grew by 14% in the quarter and realized what management terms "significant operating margin expansion." If the Calais project is any indicator, this segment could generate more 5G business.
"We continue to see solid demand trends in Network Infrastructure and Mobile Networks as we look ahead into 2023," stated CEO Pekka Lundmark, in the earnings press release.
Huawei: 5G Patents for Rent
While Huawei is on the cusp of being totally banned from interacting with U.S. companies, it remains a major presence in the 5G infrastructure market globally. The company holds thousands of patents on 5G technologies and reportedly is ready to license them to help generate revenue in the wake of U.S. sanctions that ruined its smartphone business. Huawei has a patent licensing arrangement with Nokia that remains confidential. Huawei also claims to have licensed patents to multiple automobile makers – a sector in which 5G adoption is rising. According to Bloomberg, Alan Fan, Huawei's global head of IP, stated in December 2022:
"In the automotive industry alone, we reached deals with around 15 car makers [in 2022] for use of our advanced wireless technologies, including well-known names such as Audi, Mercedes Benz, BMW, Porsche, Renault, Suzuki, Lamborghini, Subaru and Bentley."
Conclusion: The Timeline Is Lengthened
The financial data indicates that sales of enterprise 5G are happening largely as an adjunct to private wireless network investments, which are growing. In the broader view, enterprises are eager to tap cloud and edge opportunities that would also include 5G, but they are limited by budget constraints resulting from the global economic downturn.
Meanwhile, the sophisticated applications of 5G that rely on network slicing and other advanced features of the mobile spec will depend on the rollout of 5G SA networks by telcos – a move that is also constrained by budgets and high prices. As of this writing, less than 40 carriers worldwide – out of at least 115 5G providers tracked by Futuriom -- have implemented SA networks.
Bottom line? It will take at least another several quarters, If not more, for the realization of 5G's potential in enterprise applications to take meaningful shape. By that time, with luck, improvements in the global economy will have loosened some of the constraints that are limiting carriers and their customers from moving ahead with the standard.