Why Ericsson Will Spend $6.2 Billion for Vonage

Telecom equipment supplier Ericsson (Nasdaq: ERIC) will purchase Vonage Holdings Corp. (Nasdaq: VG) for approximately $6.2 billion in cash in an effort to build the market for enterprise 5G applications. The deal is expected to close in the first half of 2022.
Vonage, which hs 2,200 employees and is headquartered in New Jersey but with offices worldwide, specializes in unified communications-as-a-service (UCaaS) and application programming interfaces (APIs). The APIs help customers – about 120,000 total -- develop Internet-based voice, data, video, and messaging applications within their communication networks.
Vonage boasts an ecosystem of over 1 million developers worldwide who use its APIs, which generated roughly 80% of Vonage's $1.4 billion in revenues in the year prior to September 30, 2021.
Ericsson Wants Developers
It's Vonage's developers that Ericsson is after. Specifically, the telecom supplier hopes to extend its 5G solutions to enterprise customers through the Vonage APIs and customer base, all with the goal of boosting the 5G market.
"Our shared intent with Vonage is to develop a platform that allows developers to access network capabilities which really put the power of the wireless network at their fingertips," said Börje Ekholm, president and CEO of Ericsson, on a conference call with analysts and media. "The platform will simplify network complexity and provide a one-stop shop for developers to access advanced network capabilities across a global network of CSPs [communications service providers]." The end result will be more compelling applications, more services, and more business customers of 5G.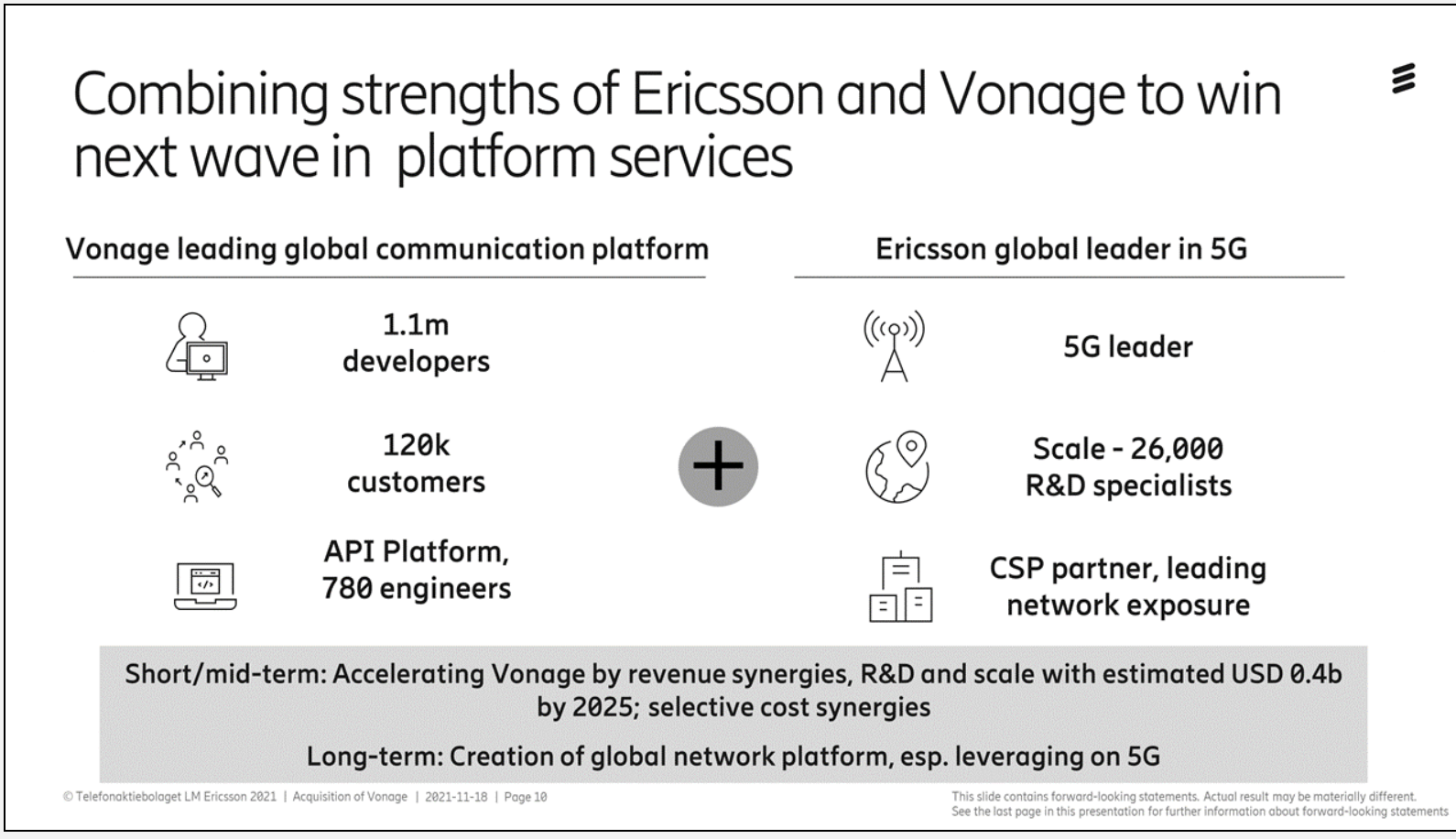 Ericsson depicted its plan for Vonage in a slide during today's presentation. Source: Ericsson
Ericsson Looks Ahead to Enterprise 5G

Ericsson's is working hard to entice enterprises to take advantage of 5G networking, which it believes will be essential to the future of business networks. But many enterprise customers don't yet see it that way.

Apparently, a lack of ability to define adequate return on investment (ROI) is hampering enterprise adoption of 5G services for business apps, putting equipment suppliers in the position of evangelizing 5G's capabilities to enterprises and CSPs alike.
"It simply takes time," said an employee at one of Ericsson's leading competitors in a recent interview with Futuriom. "Most enterprises are quite risk averse. We must build trust in technology before it's widely adopted."
Now Ericsson believes it can, with Vonage, grab market attention. Indeed, Ericsson has been developing its own set of advanced APIs for 5G use with quality of service and network slicing applications. But Ericsson execs on today's call said that what's needed is an army of independent developers to push those APIs into widespread enterprise use.
'If you believe in the power of 5G … to revolutionize enterprise, you need to succeed in exposing the capabilities of the 5G network to the global developer ecosystem," Ekholm said. He believes that Ericsson can "actually create the market here."
Ericsson Will Keep Vonage Separate
Ericsson intends to keep Vonage as a merged subsidiary operating under Vonage's current name, brand, and leadership. Vonage will be accounted for as a distinct segment of Ericsson.
Analysts approved of that approach but criticized Ericsson for the cost of this transaction, which represents a premium of 28% to Vonage's closing share price of $16.37 on November 19, and a premium of 34% to the volume-weighted average share price of $15.71 per share over the three-month period prior to that date.
But Ericsson maintains the price of Vonage is fair and will prove itself over time, though it may be 2023 or 2024 before revenues of the new segment become accretive. By 2025, Ericsson expects to tap roughly $4 billion via its Vonage acquisition.
Ericsson on the Acquisition Trail
Ericsson also was criticized for spending so much of its cash so soon after acquiring Cradlepoint for $1 billion in November of last year, again to bolster its position in the wireless enterprise market, though that acquired property isn't expected to be accretive to Ericsson's profits until 2022.
One analyst on today's call referred to "the market perception of [Ericsson] as not being super, kind of, in the market's perception, successful in acquisitions." Ericsson execs defended their position, saying Cradlepoint is ahead of schedule in terms of integration. They also said Ericsson will continue to acquire companies to implement its strategy and that Vonage will continue to buy what it needs as well.
Indeed, this market segment of UCaaS APIs is very acquisitive. Vonage archrival Twilio (NYSE: TWLO) bought Segment for $3.2 billion last year to add to its own roster of APIs for CSPs and enterprises. And the Wall Street Journal notes that another player, Sinch AB, has spent $4.3 billion within the last year to purchase specific services for its own APIs.
Ericsson may face its strongest rival in Microsoft (Nasdaq: MSFT), which last year launched its own suite of APIs allowing developers to add voice, data, video, and messaging to apps in Azure. And the 5G enterprise link is already underway via Microsoft's deal to buy 5G assets from AT&T (NYSE: T) announced this summer.
"Build it and they will come" appears to be a mantra for many vendors these days. And today, Ericsson added to its bet on a 5G enterprise takeover.