Twilio to Grab Segment Inc. in $3.2 Billion Stock Deal

Twilio (TWLO) today confirmed it will buy Segment Inc. for $3.2 billion in Twilio Class A common stock in a cash- and debt-free transaction. Closing will occur before the end of the year. Twilio said the acquisition will be accretive by "north of 50%" to 2020 revenues.
The deal brings center stage the growing importance of cloud tools for developers, particularly in hot areas such as customer data platforms (CDP) — which gather customer data from diverse corporate sources into a single database.
Both Twilio and Segment sell application programming interfaces (APIs), Twilio for adding customer communications such as voice, text, video, and chat to Websites, applications, and mobile apps.; and Segment for simplifying collection of data from multiple sources.
APIs have been targeted as key not just to bringing multiple applications to the edge of public and private clouds but to drawing them into multi-cloud networks (MCNs). "[E]verything is APIs these days," said Cisco Distinguished Engineer Mike Dvorkin in an interview with Futuriom early this year.
"By now, folks understand that API-driven businesses are not just viable, but tremendously efficient and value-accruing," stated Semil Shah, partner with investment firm Haystack, in a blog last night. "There are by my count about 10-20 amazing API startups that don't get a lot of press or Twitter love, and they will emerge this decade like Twilio did in the previous decade."
Combo Looks to Drive Integration
Twilio and Segment believe their unity will make it easier to build customer applications by using a single vendor to help with developing and integrating customer engagement apps (Twilio's expertise) with customer data platforms (Segment's bailiwick). Both companies value this as a potential $79 billion market, comprising a range of customer-oriented business applications.
Post closing, Segment will become a division of Twilio. Both companies will continue to sell most typically to engineers and IT developers, but will focus also on moving higher up the executive chain as suitable application opportunities emerge.
There is no shortage of possible permutations, said Twilio founder and CEO Jeff Lawson in a conference call with financial analysts October 12. He gave an example of Twilio plus Segment helping enterprises unite knowledge about customers with targeted ways to communicate with them, fueled perhaps by machine learning.
Competition Is Fierce in CDP
The addition of Segment brings Twilio into greater competition with a range of players, including Salesforce (CRM), Adobe Analytics, and the big cloud players. Microsoft (MSFT), for instance, recently unveiled Azure Communication Services to compete against the kinds of apps Twilio enables.
Segment, founded in 2011, also has been building its competitive profile against a range of market leaders, including the likes of other CDP players such as Tealium, as depicted in the slide below from Twilio's recent conference call presentation: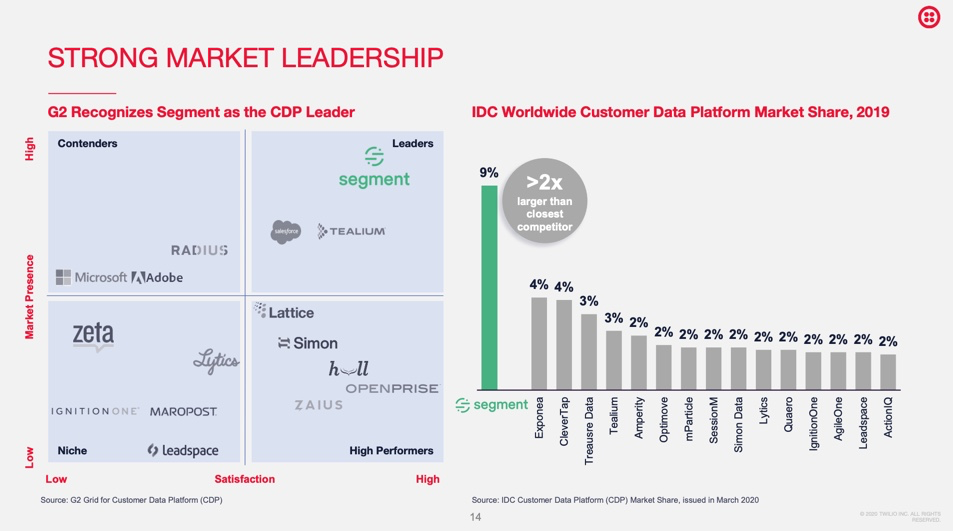 Headquartered in San Francisco, the late-stage startup has to date garnered $284 million in funding from a range of investors, including Accel, GV, Meritech Capital, Y Combinator Continuity, eVentures, Thrive Capital, General Catalyst, SV Angel Sapphire Ventures, Kleiner Perkins Caufield & Byers, and New Enterprise Associates. Segment now has offices worldwide and claims over 500 employees and 20,000 customers, including Trivago, Fox, and Atlassian.
Is Deal Overvalued?
This proposed deal raises a few questions. First, Twilio relies on the enterprise cloud infrastructure market, which may have hit the Pause button in the wake of the COVID-19 crisis. Whether Twilio can expect immediate accretive revenues is a question.
Another question surrounds Twilio's stock, which is the basis for this transaction. Twilio was way overvalued when tech stocks were poised for correction last year. It is even more overvalued now, with a price/sales ratio of 33X, compared with 24X in May of 2019.
Still, at least one bellwether in this market, Salesforce, has been knocking it out of the park all year, even though Salesforce execs have hedged their guidance with warnings against being too optimistic in these troubled times.
No warnings have dampened Twilio's enthusiasm, though. And in early trading today, investors too seemed pleased enough to raise Twilio's share price to $314.70, +8.51 (2.78%).