Exploring the Potential Slowdown in Cloud

After two quarters of growth, cloud data center build-outs by service providers and public cloud titans are slowing down and could remain stalled for a few more quarters.
Most of that sobering forecast comes in the fallout of the September 3 earnings call of Ciena (CIEN), whose optical switching gear is essential to most telcos and many hyperscale cloud service providers. Though posting third-quarter 2020 sales of $976.7 million (up 1.7% year-over-year) and non-GAAP net income of $166.4 million ($1.06 per diluted common share), the company said revenues could dip by 16% next quarter.
Ciena's news rippled through the markets, causing analysts and investors to question the possible effects of Ciena's slowdown on its competitors, suppliers, and customers and what it could mean for the state of cloud services overall — particularly given the vendor's timeline.
"[W]e expect current market dynamics, in particular the challenges around restrained customer spending as well as business velocity, will persist for a few quarters," said Ciena CFO James E. Moylan, Jr., on the vendor's earnings call.
Evaluating Ciena's Stance
It isn't news that enterprises have stalled or postponed cloud spending, even if digital transformation remains a long-term goal. Despite demand for cloud services to support remote work during the pandemic, cloud titans and their suppliers acknowledge that getting new customers has been harder than adding services for existing ones.
For Ciena and others, the problem is that during the first half of 2020, those incumbent enterprise customers bought enough cloud to sustain good revenue growth. Now that the adjustments have been made, those customers don't need more services, resulting in slower sales for service providers, and hence less revenue for suppliers of cloud networking equipment and software.
During Ciena's earnings conference call with financial analysts, CEO Gary Smith described the situation as follows:
"Notwithstanding a strong quarterly performance and the resiliency of our business model, we are seeing negative effects of the pandemic and greater economic uncertainty weigh on our near-term outlook.
We believe that this is being driven by an impact on the velocity, and to some extent, de-prioritization of new business initiatives in general, as well as an increasing customer caution on budget decisions and the timing of spend, namely with service providers, as they are in turn beginning to feel the negative effects from large segments of their enterprise businesses." [Emphasis added.]
Evaluating the Impact of the Slowdown
While Ciena's warning had analysts adjusting their models, the knock-on effect may not be as dramatic for other suppliers and customers in the cloud market.
"[W]e think Ciena has highlighted a valid market concern. COVID-19 is likely to slow the deployment of new capital toward significant network architectural improvements in 2H20," stated Michael Genovese, managing director at MKM Partners, in a note to clients. Still, his firm is lowering full-year 2020 sales guidance for Ciena switching competitor Arista Networks (ANET) by just 3% to $2.23 billion. Ciena, in his view, had supply-chain reasons for lowering their next-quarter guidance by double digits.
Similarly, another analyst is lowering guidance for another switching player, Juniper Networks (JNPR), by less than a percentage point. "Juniper's customer mix has more balance than Ciena's. The two have similar cloud exposure, but Juniper has more enterprise in its mix," state Simon Leopold and colleagues in a note from Raymond James. The firm's sales forecast for Juniper's full year 2020 has been adjusted to $4,392 million from $4,417 million.
Where the Cloud Titans Stand
The billion-dollar question remains, How is the enterprise slowdown affecting the cloud titans?
The answer depends on the particular titan. Futuriom's research, available in our soon-to-published update to our quarterly Cloud Tracker, reveals that capex varies among public cloud vendors, even though overall spending on infrastructure continues to grow over time.
The following chart compares the second quarter of this year against Q2 of preceding years, revealing that while many companies have reduced capex, they haven't done so dramatically. Further, the ones whose spending dipped most — e.g., Apple (AAPL) — don't really serve the large enterprise cloud market. At the same time, much of Amazon's capex was applied to its warehouses, though AWS revenue grew 29% during Q2 2020.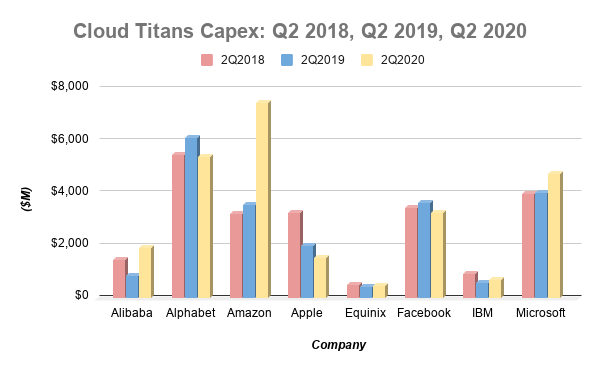 Clearly, a slowdown in enterprise spending has affected the cloud market, particularly for hardware suppliers. And the bigger and more complicated the hardware, the tougher the sell will become, at least for the short term.
The trend will likely continue until the COVID-19 crisis downshifts dramatically. But when it comes to cloud services, even this kind of slowdown doesn't seem to be halting a slow but steady upward trend.