Auth0 is the First Futuriom 40 to Be Acquired!

Identity-management startup Auth0 has agreed to be bought by competitor Okta (OKTA) in an all-stock transaction worth roughly $6.5 billion — a deal that highlights the growing importance of identity management for securing cloud environments.
The agreement also makes Auth0 the first of the recently released Futuriom 40 to be plucked for acquisition -- only a few days after we published the list. Since that is a list of the hottest private companies representing the top trends in cloud technology, we expect to see much more M&A and IPO activity as the year progresses. Stay tuned.
Publicly traded Okta announced the deal during its quarterly and year-end earnings report March 3. The company expects to deliver Auth0 a fixed amount of its Class A common stock at a per-share value of $276.21 apiece, giving it a 14% pro forma share of Okta.
Two Angles on Identity Management
The vendors are representing this acquisition as a marriage of two distinct and complementary takes on identity management for cloud netwroks. Okta, founded in 2009, public since 2017, and based in San Francisco, offers zero trust network access (ZTNA) and identity access management (IAM) products for remote, "work from anywhere" workgroups, as well as security information and event management (SIEM) reporting. Since Okta doesn't require network or data center hardware, it is ideal for network edge security, or SASE. Okta claims annual revenues of over $800 million from over 10,000 customers, including Jetblue, Nordstrom, Siemens, Slack, T-Mobile, Takeda, and Twilio.
Auth0, founded in 2013 and headquartered in Seattle, offers an as-a-service identity management platform aimed at application builders and developers. The system includes APIs and tools that secure log-in transactions, enabling companies to secure their applications, websites, and databases for customers, partners, or external users with devices running on iOS, Android, and Windows Phone 8. Users can modify their applications, customize various stages of the authentication and authorization process, and connect applications and APIs to a database of users and passwords. Auth0 claims a run rate of $200 million and cites 7,000 customers, including Polaris, Mazda, and Blue Cross Blue Shield.
What the Combo Can Do
According to Okta CEO and co-founder Todd McKinnon, uniting Okta's access management for remote corporate workgroups with Auth0's focus on external players will let Okta address a market worth $55 billion, as illustrated in the chart below: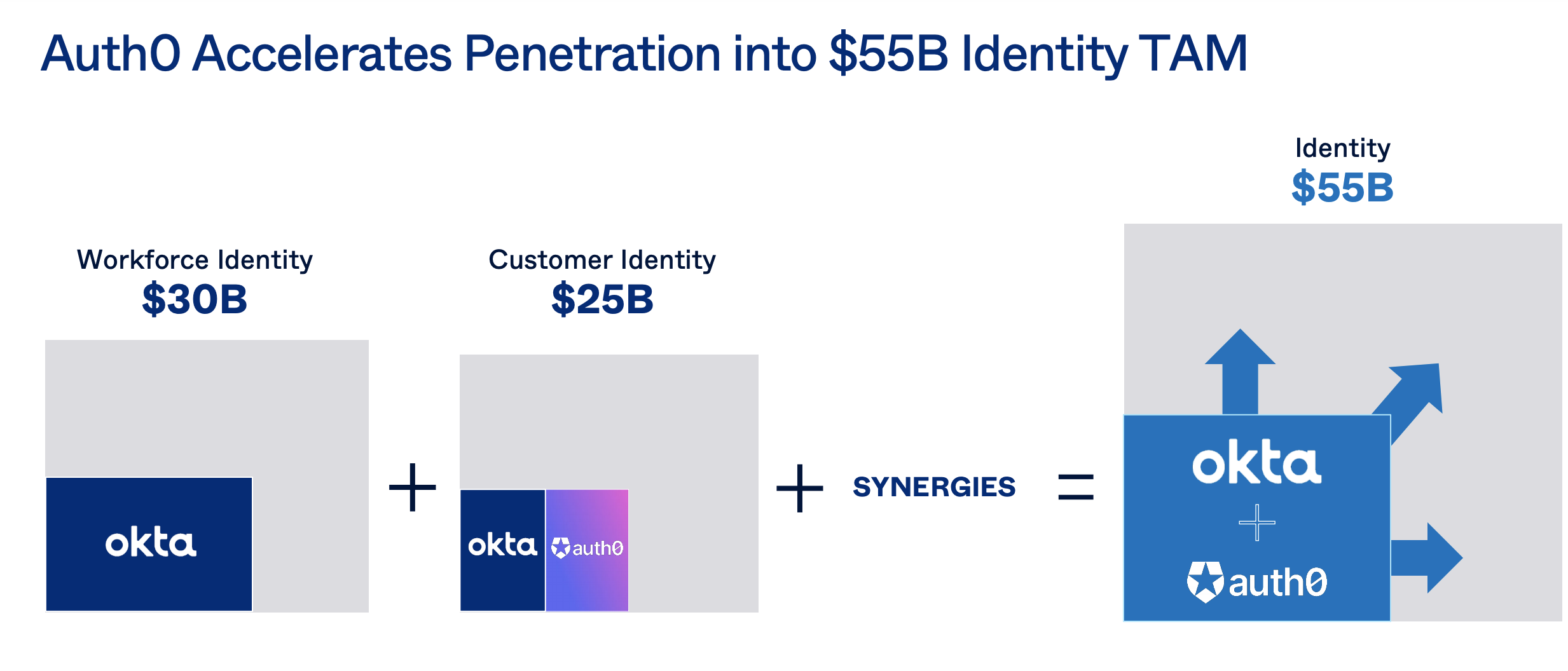 Source: Okta
On Okta's earnings call last night, McKinnon said Auth0 will augment Okta's function as a required, or primary, "identity cloud" for enterprise customers, along with other prerequisite clouds for things like customer resource management, human resources, collaboration, and compute/storage infrastructure:
"Combining with Auth0 accelerates our vision to establish Okta as a standard for digital identity at a time when customers are accelerating their digital transformations and looking for scalable and secure ways to digitally interact with their customers."
The fit apparently was what urged Okta toward the deal, despite reports of stakeholders hoping for an Auth IPO. Another prompt was the reality both companies found when selling in the trenches. McKinnon described this on last night's call:
"There were cases in the past where we would compete with Auth0… [I]n that case one of us was kind of in the wrong place, because most deals the developers decided and went with Auth0 or the CIO or CTO or CISO decided and went with Okta. But in the margins you could see customers wanting both…. [O]ver time it just became more and more clear that together we could go faster and be better than either of us could independent[ly]."
A Cloud Drifts Across Outlook
Despite the promise of joint riches that executives predict will make Auth0 accretive to Okta's revenues this year, investors hammered Okta's stock on the news. As this went to press, shares were trading at $229.44 (-11.79, -4.89%).
Some clues may be in Okta's guidance, which cast a shadow over an otherwise upbeat report. While revenues of $835.4 million met expectations for the recently closed fiscal year by increasing 43%, the present fiscal year will see revenues grow 29% to 30%, execs predict, attributing the lower outlook to conservative hedging against macro uncertainties. And operating losses persist. Though calendar 2020 showed non-GAAP basic net income per share of $.13, next year Okta expects a non-GAAP net loss per share between $.49 and $.44.
All that aside, most financial analysts on last night's call offered congratulations on the merger. The boards of both companies have approved the deal, which is expected to close by July 31, 2021. Once that happens, Auth0 will run as a distinct unit within Okta, managed by its current CEO and co-founder, Eugenio Pace, who will report directly to Todd McKinnon.