Cloud Tracker Pro
Content Providers Shift to Edge Computing

Companies specializing in content delivery networking (CDN) are pivoting their services to compete with hyperscaler cloud providers as well as to work with them as multicloud connectors.
There are several reasons for the shift: Over time, CDN suppliers have grown secure and highly distributed international networks, giving them access to numerous edge locations worldwide. The operational savings resulting from their ability to support widespread access are passed along in lower cloud egress costs to their customers compared to the high costs charged by the likes of AWS, Microsoft Azure, and Google Cloud Platform.
By adding security, compute, and storage to these networks, CDN providers are at the forefront of a widespread enterprise shift to the network edge, where data can be accessed most securely and speedily by those users needing it most. The CDN vendors also offer centralized control and orchestration of their networks and cloud on-ramps, an attractive function for customers with multicloud needs.
CDN Cases in Point
Recent financials from leading publicly traded CDN suppliers reveals that the edge delivery strategy is working: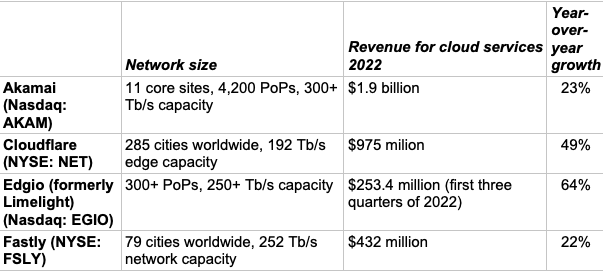 To access the rest of this content, you need a Futuriom CLOUD TRACKER PRO subscription — see below.