2022 Multicloud Networking (MCN) Survey and Report

As organizations accelerate their digital transformation and cloud development plans, they are considering new hybrid and multicloud architectures to take advantage of the best cloud technology resources, wherever they reside. These new architectures need to give IT, network, and cybersecurity the capabilities to manage applications and assets on premises, in a cloud, or in multiple clouds.
As organizations seek a greater mix of public, private, and hybrid cloud, new tools will be needed to drive management and automation of these hybrid environments.
A New Multicloud Networking Wave is Here
Months of new Futuriom research, including an end-user survey and dozens of interviews with networking practitioners and the vendor community, show that momentum is building behind a new way to implement cloud networking. This approach will be based entirely on software, and it will make networking more immediately responsive to application needs. A new generation of multicloud networking (MCN) and hybrid cloud networking (HCN) solutions needs to be programmable, responsive, and adaptable to any type of infrastructure.
CTOs, cloud architects, and network operators are now ready to move forward. Why do we think that? Our research indicates that networking is seen as a key piece of infrastructure needed for a full move to multicloud and hybrid cloud strategies. As you can see below, of those surveyed, 81% indicated that MCN is expected to help simplify or accelerate hybrid or multicloud adoption.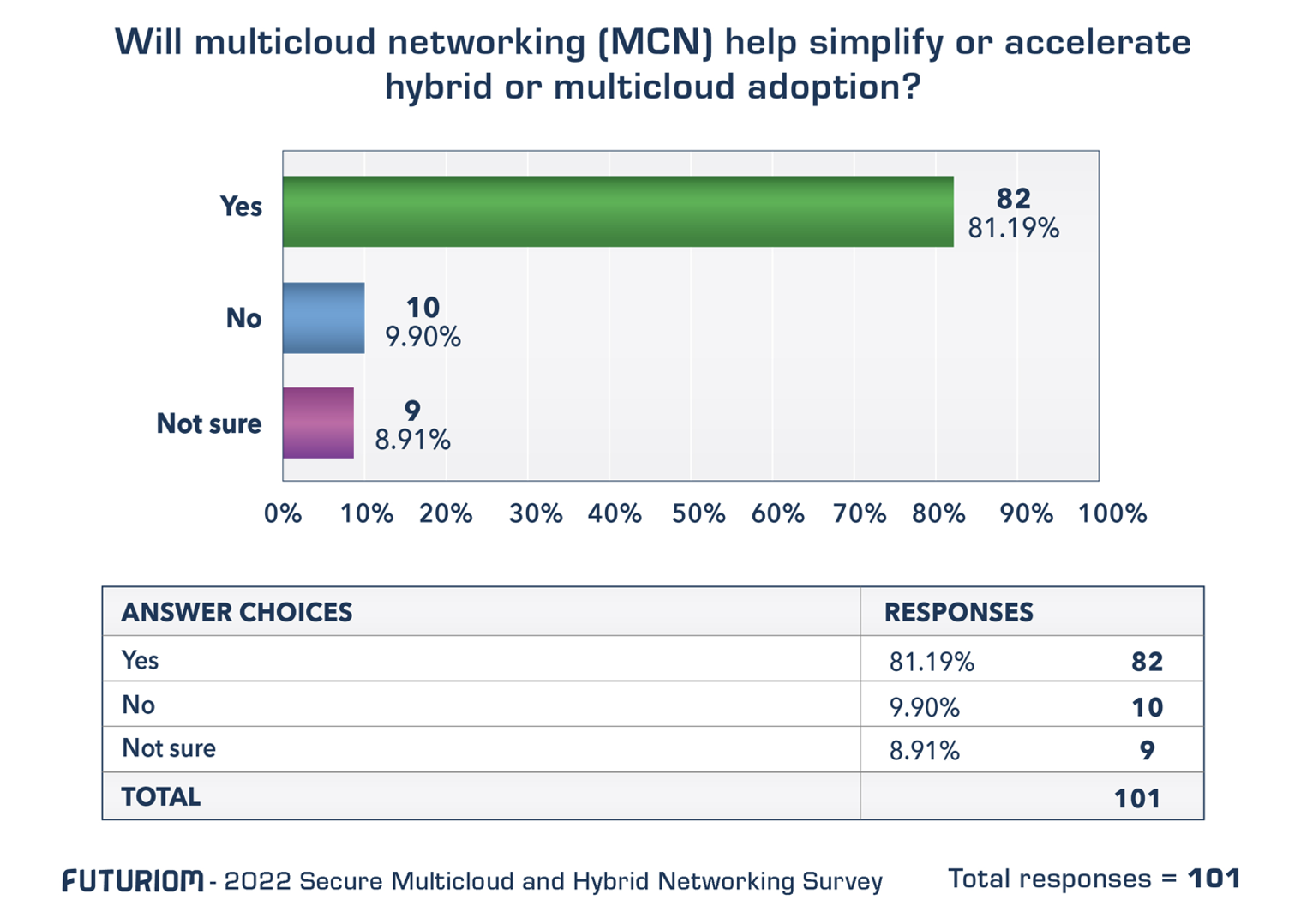 Our MCN User Survey Outlines Key Drivers
The MCN and HCN movement aims to use cloud infrastructure to connect data and applications no matter where they reside. For example, enterprises have found it useful to leverage edge services such as LTE and 5G for new IoT and broadband services. By introducing a fast and automated way of connecting hybrid environments with MCN and hybrid cloud networks, the scale of the cloud can be magnified many times – to become hybrid cloud.

This report was designed to define and understand the direction of MCN and HCN based on our primary research. The foundation of this research includes our annual MCN survey – targeting 103 pre-qualified senior managers with network buying authority. But it also includes months of interviews and industry discussions with practitioners and technologists alike, conducted by our team of analysts. Dig in and enjoy the findings of our 2022 Futuriom MCN survey and research.
Special thanks to our Sponsors: Arrcus, Aviatrix, Prosimo, and VMware!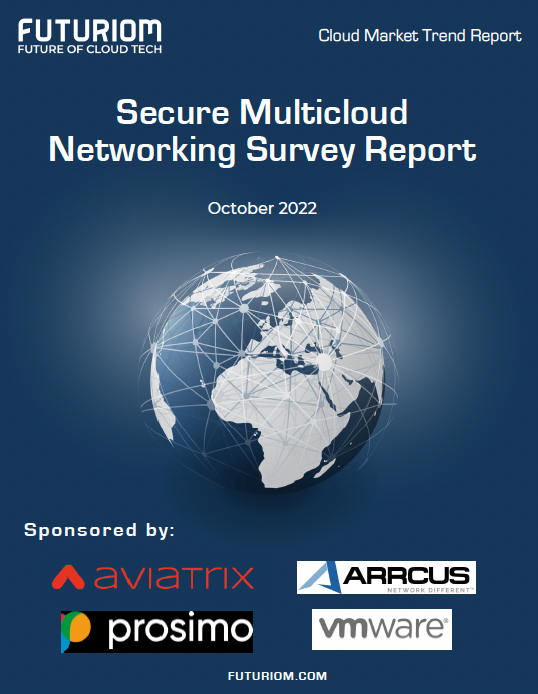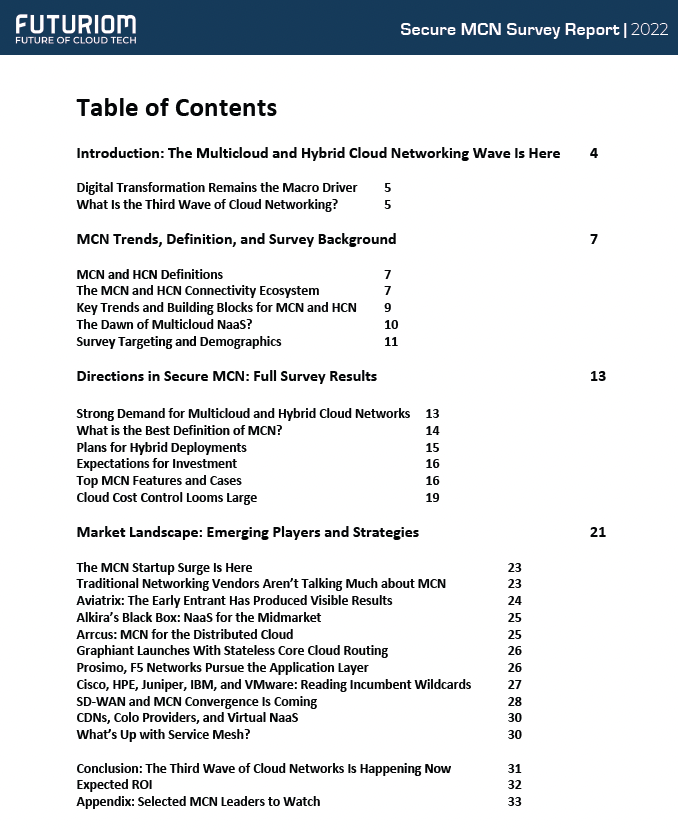 Highlights and Key Findings
Our 2022 end-user survey and interviews indicate that the Third Wave of Cloud Networking -- the shift to multicloud networking (MCN) and hybrid cloud networking (HCN) -- is gathering momentum. End-user survey results and interviews with end users reveal increased demand for MCN and HCN solutions.
Our research indicates that networking has become a key driver for delivering multicloud and hybrid cloud strategies. Of those surveyed, 81% indicated that MCN is expected to help simplify or accelerate hybrid or multicloud adoption.
End users see MCN and HCN as critical infrastructure. Of those surveyed, 47% would like to build cloud-native networking technology that is integrated with cloud provider constructs and connectivity models and 24% would like to increase their use of public cloud infrastructure using networking overlays.
Controlling cloud costs is an escalating issue. When asked if managing the costs of cloud usage has become an urgent priority, 63% said yes. End users were looking for a variety of cost-reduction features in MCN solutions.
Our 2022 MCN survey and research indicate that demand for MCN technology is expected to grow quickly. Of those surveyed, 87% are expected to make investments in MCN and cloud-native networking over the next 1-5 years, with 41% saying they will invest substantially.
End users and IT staff are starting investments in MCN, which they expect to improve cloud operations and security. Of those surveyed, 77% expect that MCN will help improve overall security, visibility, and governance.
Traditional networking technology is poorly equipped to handle hybrid and multicloud deployments. Futuriom believes that MCN technology innovation is being driven primarily by the software and startup community, rather than traditional networking. With innovation and growth potential high, it will be an active M&A area.
Some of the companies highlighted in this report: Alkira, Arrcus, Aviatrix, Amazon (AMZN), Aryaka Networks, Cisco (CSCO), Digital Realty (DLR), Equinix (EQIX), F5 Networks (FFIV), Google (Alphabet - GOOGL), Graphiant, IBM (IBM), Itential, Juniper Networks (JNPR), Megaport, Microsoft (MSFT), PacketFabric, Prosimo, Tata Communications, VMware (VMW)