Fungible Boasts Hyperscale Datacenter Record

Startup Fungible Inc. says it's set a new world's record for datacenter storage processing with a component that disaggregates, virtualizes, and then pools solid-state-drive (SSD) flash storage in hyperscale datacenters.
In trials at the University of California's San Diego Supercomputer Center (SDSC), Fungible's data processing unit (DPU) hit 10 million input/output operations per second (IOPS), besting by over 50% a former record of 6.55 million IOPS reportedly achieved with Mellanox smart network interface cards (NICs) from NVIDIA (Nasdaq: NVDA).
The experiment puts Fungible in the spotlight, where it's been intermittently since its founding in 2015 by Pradeep Sindhu, a former CEO and co-founder of Juniper Networks (NYSE: JNPR), and Bertrand Serlet, a veteran of Xerox Parc and NeXT, and a former SVP of software engineering at Apple Inc. (Nasdaq: AAPL). Based in Santa Clara and with over 250 employees, the young company has set its sights on a market dominated by behemoths such as NVIDIA, Intel (Nasdaq: INTC), and Dell Technologies (NYSE: DELL).
According to Fungible, its programmable DPUs are faster and use less power than competing solutions. Execs claim the Fungible DPUs are installed in the datacenters of leading hyperscaler cloud providers, telcos, and research institutes. They maintain the company is on the way to grabbing a share of what they view as a $120 billion-plus datacenter infrastructure market.
Fungible's DPUs Debut
The DPU model emerged a couple of years ago when it became apparent that central processing units (CPUs) and graphics processing units (GPUs) could use some help in hyperscaler cloud datacenters. In those environments, massive volumes of data traffic were resulting in performance inefficiencies and underutilized resources, as the distributed and highly virtualized cloud infrastructure was implemented in legacy datacenters. DPUs came about as a way to offload tasks such as storage management from CPUs so the servers could be freed up for application requirements.
Fungible designed its own chip from the ground up. Unlike NVIDIA, it opted out of using Arm technology and instead generated its own cores, accelerators, and network interfaces, which have been adapted to compute and storage applications.
Instead of iSCSI, Fibre Channel, and RDMA storage, Fungible supports NVMe-over-TCP for its own SSD flash-storage nodes, called Fungible Storage Clusters (FSCs). Each cluster, or FS1600, is a 2U-high unit holding 24 U.2 NVMe SSDs. Each FS1600 contains two of Fungible's F1 DPUs, supports 800 Gbit/s Ethernet, and delivers 15 million IOPS and up to 60 Gbytes/second throughput, according to the vendor.
Fungible says the FS1600 is a data plane that is disaggregated from software named the Fungible Composer, which acts as the control plane. The Composer software orchestrates storage on demand from the nodes and also provides network management, telemetry, and an application programming interface (API) gateway. It also governs security in the form of per-volume encryption with Key Management Interoperability Protocol (KMIP).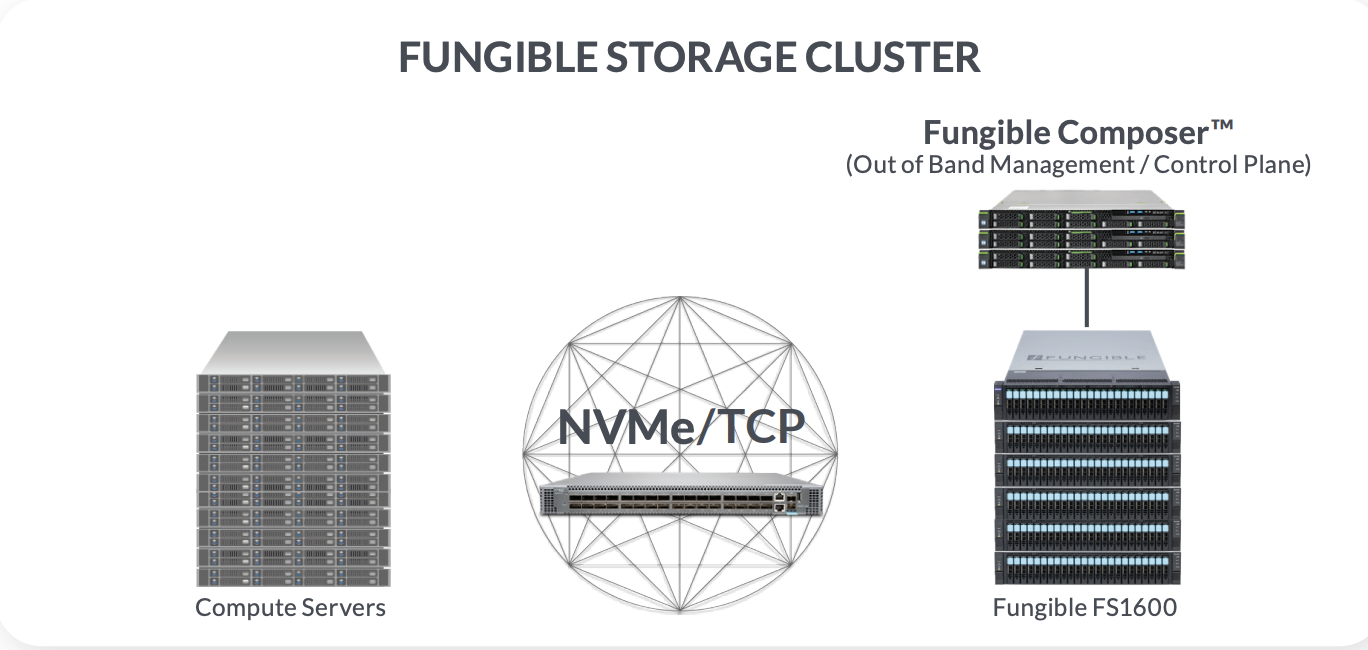 Theoretical setup of FSC and Composer. Source: Fungible Inc.
Fungible Goes Big, Really Big
Fungible says its performance levels are suited to businesses with large volumes of data and heavy performance requirements. Hence the demonstration at SDSC. "While impressive from a performance perspective, the results of this testing are more about expanding the scope of what AI, machine learning, data analytics, and other data-centric environments can deliver," said Eric Hayes, CEO of Fungible, in a press release. Fungible's solution is also touted for edge compute, the vendor says. And not surprisingly given the link between Fungible cofounder Pradeep Sindhu and Juniper, the FSC can be set up to work with Juniper's switches.
The SDSC experiment comprised a rack server with a dual 64-core EPYC 7763 processor from Advanced Micro Devices (Nasdaq: AMD) and 2 Tbytes of memory. Fungible loaded into the server five PCIe-bus Storage Initiator (SI) cards equipped with the startup's NVMe/TCP Storage Initiator software (the cards work in devices and servers networked with the FS1600 and the Composer). And according to Fungible, running 10 million IOPS required just 63% of the CPU cores, offloading them for application processing.
What's In Fungible's Future?
Fungible has attracted the attention of its large rivals, which argue against its proprietary design. "[S]ome vendors use proprietary processors that don't benefit from the broad Arm CPU ecosystem's rich development and application infrastructure," wrote Kevin Deierling, SVP of networking at NVIDIA, in a blog last year. But Fungible claims its processors are more specialized and therefore more effective than those of its rivals.
Ultimately, Fungible isn't intimidated by the competition. If its future seems dependent on the world's largest datacenters, those belong to the world's wealthiest cloud and telecom providers. And at some point, it could happen that the particular strengths of Fungible's product might make it an M&A target.
Backed by Softbank Vision Fund, Norwest Partners, Battery Ventures, Mayfield Fund, and Redline Capital, among others, Fungible has raised over $300 million in three rounds of funding.