Cloud Tracker Pro
How Cisco Missed HashiCorp

Cisco (Nasdaq: CSCO) tried numerous times to buy HashiCorp, the dynamic cloud infrastructure automation company that went public several weeks ago at a valuation of $15 billion, say sources close to the company. The main problem appears to have been the expensive price tag.
This points to challenges to Cisco's M&A strategy, and it highlights how HashiCorp is ready to become a bigger competitive challenge to Cisco. With a recent initial public offering (IPO), HashiCorp has now successfully raised a large amount of public funds, elevated its profile, and collected more resources for expansion of its product lines in cloud networking and cybersecurity – two areas that are of great strategic interest to Cisco. Its flagship product Terraform is already the gold standard for automating the configuration of cloud infrastructure, and it's building its product line quickly.
At the beginning of this year, HashiCorp was included in our 2021 Futuriom 40 report of the hottest private cloud technology companies to watch and was one of the closely watched pre-IPO companies in 2021. On December 9th, it raised $1.2 billion in its IPO, adding to a record-setting series of IPOs for software companies. Under the symbol HCP on the Nasdaq exchange, HashiCorp's market capitalization has recently been trading at about $15 billion.
Meanwhile, expert insiders have recently told us they question Cisco's growth strategy as well as its M&A approach. In its most recent earnings call, Cisco spooked investors by telling them that margins may be pressured by supply-chain challenges. Some key business units, such as End-to-End Security, have been a disappointment, with only 4% annual growth. The biggest problem is that Cisco does not have much to show for its many acquisitions in cybersecurity, where its sales lag those of "best of breed" competitors. The failure to buy HashiCorp shows that Cisco may be handcuffed by its acquisition strategy going forward, as large valuations prevent it from buying the most attractive startups.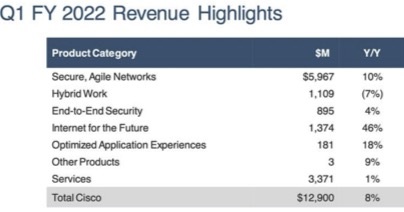 Sources: Multiple Bids on HashiCorp
To access the rest of this content, you need a Futuriom CLOUD TRACKER PRO subscription — see below.