HashiCorp Market Value Holds at $15B

After going public last week, shares in automation company Hashicorp held steady on Monday to give the company a public market valuation worth $15.3 billion. That makes Hashicorp one of the most significant new public cloud infrastructure companies, representing a new threat to traditional mega-companies such as Cisco, HPE, and IBM.
The company, which was included in our 2021 Futuriom 40 report of the hottest private cloud technology companies to watch, raised $1.2 billion in the Initial Public Offering (IPO) last Wednesday, adding to a record-setting in IPOs for software companies. Trading under the symbol "HCP" on the Nasdaq exchange, HashiCorp's market capitalization traded this week at $15 billion.

Most importantly, with $1.2 billion in cash and a $15 billion market cap, HashiCorp now has more resources to expand and perhaps buy other companies, which is one of the chief reasons to go public these days, other than creating liquidity for founders, employees, and investors. HashiCorp raised $175 million in a series E financing round last year at a valuation of $5.1 billion. The public offering was led by Morgan Stanley, Goldman Sachs Group Inc., and JPMorgan Chase & Co.
Newly Minted Billionaires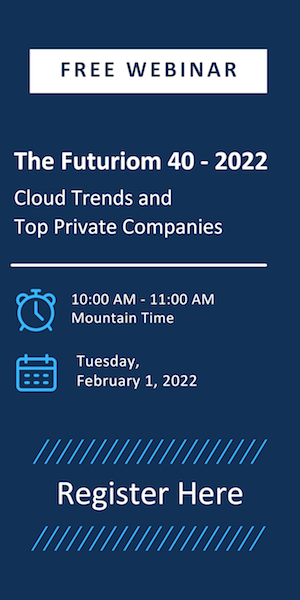 Of course, those founders, employees, and investors have done well. HashiCorp was founded in 2012 by Mitchell Hashimoto and Armon Dadgar, who met at the University of Washington in Seattle. Hashimoto, who was the company's former chief technology officer (CTO) but has since moved on, is now officially a billionaire. He owns shares worth $1.2 billion at the IPO price, according to CNBC.com. Armon Dadgar, the co-founder and current CTO, owns a stake worth $1.5 billion. The largest HashiCorp investors included Mayfield, GGV Capital, and Redpoint, according to the filings.

Even though the broader markets sold off on Monday, HashiCorp shares held steady. The market cap of $15 billion is quite astounding for a company with only about $80 million in revenue in the last quarter – but it's nothing new for recently minted public cloud companies. For example, Cloudflare last traded at a price/sales ratio of 90 times projected revenue. If you project HashiCorp having $500 million in revenue in 2022 (which is generous), that gives it a forward multiple of about 30 times sales.
HashiCorp is still losing money: In the most recent quarter, the company's net loss was $22 million from $9.3 million a year earlier, as the company boosted its investments in sales and marketing as well as R&D. For the nine months ended October 31, 2021, HCP had $224.2 million in revenue, a 49.5% increase over the previous period, and an operating loss of $62 million, a decrease of 27.7%.
Hashi Caps Huge Year for Software IPOs
HashiCorp represents the new breed of software-defined cloud infrastructure, in which software companies rule the world, building tools that can be used to automate and manage cloud infrastructure.
HashiCorp has a mix of products, but its most well-known product is Terraform, one of the most common de facto cloud infrastructure configuration tools. More recently, HashiCorp has entered other areas of the cloud infrastructure, with Consul for networking and Vault and Boundary for security. It also sells a variety of management applications.
Almost all of the company's revenue comes from software subscription, an area that makes it a tough competitor for companies like Cisco, which is pushing cloud management tools based in software but is still seen by many as a hardware company.

The HashiCorp IPO comes on the tail end of a huge year for enterprise software companies going public. More than $37 billion has now been raised by 80 software companies on U.S. exchanges this year, according to Bloomberg.

In its first day of trading last Wednesday, HashiCorp shares popped a modest 6% over the IPO price, which was healthy but well below the frenzy of recent technology IPOs. For example, recent IPO Rivian, an electronic vehicle maker, rose 30% in its first day of trading, and code-sharing platform GitLab popped 35% after an October listing.