Telco Spending Slowdown: No End in Sight

Telco spending on network infrastructure is drooping in line with reduced revenues. And there's no sign of imminent relief.
A well-publicized profit warning by telco test and measurement supplier Spirent (LSE: SPT) on October 4 cited a telecommunications market that is "extremely challenged at this time, with Spirent's largest customers delaying their expenditure and technology investments." Similarly, in its quarterly report in August, Spirent competitor VIAVI (Nasdaq: VIAV) cited a "slowdown in overall service provider spend" and reported a quarterly net revenue decline of 21.4% year-over-year.
The telcos have reduced capital expenditures (capex) since the peak of spending in 2021, when they opened their wallets for spectrum associated with the shift to 5G. They continue to trim capex expectations. "Our peak capital spend is behind us, and we are now at a business-as-usual run rate for capex which we expect will continue into 2024," said Verizon CFO Anthony Skiadas on the carrier's second-quarter earnings call in July.
Earlier this year, each of the top three U.S. carriers stressed that capex would drift downward following the 2021 peak:

The downward trend in carrier spending is evident when the first-half capex this year is compared against the same quarters last year for a sampling of international telcos: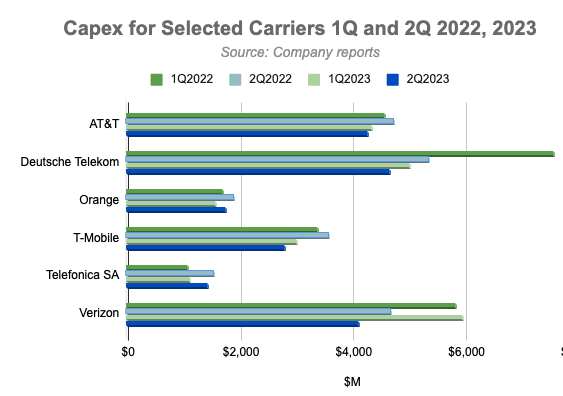 Ongoing Slowdown
The reduction in telco capex reflects a general slowdown in revenue among leading carriers during the first half of 2023: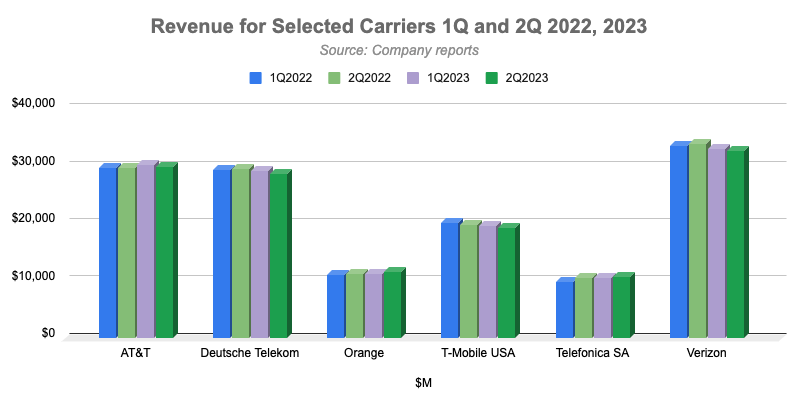 While revenues are mostly drooping, the ratio of capex to revenue remains roughly similar with few exceptions over the past several quarters:
Capex to sales ratio for selected telcos Source: Company reports


The reasons for the reduction in revenue are several: Higher interest rates have affected telco customers' buying patterns. And telcos continue to digest their own heavy investments related to the massive 5G rollout of 2021 and 2022. Further, the much-hyped 5G revolution has failed to open the floodgates of revenue telcos were hoping for.
It's too soon to tell how long until carriers ramp up their spending, but their guidance indicates the slowdown will persist through 2024. Much depends on how technologies related to 5G, such as network slicing, will actually materialize in services. Generative artificial intelligence could also spur sales, but telcos have been a bit slow in taking some opportunities in that space. Surely it will take a few more quarters to determine any real shift in telcos' financial direction.