MWC: Hoping for Less Augmented Marketing Reality

I know it's hopeless, but it would be great if the Mobile World Congress (MWC) telecommunications conference could deliver a little more substance and less hype this year.
As we reach the sixth year of 5G hype, it sounds like some companies are already moving on to 6G before 5G was completely delivered. We can only hope for little less augmented marketing reality. As we reach the five-year anniversary of 5G hype, maybe it's time to review where it's taken us.
The telecommunications industry is at a crossroads. After five years of promising that 5G was going to save the world, the industry is now burdened with massive amounts of debt and marginal profitability. The large global service providers, while still among the largest companies in the world, are being out-clouded by the cloud, and I think everybody can admit (especially shareholders) that 5G has missed its financial targets.
Yet the marketers continue to focus on misguided fantasies rather than reality. MWC tends to be a gluttonous hypefest. I can't take it anymore. No more virtual surgery, augmented reality (AR), and network slicing demos. Please!

Digging Out the Debt Load
To deliver on all the 5G fantasies they've created, the largest telecom providers have run up huge tabs. Only a few of them are making decent profits -- and some of them have potentially destroyed their balance sheets.
Telecommunication services companies have invested at least $1 trillion globally on capital spending and new spectrum under the banner of "5G." It's only been recently that true 5G has started to arrive in the form of gigabit broadband access speeds and the standalone (SA) core for service providers, which should make deployment and operations more efficient.
By most measures of capital efficiency, the telecoms companies have come up short -- and many investors are nervous that the entire 5G project cycle may not pay off.
Vendors Have Underdelivered, Too
The 5G suppliers have perhaps been even more egregious than the service providers. Most of the incumbent suppliers such as Ericsson and Nokia have not matched their Powerpoint slides with share prices to back up the hype.
Let's take Ericsson, just as an example. (Full disclosure: several years ago I made fun of Ericsson for pulling its world-famous MWC food buffet and replacing it with box lunches. Surprisingly, I haven't heard from them or received a whitepaper order since.)
Ericsson fancies itself as a sort of mobile networking savant, issuing reams of glossy reports and blogs on cutting-edge 5G technology. It's been promising that network slicing could solve everything from malaria to global warming since 2016. For a perfect example, take a look at this chart below, issued in a 2021 Ericsson report titled "What do early adopters think of the 5G network experience?"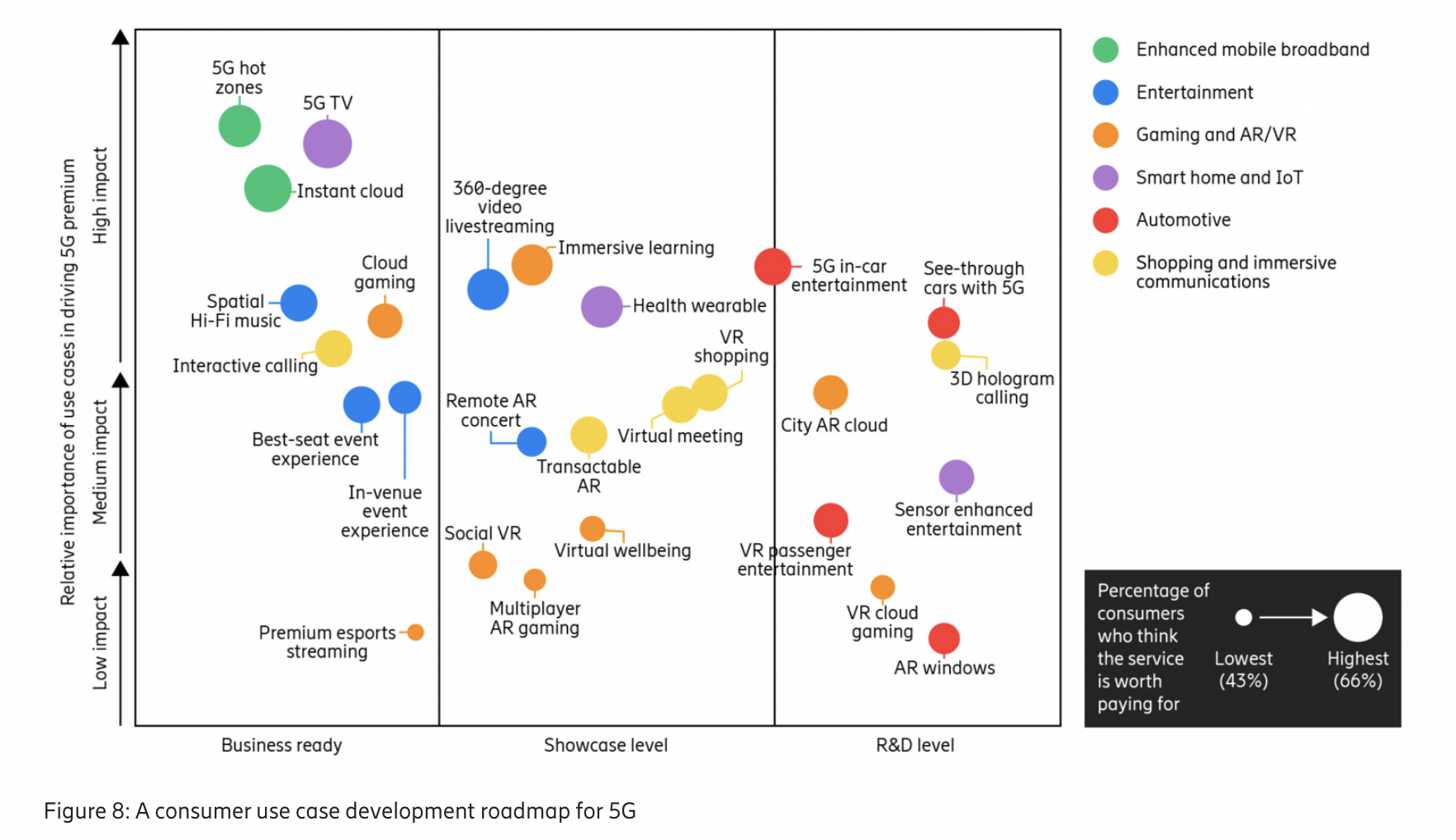 Source: Ericsson

Now, most people probably don't read this chart very closely, as I orginaly made the mistake of doing. The killer apps listed include: 5G TV, 5G hot zones (what is that?), 360-degree livestreaming, 5G in-car entertainment (sounds safe?), City AR Cloud (are they sure that's not a Huawei product?), social VR, remote AR concert, Instant Cloud, 3D hologram calling, and the most incomprehensible one of all – "see-through cars with 5G."
Meanwhile, Ericsson's share price is still in the gutter and the company just announced another round of restructuring including a round of 8% layoffs. Ericsson shares have now lost 16% over the past five years, generally the period of the MWC hype cycle.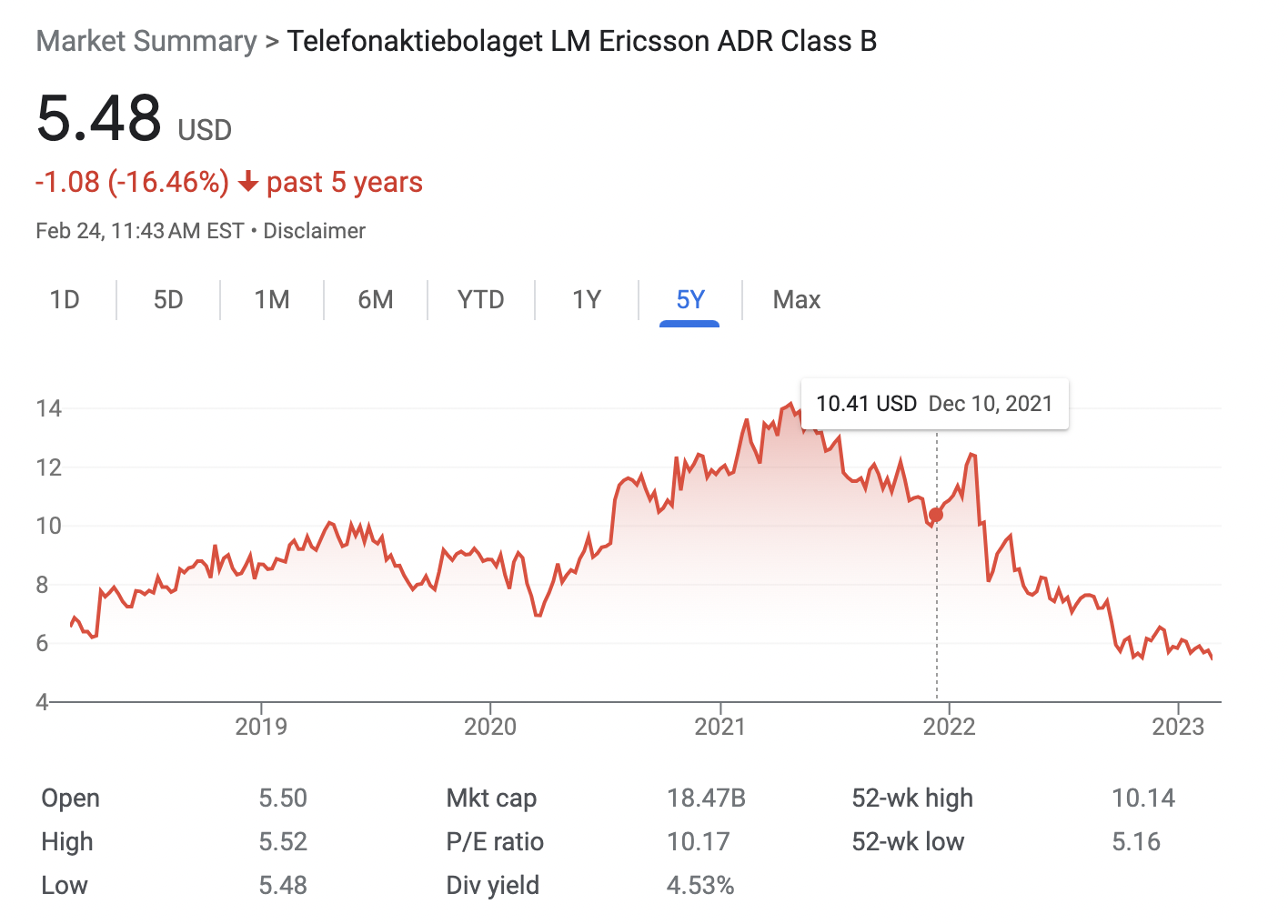 Source: Google
This stuff is fantastic. I can't wait for my see-through 5G car and Instant Cloud. As an experienced industry analyst, I could climb a mountain, smoke some of the strongest weed in Montana, and not make up that slide. Thankfully.
Has anybody seen any of these things? Anywhere?
Let's Get to Reality
Let's not be totally negative. Not everything is miserable in the 5G world. Telefonica recently reported better profits and has an interesting Internet of Things (IoT) business; T-Mobile's stock is going gangbusters with a focused broadband strategy. T-Mobile shares are up 130% over the past five years.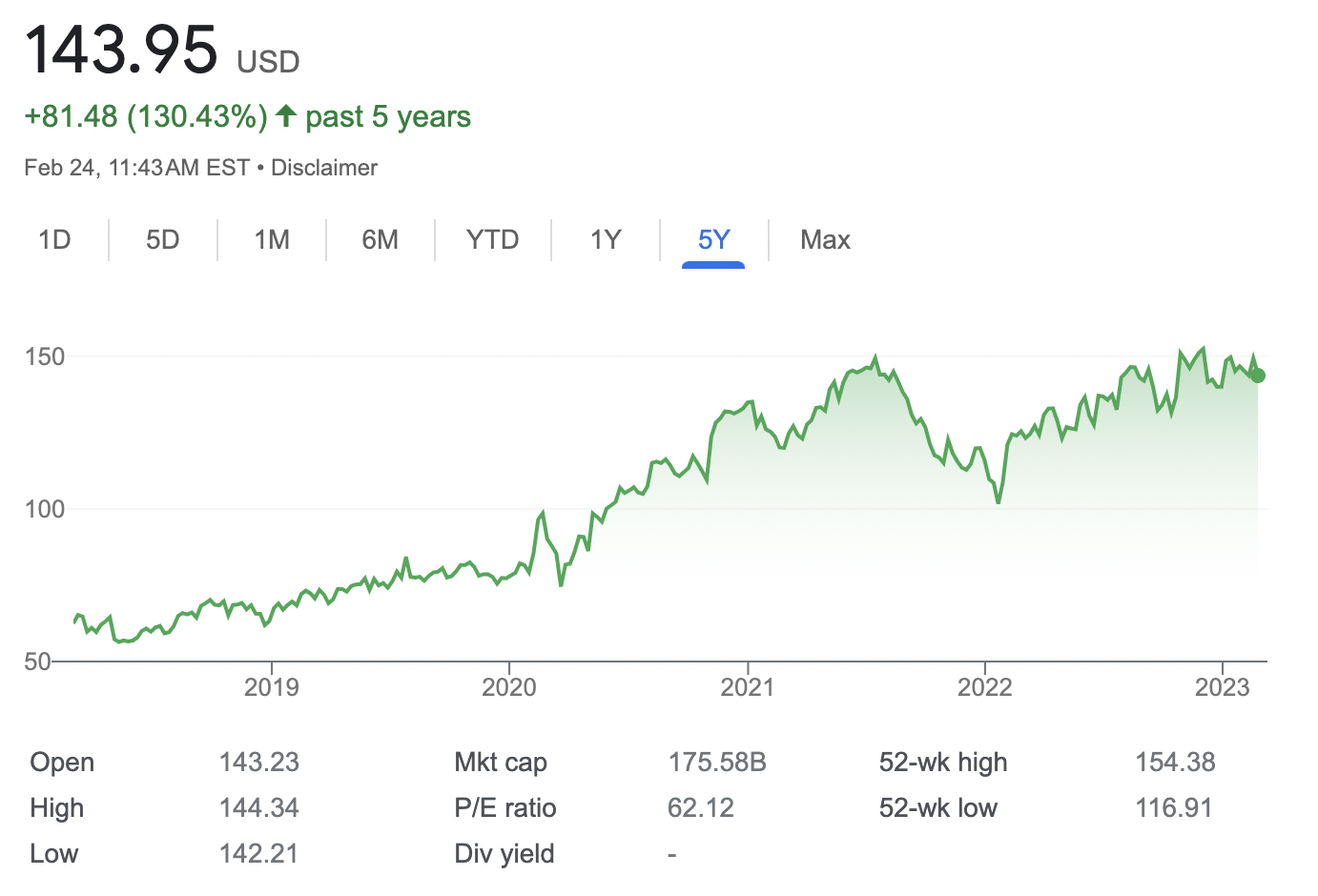 Source: Google

Personally, I'd like to thank Verizon for finally living up to its overly ambitious coverage maps (albeit years later) and delivering 5G broadband to my home that seems to be a little bit better than the Paleolithic-era DSL-based broadband I was previously forced to subsist on (yes, I live in a rural area).

In the meantime, the cloud has run away with the show. While we sit in our cars waiting for a slightly better mobile signal, companies such as Amazon and Microsoft have reinvented entire business models, delivering just about anything you want from a cloud, ranging from meals-on-demand to business analytics data and artificial intelligence (AI).
It's true, we all need connectivity to the cloud, which the service providers offer. So why don't they just talk more about that?
According to Futuriom's research, the top 5G services from among more than 100 5G providers tracked include smart manufacturing, healthcare, and broadband. These all seem reasonable and believable, unlike see-through 5G cars.
I understand, the marketing folks gotta get paid. But why can't they just stick to the basics?
In the real-world examples, the most success is coming with bread-and-butter connectivity services. It's not embarrassing to provide great service for more pervasive broadband connectivity. It's better than an Instant Cloud AR City.