Oracle Shares Take a Hit on Cerner

Oracle shares fell more than 10% today after a weak forecast suggested the cloud market has gotten a bit tougher and that the digestion of the Cerner health records business will take more effort.
The database, applications, and cloud infrastructure company's revenue grew 9% year-over-year for the fiscal first quarter that ended Aug. 31. Net income rose to $2.42 billion, or 86 cents per share, compared with $1.55 billion, or 56 cents per share, in the year-ago quarter. Revenue came in a bit light at $12.45 billion, compared with $12.47 billion expected by analysts.
Cerner Cloud Transition
The heart of Oracle's weakness was Cerner, the health data business Oracle bought for $28 billion in 2022. Company executives said it's taking time to migrate Cerner's business to a cloud-based recurring revenue service model. Oracle CEO Safra Catz said that the transition of Cerner's business to the cloud is slowing down revenue growth.
"This transition is resulting in some near-term headwinds to the Cerner growth rate as customers move from licensed purchases, which are recognized upfront, to cloud subscriptions which are recognized ratably," she said on the earnings call.
Despite the plunge in share value today, Oracle shares are still up about 34% in the past year, driven by gains in cloud customers and excitement about the potential for generative AI to spur demand for Oracle's data and cloud infrastructure services. Oracle is generally considered to be the fourth- or fifth-place player in cloud infrastructure among the rest of the leading players – Amazon Web Services (AWS), Google, Microsoft, and IBM.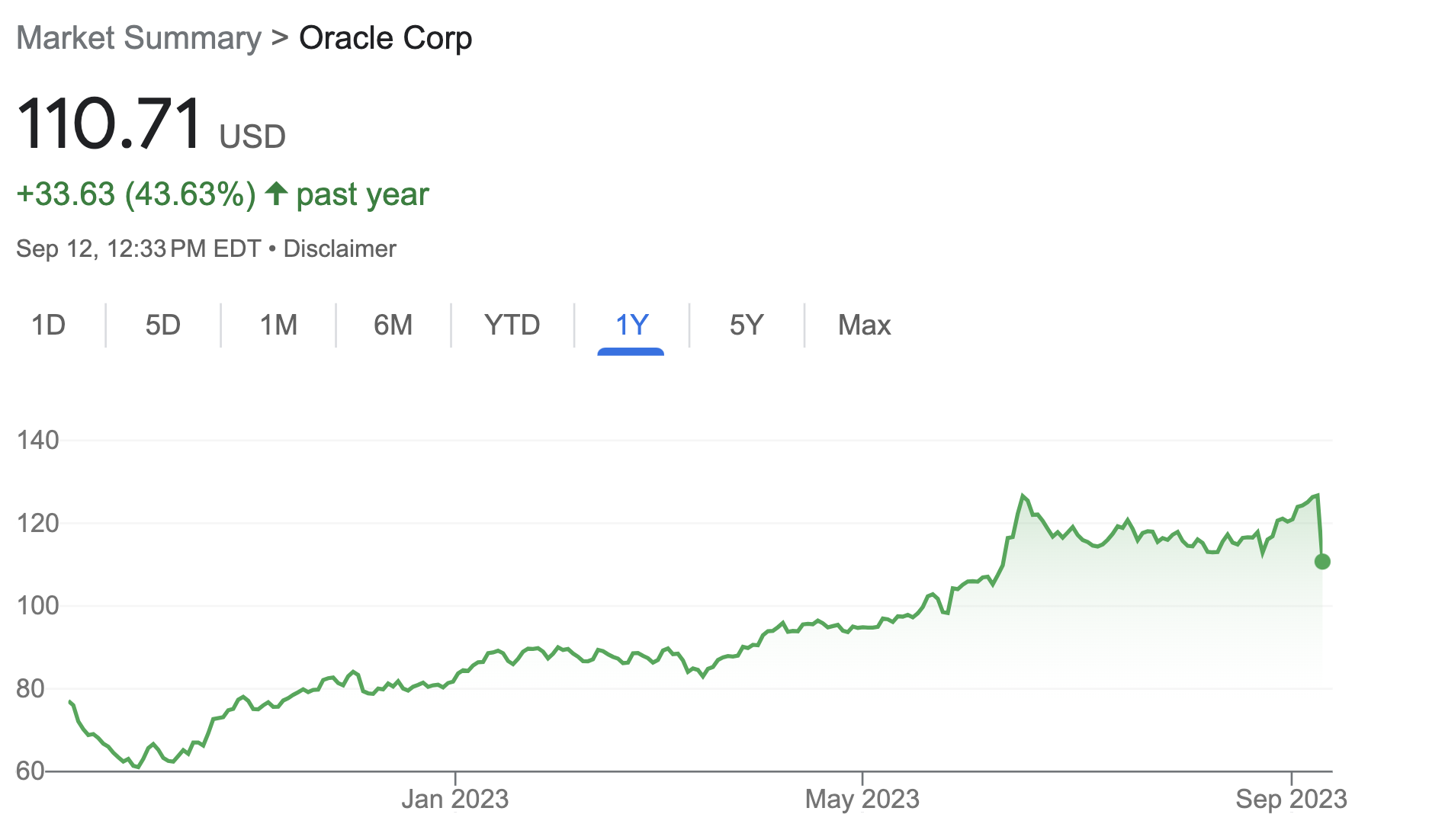 Cloud Business Still Shows Healthy Growth
Cloud infrastructure revenue totaled $1.5 billion, a y/y increase of 66%, which was down from 76% in the prior quarter. Oracle's relatively high growth rate means it's still taking some share in cloud infrastructure. Oracle has recently landed some big cloud wins – including being named as one of the infrastructure suppliers behind Elon Musk's new AI company, X.AI.
Catz touted gains in big deals, including some new contract wins of $1 billion and more for Oracle Cloud Infrastructure (OCI):

"We have now signed several deals for OCI greater than a billion in total value. In the first week of Q2, we booked an additional $1.5 billion in business, which isn't even included in the Q1 numbers."
Catz also pointed out strong numbers in other areas of cloud services:
"OCI consumption revenue was up 91%, Exadata cloud services revenue was up 46% and Autonomous Database was up 42%. Database subscription services, which includes license support, were up 6%, highlighted by cloud database services, which were up 44%."
Oracle is forecasting relatively flat capital spending (capex) for 2024 as it takes a cautious approach to infrastructure growth. The company now has 64 regions live in its cloud infrastructure offerings.

Ellison Pumps Up AI
Meanwhile, you don't want to forget AI. Oracle Chairman and Chief Technology Officer Larry Ellison, who was famously a bit late in jumping into the cloud (though eventually went all in), says that AI is the biggest opportunity ahead:
"So, is generative AI the most important new computer technology ever? Maybe. We're about to find out. Self-driving cars, computer-designed antiviral drugs, voice user interfaces -- generative AI is changing the automobile industry, the pharmaceutical industry, how people communicate with their computers."
Oracle's Gen2 cloud is targeted at AI, and Ellison said this has driven contracts in excess of $4 billion.
Ellison also revealed that Oracle is working on a new cloud service with Cohere, a hot Canadian company with large language model technology for AI.