Netskope Grabs $300 Million, Hits $7.5 Billion Valuation

Cybersecurity firm Netskope has raised $300 million in a round that brings its post-money valuation to a whopping $7.5 billion.
The big numbers are no surprise. The market for cloud security technology is exploding in the wake of escalating cybercrime, including vicious ransomware attacks on the Colonial Pipeline in the U.S. on April 29, the Brazil-based global meat supplier JBS early in June, and managed service provider Kaseya Ltd. in July. Numerous less-publicized events amount to an epidemic of ransomware that's hobbled healthcare agencies and numerous businesses worldwide.
Solutions such as Netskope's, which combine a range of technologies in a proprietary network service, are increasingly sought as a more comprehensive means of securing enterprise environments than distinct single-function tools. Indeed, Netskope's press release quotes Gartner research stating that by 2024, 30% of enterprises will opt for cloud-based solutions that combine a range of security technologies from a single vendor, up from under 5% in 2020. And the increasingly popular vehicle for delivery is a service like Netskope's.
Netskope's Multifunction Approach to Cybersecurity
Netskope, a Futuriom 40 company, combines a Secure Web Gateway (SWG), Cloud Access Security Broker (CASB), Data Loss Prevention (DLP), and Zero Trust Network Access (ZTNA) -- also known as Software Defined Perimeter (SDP) – in a private cloud-based service called NewEdge. Based on a worldwide network of proprietary points of presence (PoPs, see image below), NewEdge reduces latency, Netskope claims, through a series of optimization techniques. The result is a performant secure edge/secure access service edge (SASE), Netskope says.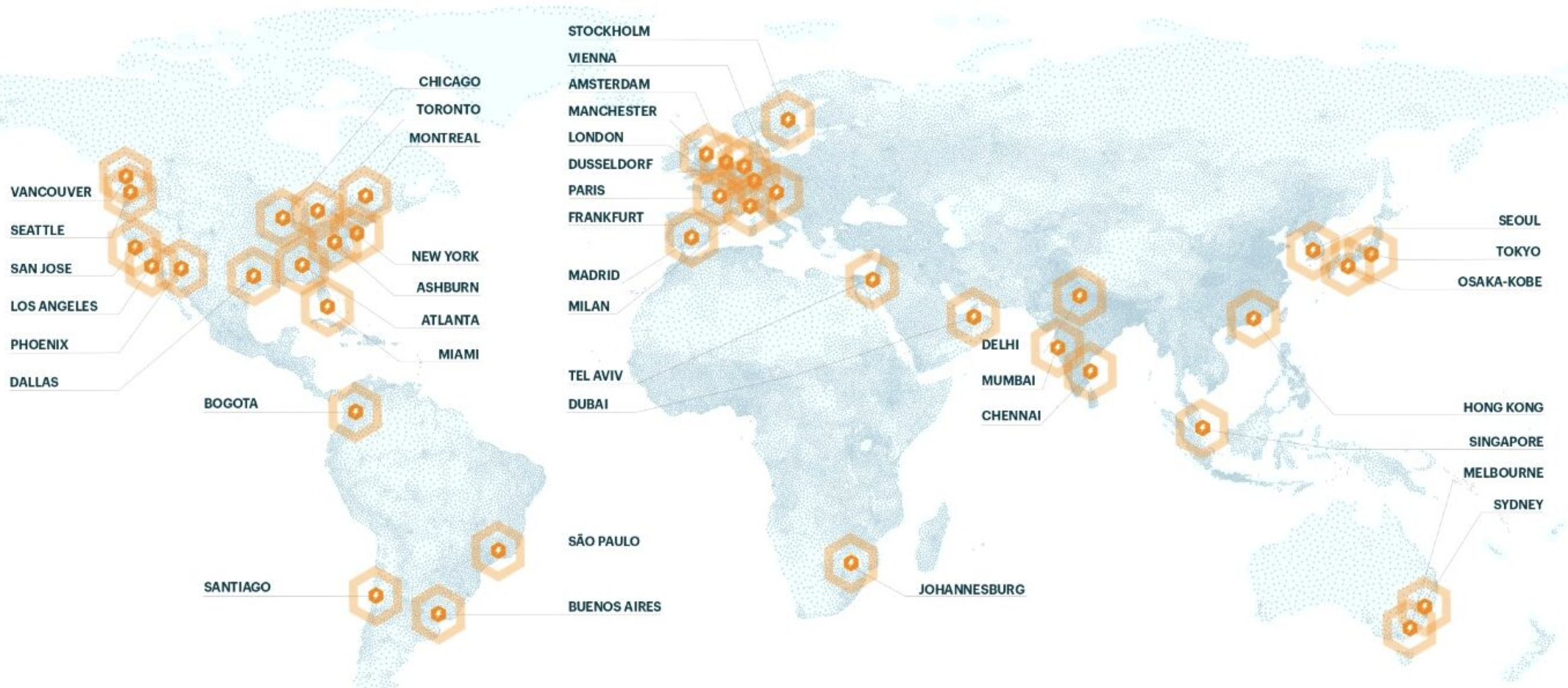 A partial map of NewEdge PoP locations. Source: Netskope.
It's not clear just how NewEdge meets the typical SASE prerequisite element of software-defined wide-area networking (SD-WAN), but Netskope integrates with third-party SD-WAN solutions such as Silver Lake products from Hewlett Packard Enterprise's (NYSE: HPE) Aruba division, as well as products from Versa Networks and VMware (NYSE: VMW). The result is a service compatible with all public clouds that Netskope markets as SASE, in direct competition with Cato Networks, Cloudflare (NYSE: NET), Palo Alto Networks (NYSE: PANW), and other providers of multifunctional security services.
Where Netskope Goes from Here
Netskope has had a rapid rise to success. The company, founded in 2012 by Sanjay Beri, Krishna Narayanaswamy, and Ravi Ithal, has built a roster of over 1,500 customers worldwide, including over 30 of the Fortune 100 and a hefty selection of the world's top banks, healthcare providers, telecom service providers, and retail companies. Some popular logos on Netskope's site include Yamaha, the Cleveland Clinic, Manulife Financial, NVIDIA (Nasdaq: NVDA), and Juniper Networks (NYSE: JNPR). The company boasts 50%-plus annual growth, dozens of patents, and has nearly 1,000 employees.
Netskope's latest round of funding – roughly its Series H -- may be its last. Counting in $340 million raised in 2020, along with prior publicized rounds, the vendor's total raised is at least $983 million. Money like that tempts talk of IPO. Going public could put Netskope in league with some of its leading competitors, including Cisco (Nasdaq: CSCO), Cloudflare, Fortinet (Nasdaq: FTNT), Microsoft (Nasdaq: MSFT), Palo Alto Networks, and Proofpoint (Nasdaq: PFPT), to name just a few. And Netskope's current investors, including lead investor ICONIQ Growth, along with Lightspeed Venture Partners, Accel, Sequoia Capital, Base Partners, Sapphire Ventures, and Geodesic Capital, have backed successful IPOs in the cloud space. ICONIQ Growth backed Snowflake (NYSE: SNOW) and Lightspeed backed Zscaler (Nasdaq; ZS), for instance.
But CEO Beri hasn't committed to an IPO strategy. There are other options. Netskope could merge with another company. It could issue a private placement. It could opt to be acquired by a special purchase acquisition corporation (SPAC) or a private equity team.
Or Netskope could simply get bigger, keeping to its strategy of co-opetition with companies such as Versa and VMware, while retaining control over its fate and avoiding the complexities of going public. Whatever it chooses, though, Netskope has clearly arrived as a leading provider of the kind of compound SASE solution grabbing enterprise attention.