Cybersecurity Startups Got Over $2 Billion This Quarter

Cybersecurity startups scored over $2 billion during the latest quarter, highlighting a market that's skyrocketing in the wake of increasing threats.
According to venture capital firm Wing Research, at least 10 startups got over $100 million in funding between April 1 and June 18. Another 12 raised over $20 million. In total, over $2 billion was raised this quarter to fund a range of security products and services, as shown in the table below: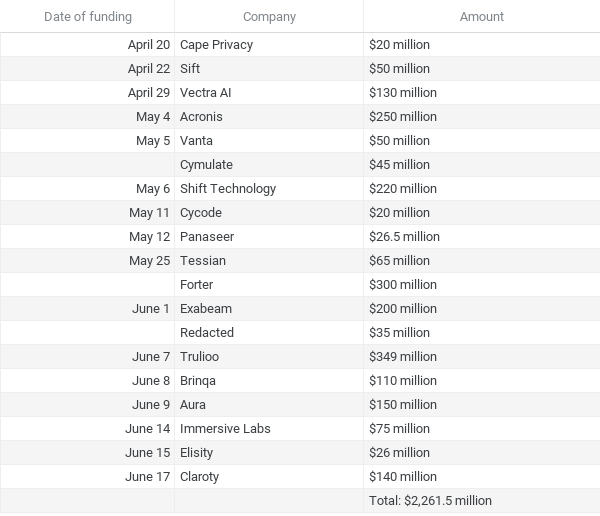 Source: Wing Briefing by Rajeev Chand; Wing Research.
The funding spree came on top of other deals and events, such as the successful U.K. IPO of AI-based security company Darktrace (LON: DARK) in April and the announcement that private equity company Thoma Bravo intends to buy email protection startup Proofpoint for over $12 billion.
Where the VC Money's Going
As the heavy investing in cybersecurity startups indicates, the campaign to advance technologies that help reduce and eliminate ever-more-sophisticated malware is in full swing. Below is a sampling of some key cybersecurity startups funded this past quarter.
Trulioo. A Canadian company based in Vancouver, B.C., Trulioo specializes in identity verification services based on worldwide data sources, which establish that individuals and companies are who they claim to be. The firm, founded in 2012 by Stephen Ufford and Tanis Jorge, plans to use its latest round, a $349 million series D, to expand products and global reach. CEO Steve Munford (ex-Sophos) says the company's "in no rush" to go public. This round brings Trulioo's total raised to over $400 million and sets its valuation at $1.75 billion. The round was led by TCV with participation from existing investors Amex Ventures, Citi Ventures, Blumberg Capital and Mouro Capital.
Exabeam. Featured in our Futuriom 40 report, Exabeam offers the Fusion product line, which qualifies as XDR —"x detection and response," or "extended detection and response." It supports a range of functions, including security information and event management (SIEM) to provide threat detection, investigation and response (TDIR) in the cloud; and a data lake and advanced user and behavior analytics (UEBA). On June 1, the company announced $200 million in Series F funding on a valuation of $2.4 billion. It has also hired a new CEO, Michael DeCesare, and reorganized to unify its product and engineering teams. Exabeam was founded in 2013 by Nir Polak, Domingo Mihovilovic, and Sylvain Gil. It is headquartered in Foster City, Calif.
Claroty. This six-year-old company headquartered in New York offers an industrial security platform that locates and protects operational technology (OT), Internet of Things (IoT), and Industrial IoT (IIot) devices. It also mitigates threats and malware for customers such as General Motors and Pfizer. On June 17, the company announced $140 million in Series D funding, bringing its total raised to date to $235 million. The round was co-led by Bessemer Venture Partners and 40 North with participation from LG, I Squared Capital's ISQ Global InfraTech Fund and previous investors Temasek and Team8. Customers Rockwell Automation, Siemens, and Schneider Electric also participated.
Vectra AI. This company's Cognito threat detection and response platform deploys sensors that observe network activity, gathering metadata, logs, and telemetry, which human data scientists and security researchers then "enrich" with additional information. Over time, neural networking is applied to this enriched data to increase its accuracy. Cognito covers networks associated with clouds, data centers, and Internet of Things (IoT) devices. On April 29, Vectra AI announced $130 million in a round of funding led by Blackstone Growth that brings its total raised to over $350 million to date on a post-money valuation of $1.2 billion. Vectra was founded in 2010 by Mark Abene, James Harlacher, Marc Rogers, Ivan Wickand is based in San Jose, Calif.
Elisity. This San Jose, Calif.-based firm emerged from stealth in August 2020 with Elisity Cognitive Trust (ECT), a zero trust solution that creates a virtual fabric, or "e-mesh," based on a network's IP/MPLS infrastructure. ECT secures private clouds, data center networks, public cloud services, and permutations and combinations of all these environments. It integrates with major cloud providers (AWS, Microsoft Azure, Google Cloud Platform, etc.) and with other products, such as data analytics from Splunk Inc. (SPLK). On June 15, Elisity announced $26 million in Series A funding co-led by Two Bear Capital and and AllegisCyber Capital with participation by previous seed investor Atlantic Bridge. Elisity was founded in 2018 by Burjiz Pithawala, Sundher Narayan, and Srinivas Sardar, who all formerly worked at Cisco (CSCO).
The flood of spending on cybersecurity firms came in the wake of high-profile ransomware attacks on Colonial Pipeline in the U.S. on April 29 and Brazil-based global meat supplier JBS early in June. Numerous less-publicized events amount to an epidemic of ransomware that's hobbled healthcare agencies and numerous businesses worldwide. It's heartening to see substantial backing for proposed solutions.